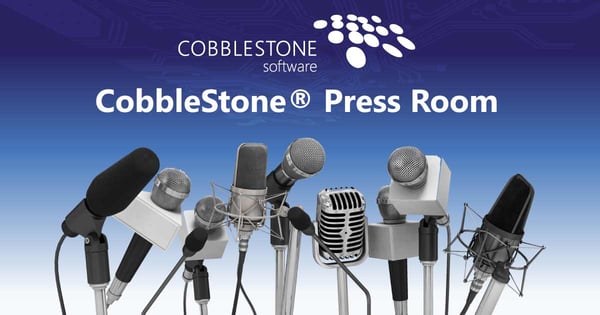 CobbleStone Software announces its 2023 CobbleStone Roadshow for achieving sustainable contract lifecycle management success.
PRINCETON, NJ (FEBRUARY 22, 2023) - CobbleStone Software - a recognized Leader in contract lifecycle management (CLM) according to the SPARK Matrix™ 2022 report - is pleased to announce The 2023 CobbleStone Roadshow Reimagined with its accompanying dates and agenda.
The 2023 CobbleStone Roadshow will be hosted in person and virtually on various dates from February 24th, 2023 through December 15th, 2023. Prospective CobbleStone Contract Insight® users can attend dynamic Contract Management Masterclass events, while current software users can engage in unparalleled Client Training sessions.
See event details below.
VIRTUAL CONTRACT MANAGEMENT MASTERCLASS:
The virtual Contact Management Masterclass provides prospective CobbleStone Contract Insight users with a complimentary learning experience where attendees can learn contract lifecycle management best practices while exploring CobbleStone Contract Insight's robust CLM, eProcurement, eSourcing, and vendor management features. Attendees can learn how to:
Draft stronger contracts.
Improve contract negotiations.
Enhance vendor registration & collaboration.
Manage risk with artificial intelligence.
And More!
Following the main agenda, registrants will have the opportunity to engage in a question-and-answer time with a CobbleStone Contract Insight expert.
IN-PERSON CONTRACT MANAGEMENT MASTERCLASS:
The in-person Contract Management Masterclass provides prospective CLM software users with a complimentary hour-long demonstration of CobbleStone Contract Insight's robust source-to-contract lifecycle management features with a post-demonstration 30-minute question and answer time. Attendees will have the opportunity to meet with CobbleStone's CLM software experts in various cities across the USA.
VIRTUAL CLIENT TRAINING:
The virtual Client Training provides CobbleStone Contract Insight Admins with a dynamic training experience with CobbleStone experts to help attendees achieve sustainable contract management, eProcurement, eSourcing, and vendor management success. The virtual Client Training provides system Admins with robust CobbleStone Contract Insight configuration and management training for only $99 per registrant. During this robust training session, attendees can deepen their knowledge of advanced, administrator-focused topics – including the following.
Reports & Dashboards
Document Templates
Workflows
& More!
A live Q&A chat will also be hosted by CobbleStone experts and registrants will receive a recording of the training session afterward.
IN-PERSON CLIENT TRAINING:
The in-person Client Training provides new and seasoned Admins with a hands-on learning experience to enhance their system mastery of CobbleStone Contract Insight. The day will begin with a system overview and Q&A from a CobbleStone expert - which is excellent for new Admins and a rudimentary refresher for more seasoned Admins.
The remainder of the day will feature in-depth small-group training sessions by CobbleStone trainers - who will highlight practical exercises for each topic.
For only $299 (Early-Bird) or $499 (Standard) per registrant, attendees can achieve sustainable contract lifecycle management success by deepening their knowledge of the following areas.
Field Management
System Dashboards
Ad-Hoc Reports
Workflows
& More!
At the closing of each event, attendees can obtain a certificate of completion as proof of their new CobbleStone Contract Insight expertise.
"After accomplishing immense success with our 2022 CobbleStone 'Roadshow,' we look forward to sustaining the tradition by launching our 2023 CobbleStone Roadshow Reimagined for CobbleStone Contract Insight users and prospective users alike," says Bradford Jones, Vice President of Sales and Marketing at CobbleStone Software.
"We excitedly anticipate educating 2023 CobbleStone Roadshow attendees on innovative contract lifecycle management software best practices illuminated by CobbleStone Contract Insight CLM system experts within a dynamic learning environment, with both virtual and in-person options."
About CobbleStone Software:
CobbleStone Software is a visionary leader in enterprise contract lifecycle management, vendor management, eProcurement, and eSourcing software solutions have been trusted by users around the globe for over twenty years. CobbleStone's contract management solutions provide contract and vendor tracking, IntelliSign® eSignatures, configurable email alerts, calendar notifications, contract workflow management, robust security options, authoring of contract templates with dynamic clauses, revenue/cost management, robust text indexing and searching, vendor/client ratings, document version control, custom reports, electronic signatures, smarter contracts with artificial intelligence and machine learning, and more. Moreover, CobbleStone as a CLM software provider is SOC 1 and SOC 2 compliant for optimized security.
Contact CobbleStone Software to schedule a free demo and acquire pricing information at Sales@CobbleStoneSoftware.com or call them at 866-330-0056.
Follow CobbleStone Software on social media:
To stay up to date on contract lifecycle management industry trends and news, subscribe to CobbleStone's Contract Insights blog.
*The 2023 CobbleStone Roadshow dates, times, and agenda are subject to change.*