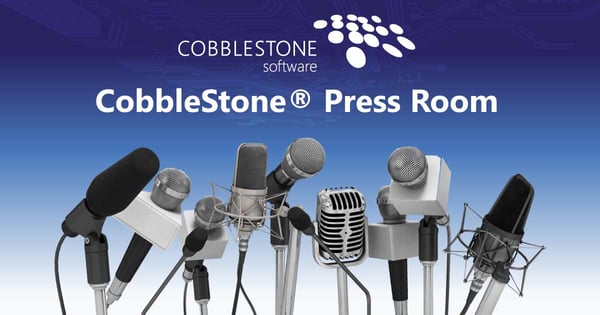 CobbleStone Software has received this recognition for proactively meeting and exceeding contract technology demands and consistently raising industry standards.
PRINCETON, NJ (MARCH 21, 2023) - CobbleStone Software – a recognized Leader in contract lifecycle management (CLM) according to the SPARK Matrix™ 2022 report – was named among the "Top 10 Best Contract Negotiation Solution Providers to Watch for in 2023" by CIOCoverage.
CobbleStone® is recognized for its industry-leading flexibility and ahead-of-the-curve features designed to meet clients' unique and evolving needs for contract negotiation. These features have made CobbleStone a distinguished global leader in contract management software.
CobbleStone's proprietary VISDOM® artificial intelligence engine provides leading contract negotiation features, including:
> CobbleStone Auto-Redline to automate the inclusion of clauses from clients' approved clause library - virtually ensuring that favorable contract language is included.
> With IntelliXtract, users can scan through contracts to find key terms, legal phrases, and conditions.
> With CobbleStone's Theory Calculator, users can enjoy recurring. automated data analysis and on-screen recommendations to guide them through contract negotiations and contract lifecycle management.
CIOCoverage explains:
"CobbleStone prioritizes simplifying legal ops to meet business objectives and enrich the AI system. It allows users to integrate processes and applications, making the contract lifecycle more manageable."
Click here to read more about what makes CobbleStone Contract Insight® a leading contract negotiation and CLM solution!
"We are thrilled to be recognized by CIOCoverage for the leading strength of our ranging, AI-based contract negotiation tools," says Bradford Jones, Vice President of Sales and Marketing at CobbleStone Software.
"Our proprietary artificial intelligence engine positively transforms and streamlines contract negotiation - as well as the entirety of the contract lifecycle - for a flexible and centralized experience."
Contact CobbleStone Software to schedule a free demo.
For more information, email Sales@CobbleStoneSoftware.com or call 866-330-0056.
About CobbleStone Software:
CobbleStone Software is a celebrated leader in contract management software solutions whose flagship CLM software solution – CobbleStone Contract Insight – expedites contract management, vendor management, eProcurement, and eSourcing processes while offering seamless integrations, ease-of-use, and high scalability. CobbleStone's contract lifecycle management solutions provide simplified contract and vendor tracking, highly configurable email alerts, user-friendly calendar notifications, intelligent contract workflow automation, highly robust security options, streamlined authoring of contract templates with dynamic clauses, centralized revenue/cost management, detailed text indexing and searching, future-minded vendor/client ratings, robust document version control, custom contract management reports, speedy IntelliSign® electronic signatures, more intelligent contracts with VISDOM® artificial intelligence and machine learning, and more.
Follow CobbleStone Software on social media:
> LinkedIn
> Twitter
> Facebook
> YouTube
To stay up to date on contract lifecycle management industry trends and news, subscribe to CobbleStone's Contract Insights blog.