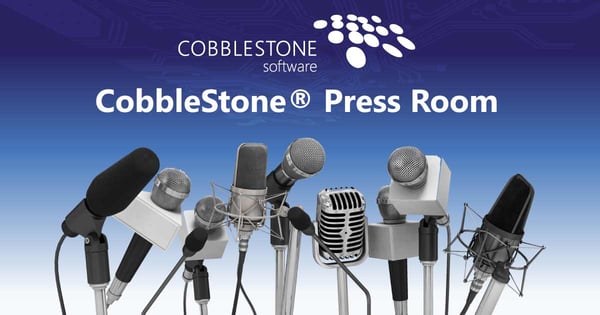 CobbleStone Software has been named the Best Contract Management Solution Provider to Watch in 2023 by The Enterprise World in the latter's March edition cover story.
PRINCETON, NJ (APRIL 17, 2023) - CobbleStone Software – a recognized Leader in contract lifecycle management (CLM) according to the SPARK Matrix™ 2022 report – has been recognized for their ongoing, advanced contributions to the legal tech space - as they were recently named among the best contract management software solutions providers to watch out for in 2023.
This article by The Enterprise World highlights CobbleStone's journey and how their founder, Mark Nastasi, has shown his commitment to raising industry standards by providing innovative methods for contract management. CobbleStone has managed to retain over 90% of its clients by constantly delivering evolving products and services for contract lifecycle management success.
With proprietary features - such as IntelliSign® electronic signatures and VISDOM® artificial intelligence with machine learning, CobbleStone is recognized as a pioneer in replacing traditional, paper-based system for contracts with something better.
The Enterprise World praises CobbleStone's million-clause initiative to provide users with an AI engine that has learned from 1,000,000+ real-life clauses. Additionally, The Enterprise World states:
"To make things extra easy and streamlined, CobbleStone users can leverage auto-redline to:
> Auto-redline documents ad-hoc or upon upload.
> Quickly see and manage automated redlines and comments with thorough audit trails.
> Work within both CobbleStone's native online document editor and MS Word."
Click here to read the full article!
"We at CobbleStone are honored to be on the cover for this month's feature by The Enterprise World," says Mark Nastasi, President & Founder of CobbleStone Software.
"We aim to provide exemplary service to contract management professionals and offer many tools and services to aid with managing the contract lifecycle process."
Contact CobbleStone Software to schedule a free demo.
For more information, email Sales@CobbleStoneSoftware.com or call 866-330-0056.
About CobbleStone Software:
CobbleStone Software is a celebrated leader in contract management software solutions whose flagship CLM software solution – CobbleStone Contract Insight – expedites contract management, vendor management, eProcurement, and eSourcing processes while offering seamless integrations, ease-of-use, and high scalability. CobbleStone's contract lifecycle management solutions provide simplified contract and vendor tracking, highly configurable email alerts, user-friendly calendar notifications, intelligent contract workflow automation, highly robust security options, streamlined authoring of contract templates with dynamic clauses, centralized revenue/cost management, detailed text indexing and searching, future-minded vendor/client ratings, robust document version control, custom contract management reports, speedy IntelliSign® electronic signatures, more intelligent contracts with VISDOM® artificial intelligence and machine learning, and more.
Follow CobbleStone Software on social media:
> LinkedIn
> Twitter
> Facebook
> YouTube
To stay up to date on contract lifecycle management industry trends and news, subscribe to CobbleStone's Contract Insights blog.