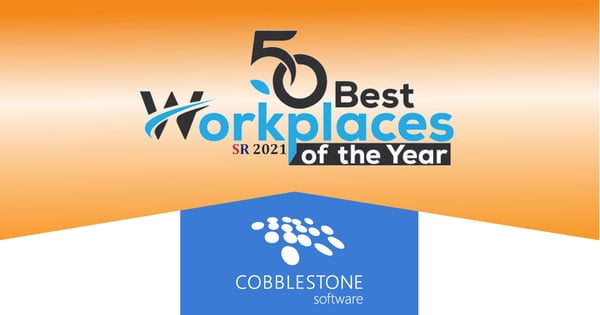 Princeton, NJ (December 6, 2021) -CobbleStone Software, a leading contract management software provider, is awarded among the 50 Best Workplaces of the Year by The Silicon Review. Such a notable honor demonstrates CobbleStone's dedication to attracting and retaining talent that contributes toward its long-term growth as an industry-leading CLM software provider.
In an interview with Mark Nastasi, Executive Vice President and Founder of CobbleStone Software, The Silicon Review states the following.
"When it comes to longevity, CobbleStone Software has it. I find it unique that an organization has what it takes to continue to offer outstanding software solutions for nearly three decades." - The Silicon Review
To read the full interview of The Silicon Review with Mark Nastasi, click here.
Such longevity in offering future-minded CLM software solutions is attributed to CobbleStone's investment in its employees' growth and workplace support as their corporate teams continue to contribute towards CobbleStone's long-term success as a CLM software leader. It's no wonder why Forrester Research, Inc. names CobbleStone Software a Leader in CLM Software in their report: The Forrester Wave™: Contract Lifecycle Management For All Contracts, Q1 2021.
To view CobbleStone Software's ranking among the 50 Best Workplaces of the Year 2021, click here.
CobbleStone fosters a workplace environment that is second to none. They can offer a variety of optional employee benefits such as workplace flexibility, paid time off, medical insurance matching, incentive bonuses, profit sharing, professional development training reimbursement, and 401k plans. Moreover, management and human resources assess employees for proven success in their departments and reward them during their biannual CobbleStone Software Employee Excellence Awards - where award recipients receive perks, such as engraved awards and additional paid time off.
"We at CobbleStone Software are excited to receive a high ranking among the 50 Best Workplaces of the Year 2021 by The Silicon Review, as it serves as a testament to our dedication in cultivating a workplace environment that aligns with our corporate values of sincerity, integrity, humility, charity, courtesy, and wisdom." - Mark Nastasi
"As CobbleStone continues to grow, we excitedly anticipate attracting top talent to add to our current exceptional employees who will continue to contribute toward our workplace success in driving our competitiveness as a world-class CLM software leader."
Email Resumes@CobbleStoneSoftware.com to inquire about employment opportunities with CobbleStone Software.
About CobbleStone Software:
CobbleStone Software is a celebrated leader in contract management software solutions whose flagship CLM software solution – CobbleStone Contract Insight – expedites contract management, vendor management, procurement, and sourcing processes while offering seamless integrations, ease-of-use, and high scalability. CobbleStone's contract lifecycle management solutions provide simplified contract and vendor tracking, highly configurable email alerts, user-friendly calendar notifications, intelligent contract workflow automation, highly robust security options, streamlined authoring of contract templates with dynamic clauses, centralized revenue/cost management, full-text indexing and searching, future-minded vendor/client ratings, complete document version control, custom contract management reports, speedy IntelliSign® electronic signatures, more intelligent contracts with VISDOM® artificial intelligence and machine learning, and more.
Contact CobbleStone Software to schedule a free demo and acquire pricing information at Sales@CobbleStoneSoftware.com or call them at 866-330-0056.
To stay up to date on contract lifecycle management industry trends and news, subscribe to CobbleStone's Contract Insights blog.
Follow CobbleStone Software on Social Media: