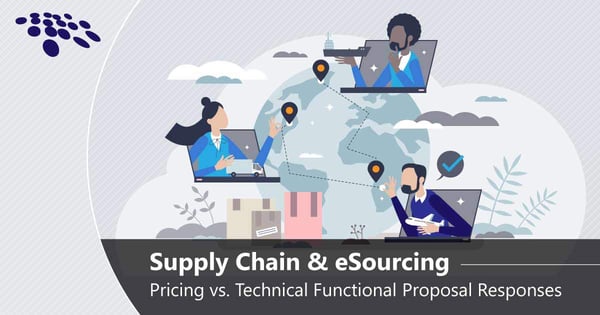 ATTENTION procurement, supply chain, and purchase managers:
Your supply chain and sourcing processes play a critical role in ensuring your procurement teams have the proper goods and services necessary to operate and expand your business while fulfilling your client, operational, and contract commitments.
I was recently asked:
What is the benefit of requiring bid respondents to separate the pricing bid response from the technical bid response?
I will attempt to answer that question with a deep dive into the benefits and challenges of separating your requests for proposal, bids, and other sourcing solicitation requests from suppliers and vendors into separate pricing and technical responses.
Let's get started.
Sourcing Goals
First, let us cover a couple of the important sourcing goals of a modern procurement team.
Sourcing Goal #1
Let's assume your organization has adopted procedures to ensure that each purchase should meet the minimal (if not all) requirements of the purchase need. Hence, your company does not want to purchase or procure products and/or services that do not meet the needs of the intent of the purchase.
Sourcing Goal #2
Goal 2 assumes that your company and procurement team has an objective to fulfill goal 1 (above) at the best price or best value.
So how can a purchasing team achieve Goal 1 and Goal 2 (ignoring other sourcing/purchasing goals and variables not discussed in this article inclusive of, but not limited to, monopoly, trade restriction, supplier qualifications, risk/litigation concerns, and/or pricing control limitations)?
Well, many modern supply chain and sourcing departments require bidders for goods and services to meet established criteria for price, risk, commodity, service class, and other conditions. To better control this process, it is an improved sourcing practice to request the vendor and suppliers to separate their technical response from the pricing response proposal.
Technical Response
Let's dive into the goal of - and items that should be required in - a technical response.
Think of the technical response as one that focuses primarily on answers to questions related to the product or service requirements (inclusive of qualifications of the bidder too). This may include a product's or a service's:
features.
speed.
warranty.
size.
color.
speed to delivery.
availability
functionality.
performance.
Typically, these items are presented and asked of the bidder in a question-and-answer format.
Qualifications of the bidder to consider include:
financial stability.
customer references.
disadvantage business enterprise (DBE) goals.
certifications/qualifications.
The bidder's technical response should be a separate document. Otherwise, keep reading below for a more robust eSourcing software solution as an alternative to documents. It could also be a response that does not include pricing.
Pricing Response
Let's explain how a pricing response differs from a technical response.
The pricing response is a separate response document. Otherwise – again - keep reading below for a more robust eSourcing software solution as an alternative to documents.
The pricing response should include (but not limited to):
the price per unit.
quality.
total price.
taxes tariffs.
special discounts.
volume discounts.
increased pricing rights.
delivery fees.
service fees.
payment schedule.
financial options (if available).
Typically, the pricing response is separate from the technical response. For better procurement processes, the pricing response should be locked and not reviewed until the technical response is reviewed, scored, and potential suppliers are down-selected.
Bid Response Review and Rating
To better support goals 1 and 2 above, it is a procurement best practice to require the bid review team to assess the technical responses of all vendors in full (assuming the bid response was completed in accordance to the RFP or bid requirements). The bid review team should rank, rate, and score the technical responses of each bidder or respondent.
This process will facilitate a few benefits, including:
It tends to encourage the selection (down-selecting) of suppliers that better meet the requirements of the bid, based on if their product or service can fulfill the needs of the sourcing request.
It removes pricing bias in this stage that some bid reviewers would have used to conclude that a lower-price supplier is the better choice.
It removes pricing bias that suggests that a higher-price supplier is the better choice.
It removes potential bid collusion in which a bid review team member shares pricing with other bidders.
It encourages fair competition based on qualifications and fitness.
As Warren Buffet most famously said (via Benjamin Graham):
"Price is what you pay; value is what you get."
This quote teaches us to look beyond a price tag and – instead – focus on the future-minded value of a product, service, investment, or other purchase.
Once the qualified (or highly-ranked) bidders or suppliers are down-selected, the pricing review can begin. The pricing review process is typically related to comparing prices for similar product units and volumes inclusive of the other pricing items discussed in the pricing response section above.
PLEASE NOTE: Do not solely analyze for overall pricing; be sure also to factor in per-unit pricing and volume discounts.
Finally, select (or continue to evaluate) bid responses for the top x selected vendors and move to a final purchase decision based on other items set forth by the bid requirements.
Modernize Your Procurement Team's Purchase and Sourcing Processes
There are many features and benefits a modern e-sourcing and procurement management software system can offer, and there is not enough time in this article to cover all the benefits. Rather, I will touch on the benefits related to the content and processes covered above.
Procurement Requisition Tracking: Implement a best-in-class eSourcing and procurement software solution that handles procurement requisitions. With robust eSourcing Software, your organization can leverage a request and workflow engine to capture, track, and manage employees' requests to purchase goods and/or services. This feature affords your team governance over purchase requests, easy tracking of requestors, timely responses to purchase requests, reduced costs, and better services to employees and customers.


Sourcing and RFP Tracking: This feature is typically part of an enterprise eSourcing software solution that includes an electronic record to track sourcing processes. Such aspects of centralizing include the need justification, the requestor, the buying manager, the approving manager, the bid requirements, the bid open date, bid close date, the review date, RFx invitations, vendor/supplier registration, qualifications, questions and answers, surveys, separate technical responses and pricing responses, and more.


Improved Vendor/Supplier Risk Management. Implement an enterprise solution to better track vendor/supplier details, qualifications, insurance certifications, risk rating, documents, OFAC screening integration, and more.


CobbleStone's trustworthy, award-winning, and scalable eSourcing Software simplifies the purchasing process with the utmost governance, decreased friction, and high-level elasticity from purchase requisition to post-award contract management.
CobbleStone Software is available on the GSA Schedule 70 and many state and local government cooperative purchases. It can also be purchased via an extensive partner/reseller network – or directly!
Discover why thousands of purchase order managers and contract managers rely on CobbleStone Software for their purchasing needs. To learn more about CobbleStone's unmatched purchase order management software, book a free demo with a CobbleStone Contract Insight expert today!
To stay up to date on best practices, industry news, and CobbleStone Software updates, be sure to subscribe to our blog and YouTube Channel.
*Legal Disclaimer: This article is not legal advice. The content of this article is for general informational and educational purposes only. The information on this website may not present the most up-to-date legal information. Readers should contact their attorneys for legal advice regarding any particular legal matter.