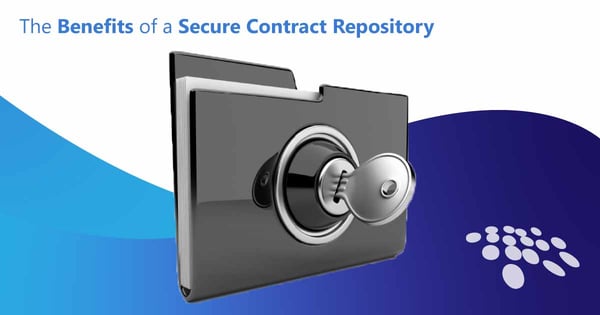 Successful contract management requires you to embrace a centralized and secure process. Manual contract management methods - such as filing cabinets for paper documentation, spreadsheets, emails, and disorganized digital storage – won't cut it. These methods make it nearly impossible for your organization to maintain version control, keep contracts and data secure, stay on top of key dates and milestones, and enforce contract archiving and retention rules. Your organization can scrap these outdated methods in favor of something better. As such, here are the benefits of a secure contract repository within leading contract management software.
Data Extraction & Data Identification
With a contract repository backed by contract artificial intelligence, your organization's contract management processes can be streamlined and automated. Your organization can trust a proven system for contract analysis and transforming static documents into dynamic building blocks for improved contract oversight, proactive opportunity identification, and preemptive risk mitigation. Contract AI and machine learning within a robust contract management software platform can help your organization get the most out of its contract repository. Key data within imported contract documents can be intelligently mapped to the system or user-defined fields. As such, data within your contract repository is organized, easy-to-navigate, and easily searchable – with relevant documents attached for easy access as well. Watch the video on contract intelligence below.
Protection of Sensitive Data
Your organization can trust that sensitive data is protected and secure with a robust contract repository within leading contract lifecycle management software. This data protection is helpful no matter which industry your organization hails from - but is perhaps most important for highly regulated industries such as government, healthcare, and pharmaceuticals. Your organization can identify critical data such as key dates, milestones, clauses, counterparty information, locations, emails, phone numbers, financial information, and more - thus eliminating the need for monotonous, time-wasting, and error-prone manual data field entry. Your contract repository and relevant data will be most safe with a contract management software provider that is SOC 1, SOC 2, and Privacy Shield compliant – such as CobbleStone Software.
Contract Repository Oversight & User Permissions
User permissions oversight and centralized control of a web-enabled contract repository allow contracts to be safely stored. Your organization's contract professionals can organize contracts, oversee permissions, ensure version control, keep track of contract status, quickly search for existing contracts, centralize collaboration, and more
Confidential and sensitive information is stored and tracked within a contract management software system throughout the contract lifecycle. Your organization must have the ability to place access restrictions on PII, PCI, and other sensitive data.
For instance, your organization's software end-users may not have any need to edit contracts other than those they've drafted themselves. With a permissions-based process, your organization can easily prevent instances of sensitive data from being accessed by unauthorized personnel.
A secure online repository can help your organization by:
safeguarding the organization, location, protection, sharing, and searching of contracts.
improving accountability.
centralizing control.
increasing productivity.
streamlining contract management.
Watch the video below to learn about six critical contract management tools for 2021 - one of which is a secure contract repository!
Enjoy a Powerful Contract Repository With Contract Management Software
Now that you know the many benefits of a robust contract repository, it is time to introduce the best possible CLM solution for contract security and centralization: CobbleStone Software.
CobbleStone® is an award-winning, widely trusted contract lifecycle management software. CobbleStone's highly acclaimed source-to-contract management software suite - CobbleStone Contract Insight® - has helped thousands of organizations from industries within both the public and private sectors to optimize the contract management process, boost revenue, promote productivity, centralize CLM processes, and reap the most value from contracts. Given the plethora of helpful tools above and so many more, it's no wonder why Forrester recognizes CobbleStone as a CLM Software Leader.

Discover why Forrester names CobbleStone a Leader in CLM Software in the video below.
Discover why thousands of contract managers trust CobbleStone to transform their contract management processes. To learn more about CobbleStone's unparalleled contract lifecycle management software, book a free demo with a CobbleStone Contract Insight expert today!
To stay up to date on best practices, industry news, and CobbleStone Software updates, be sure to subscribe to our blog and YouTube Channel.