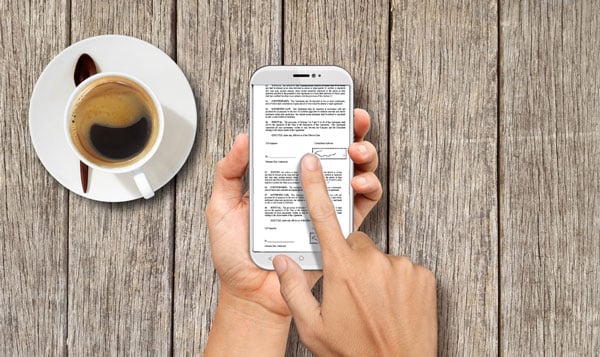 Electronic signatures are not new to contract management, but you may be skeptical of the validity compared to a wet signature. Rest-assured, electronic signatures are just as binding as hand written signatures with the same legal clout. If you're stressed about contract deadlines and signature delays negatively impacting negotiations and your ability to close more deals, read on to find out how e-signatures can help your organization.
#1 Business Relationships
When it comes time for collaborating with business partners, it can be long and dragged out. There may be some back and forth, but once that agreement is reached, getting it signed and sealed is the ultimate goal. Taking away a hand-written signature and implementing electronic signatures will help guide that process right along.
If a contract needs to be signed by multiple people/parties, passing that document around the office can eat up time that no one wants to waste. Ensuring compliance while saving time, and money, are just some of the headaches that can be avoided with electronic signatures.
Through the electronic signature process, documents can be sent to the appropriate coordinating person to keep the process moving. They can get it signed and it can be sent back without ever having to leave the office. No hassles.
Without the burden of printing contracts, you can now avoid missing critical contract deadlines and renewal dates. Having these deadlines met and contracts signed will show you the quickness and efficiency that you were missing out on. With e-signatures, you can make the entire process easy on everyone, including your in-house team and your counterparties. A mature e-signature tool will support "wet" (traditional) signatures as well. No turning back now.
#2 Time and Money
Time spent and money saved can always be improved. Having to print out numerous copies of pages that require signatures is not cheap and neither is the postage cost to get it to where it needs to go. Over time, these costs add up. With electronic signatures, these expenses are eliminated.
If you have a contract that requires multiple signatures, save yourself the time and the repetition of having to constantly sign your name. With just a few clicks, you can have documents signed in a fraction of the time that it would take you traditionally.
Managing contracts can be stressful, especially if you are working with different companies that are located in different areas. Manually managing this process makes it harder to get to the finish line, so with e-signatures there will be no delays in the process of sending each contract. Be confident that the contract will get there since it's automated electronically.
There will be no lag time, and different time zones will not be an interruption in the negotiation process. Having the process done in a matter of minutes without human error is what electronic signatures are all about. Combine electronic signatures with contract management software to streamline the contract lifecycle.
#3 Enhanced Security with Electronic Signatures
The electronic signature feature provides the enhanced security that you are looking for to finalize the contract negotiation process. The risk for passing a confidential agreement around and the possibility of it falling into the wrong hands is greatly decreased with electronic signatures. There will be no chance of someone accidentally picking up your copy off the printer or the post office sending it to the wrong location.
Across the board, electronic signatures continue to prove their value. There are extreme benefits that outweigh the costs of that old-fashioned hand signature. Signing your contracts and making your negotiations are now just a few clicks away. You are now able to take your contracts on-the-go and beat out your competitors. You will be able to close more deals and sign more contracts. Get started today with a free live demo of CobbleStone's e-signature software!