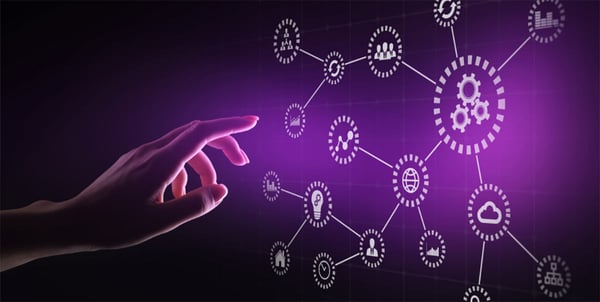 How many steps should be in a contract workflow?
The correct answer is: It's dependent on your organization's needs.
There is no set number of tasks for a "perfect workflow". You must determine what steps are necessary and in what order they should be executed, establishing the best workflow for your organization to achieve CLM (contract lifecycle management) success.
Outlined below is a 5-step process for creating a contract workflow in Contract Insight™, CobbleStone's award-winning contract management software. Keep in mind, the tasks in this workflow might be the same steps your organization would use, but not necessarily someone else's. It is purely an example of how a workflow is executed with both sequential and parallel tasks. The examples below are displayed in text format for easy explanations, but the system offers visual workflow diagrams as well. There are three individuals involved in this workflow, Michael, Sally, and John. Each is assigned separate tasks that need to be completed. The system has been configured by their organization so each individual will receive automated notification alerts, reminding them of their task due dates. The system makes it easy to complete workflows in a timely manner due to this capability.
Step 1 – Drafting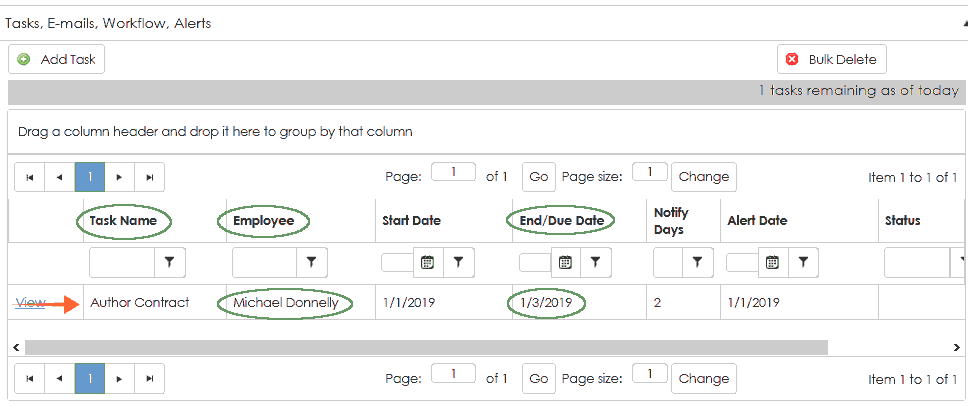 In the first step of this workflow, Michael has been assigned to draft the contract and is expected to have it completed by January 3, 2019. He'll be notified 2 days prior to ensure he has ample time to complete the task. Contract Insight is seamlessly integrated with MS Word so drafting can either be done from scratch or can be pulled together with pre-approved templates and clauses already in your system. It's easy to create, store, and search clauses in the system which makes contract drafting that much easier.
Step 2 – Rejection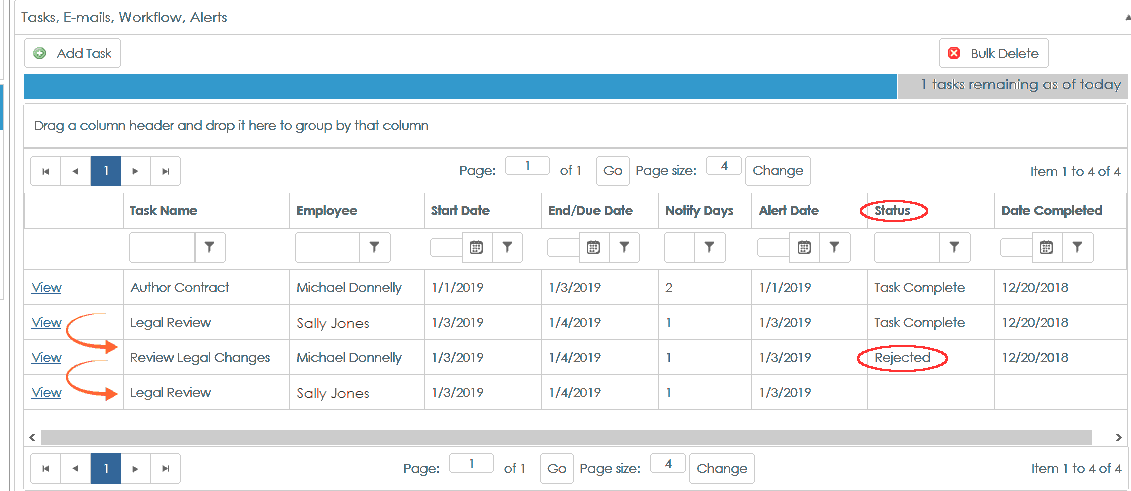 In step 2, take notice that Michael completed his task and Sally has completed the second task, Legal Review. Michael was asked to review the legal changes made, but it was rejected and has been sent back to Sally for additional changes to be made. This functionality makes it easy to collaborate with others during the contract lifecycle, providing all parties involved with real-time status on each workflow task.
Step 3 – External Signing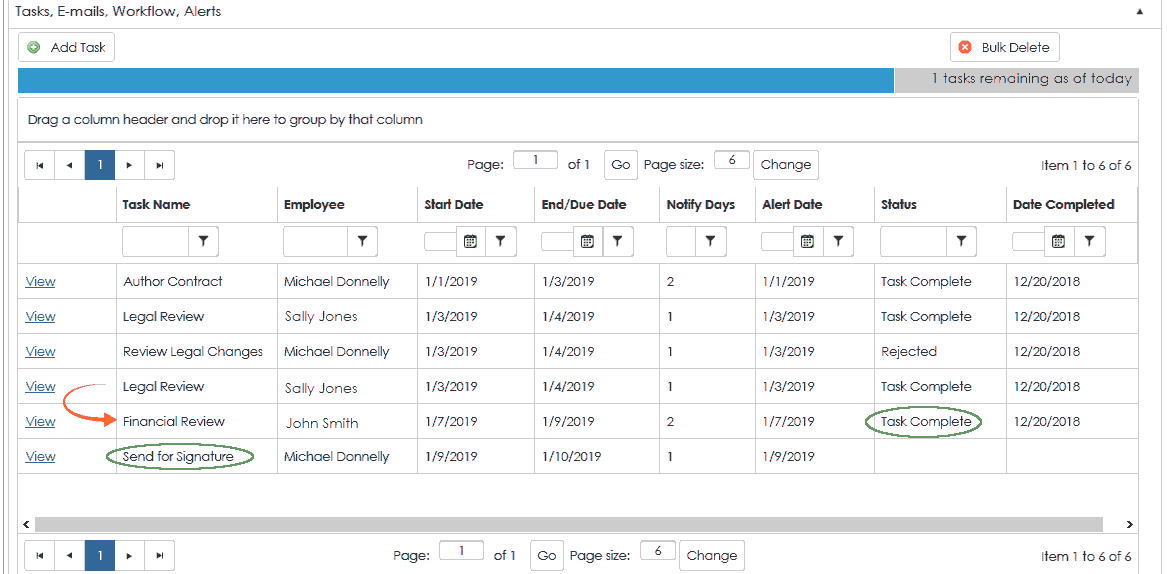 In step 3, you'll see that Sally completed the final Legal Review, and the contract was sent to John for Financial Review. John felt confident in completing the Financial Review since he was able to see that all prior tasks had been completed. Many organizations may want tasks completed in a specific order, ensuring the review process is handled by the right people in the right order. Contract Insight gives users the option of configuring workflows to be completed sequentially or simultaneously.
Step 4 – Parallel Task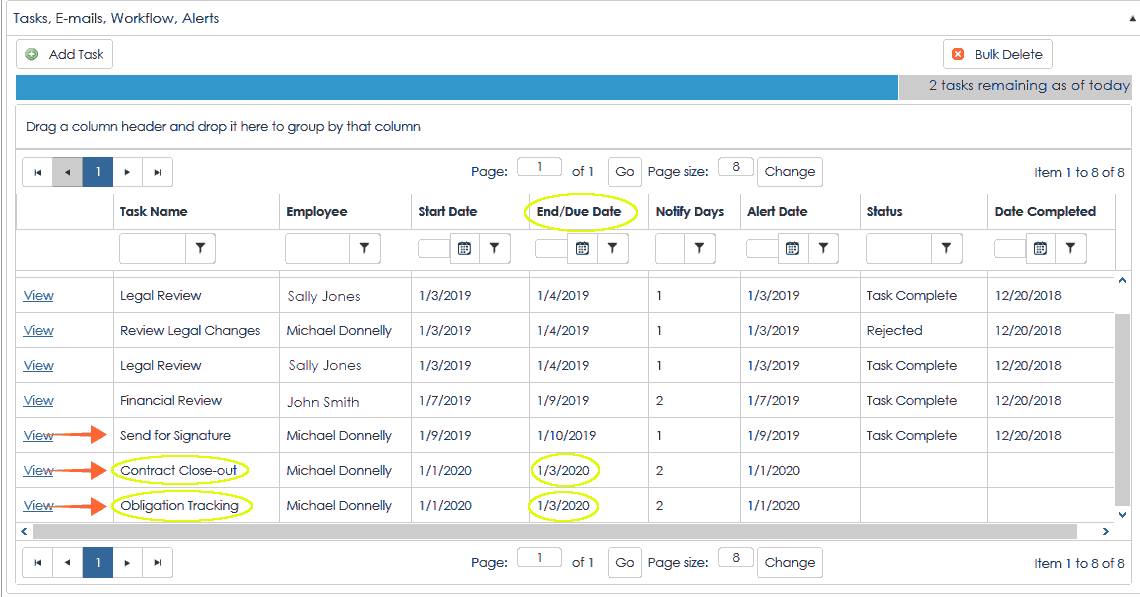 In step 4, Michael has been sent the contract to sign, utilizing CobbleStone's e-signature integrations. Users have the option of integrating with Adobe Sign, DocuSign, or using CobbleStone's proprietary eSign tool. This completes the Source-to-Signature process, but the contract lifecycle does not end here. Two parallel tasks (meaning they occur simultaneously) proceed the signature (Contract Close-out and Obligation Tracking), occurring 1 year later.
Step 5 - Renewal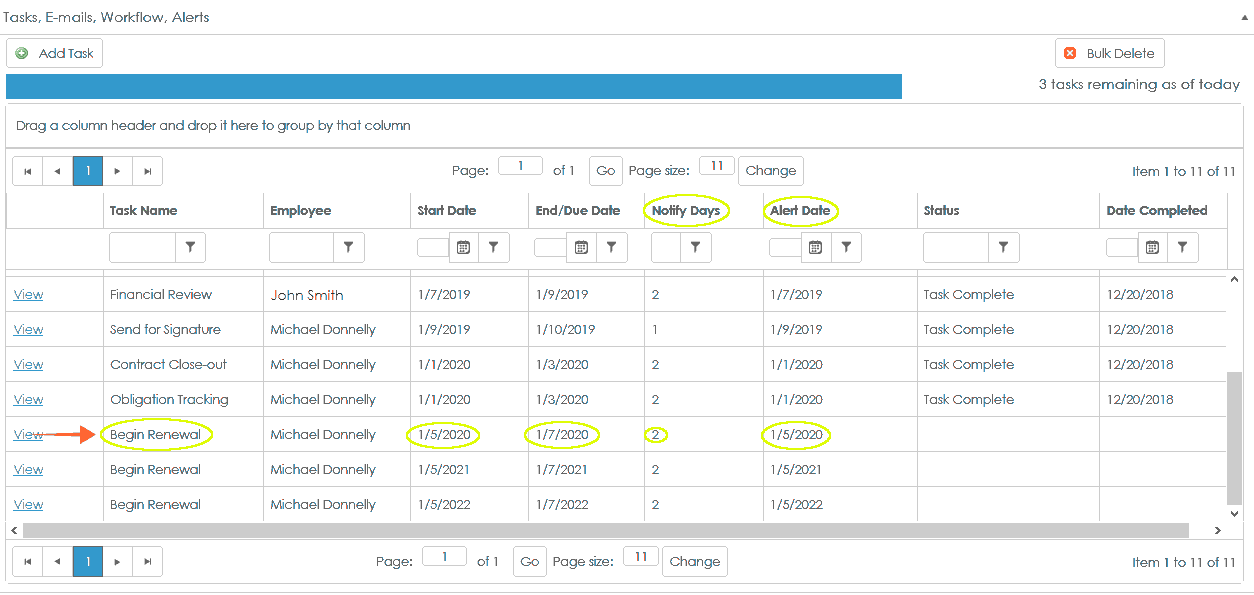 Step 5 brings us to the last part of our workflow – Contract Renewal. The system has been configured so Michael will receive an automated alert each year on January 5th, reminding him the contract is due to be renewed.
It's important to have a clear understanding of what steps need to be taken for your organization to achieve CLM success. Once a workflow has been established, cycle-time reports and other built-in analytics in Contract Insight can be used to identify bottlenecks and opportunities for process improvement. CobbleStone Representatives are available for a free demo of our software and guided assistance in choosing the right configurations for your system. Set yourself up for CLM success and get started with automated workflows today.