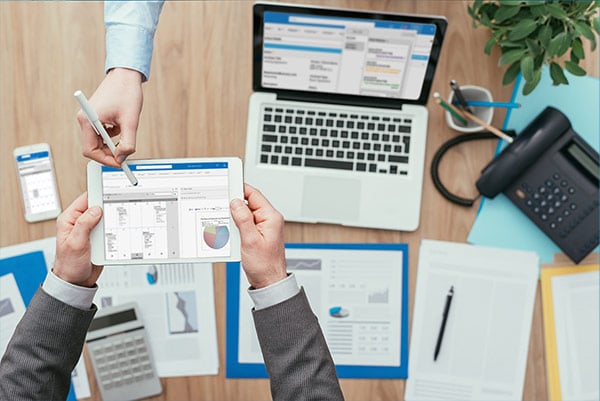 Business software plays a critical role in any organization and is the foundation for doing business in today's economy. Companies typically rely on leading software products such as e-commerce software, procurement and sourcing management software, customer management software, accounting software, and risk management software, to name a few.
When a company purchases best-of-breed software, there is typically a contract or terms of use agreement. These contracts come in the form of an end-user license agreement (EULA) and the software may be bound by a contract such as a software license agreement. Often, these contracts define the terms and conditions of use via clauses and provisions including: the license grant, where the product can be used, number of users, payment terms, and warranties and limitations, among other legal conditions.
The Challenge with Software License Agreements
For larger organizations, tracking software license agreements can be challenging and contract management may not be their primary skill.
Tasks may include but are not limited to:
Determining the number of employees or users utilizing the software
Tracking the installation location of the software
If the license grant is being overused, tracking the software expiration date and whether additional license fees or overages are due
Identifying who approved the purchase
And many other contract management challenges
Moreover, according to the US Patent and Trademark Office, software piracy accounts for billions in lost revenue for software companies, and counterparties may seek legal action to recover their losses. Many large software companies perform annual or routine software audits and others force compliance reporting. As technology improves, it becomes easier for software vendors to identify software misuse.
I recall a large national retailer who contacted me because they violated a CAD (computer added design) software license and they were sued for $6 million. They settled out of court for $2 million.
Companies stand a chance to incur undue risk and costs if they mismanage their contracts. Another contract management software user of ours was accidentally paying monthly recurring costs (in excess of $80,000 per month) for a standby-electricity-generator contract on several of their locations that had been closed for years.
These types of losses add up. If your company violates a software agreement or incurs large contract costs, your company could stand to lose a lot of money, and perhaps this could cost you your job.
For companies lacking a dedicated contract manager or legal assistant, tracking software agreements and related contract management tasks is difficult.
Manually tracking software licenses and vendor agreements is often time-consuming, unorganized, delayed, and can lead to important items being missed. It is easy to miss approvals, contract alerts, terms and conditions, contract budgeting, and other important details within the contract process.
With new regulatory demands and increased competition, it may be costly to miss a contract. With advanced technologies, there is an efficient and cost-effective method of tracking contracts and agreements. But why just track contracts? Why not look at ways to improve the entire contracting process, from opportunity, to approvals, to contract authoring, to signing, and finally, to post-execution monitoring?
The Solution for Software License Agreements
There are many ways to manage software licenses and agreements. Some basic methods are with paper document tracking, spreadsheets, and in-house systems to manage agreements. For users who need a free, basic contract-tracking spreadsheet, check out this one provided by CobbleStone Software.
For advanced contract lifecycle management, individuals such as software managers, contract managers, legal assistants, and purchasing managers typically utilize a leading contract lifecycle management software product.
Leading contract software features will offer out-of-the-box contract tracking fields for tracking the following, all in a secured repository:
License type

Software/contract name

Version number

Number of users



License effective date
License expiration date

License price

Software manufacturer name

License costs

License attachments

Each version of the contract document
More powerful contract software systems allow for proactive users by sending early alert notifications so you and your legal, IT, and purchasing teams can easily monitor software license expiration and renewal dates.
Advanced contract software products will include workflow approvals, budgeting, drafting of contracts with terms and conditions, online negotiation and collaboration, and electronic signatures. Some of the best contract management software, such as CobbleStone Software's Contract Insight ™ Software, includes purchase order management features, e-sourcing and procurement management, and online bids, allowing your software vendors to compete for your business.
Selecting a Better Contract Software Product
When selecting or replacing your contract management system, it is recommended to ensure your key goals are clear. Ask the primary business team members the following questions:
Have we checked with our corporate attorney to confirm the legal requirements for our organization and the requirements needed for tracking agreements?
Are there any key regulatory demands for our organization that we need to consider like software licenses, HIPAA, GDPR, Privacy, SOX, Sunshine Act, Federal Acquisition Requirements, or other laws and regulations?
Should we track the process from contract requests, bids, vendor selection and/or lead opportunity, pricing, award, contract drafting, approvals, negotiations, signatures, amendments, post execution management, compliance alerts, reporting, or contract close-out?
Should we track purchases, spend, orders, and financials against the contracts?
What information should we track? Do we need to disclose our contracts online due to FOIA (Freedom of Information Act)?
Does the software in question have full lifecycle contract features?
If you're interested in exploring contract management software, you can request a free demo of CobbleStone Software Contract Insight™.