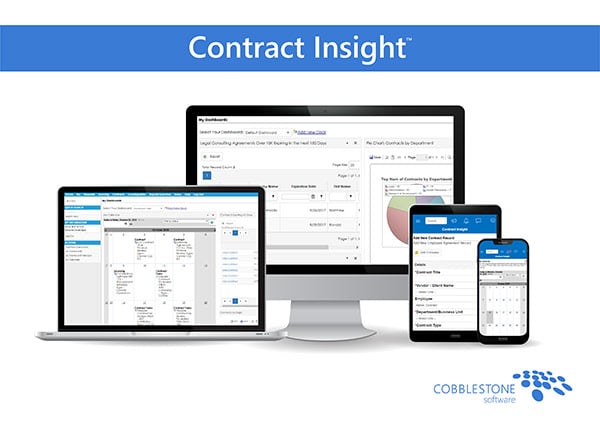 CobbleStone Software is happy to announce a new user interface update to Contract Insight™ Enterprise Software with Version 17 of the industry leading solution. The update will provide our clients with a more modern and configurable design that allows users to have more flexibility in creating the perfect look and feel for their organization within the system. The update gives our users an opportunity, if they wish, to change the design so they are no longer confined by the standard look that is default out-of-the-box.
Typically, software providers update software UI on a 3 to 5 year cycle. We recognize that our clients want a more configurable design aspect to their software, especially in between major system updates. Typically, business software systems come with a standard look with rare updates to the design as the focus tends to be on functionality.
The Contract Insight™ Version 17 update not only enhanced Contract Insight's features and functionality, but also included revolutionary interface design advancements.
The latest version will include nearly twenty themed skins and four layout designs. Through Contract Insight™ contract software, a system admin user now has the capabilities to choose different themes, colors, font, font sizes, and even the location of menus within the system. Keep in mind this is a system-wide change. Gone are the days of the take-it-or-leave-it approach when it comes to the design of your contract software. Now organizations can choose a design to go along with the branding of their company or just design a more modern streamlined look that fits their organizational personality.
The Version 17 design update also has increased mobile friendliness. With Contract Insight™ being a web-based solution, it is important for our product to be responsive on any mobile device such as tablet or smart phone. With the UI update Contract Insight™ will respond appropriately to the device on with a more compatible view, layout, and overall user experience. Now you can easily manage contracts on the go!
Additional Enhancements
The Contract Insight™ Version 17 update also includes additional feature enhancements to further automate and streamline your contract management processes. Our users now have additional options for visual summaries and field options.
In this edition, the system includes additional tools such as new field types, term and task progress bars, vendor performance gauge controls, and more for better vendor management.
The progress bars are a quick and easy visual check on the contract status for the term, tasks/workflow and budget. Selecting options with CobbleStone's new slider field have never been easier, especially on a mobile device. For example, rather than typing on your phone or selecting from a drop-down, you have the option to easily slide to the appropriate response. CobbleStone also introduced the user-friendly gauge control for quick representations of vendor/client performance ratings.
CobbleStone's contract document management continues to lead the industry with advanced contract negotiation control. With Version 17, authorized users are able to convert a PDF file/document to a Word format for editing. Managing and controlling contract negotiations just got easier with CobbleStone's CLM solutions!
Additional visual enhancements have been made to the system email alerts with a more appealing notification that includes separation of key details to allow for quicker reviews. The update provides a modern, easier to read email. The contract alerts subject lines are also now configurable. These subject lines can include text such as expiration date, early warning date, annual review date, or other key data that can improve the contract evaluation.
CobbleStone continues to lead the market with our software to meet the needs of our clients both functionally and visually. As always, new enhancements make our product more user friendly and flexible, but also creates a more modern design for our clients. The new Contract Insight™ user interface update is now available. Please contact your account representative today to schedule your upgrade.
About CobbleStone Software and Contract Insight™
CobbleStone has helped thousands of contract professions better manage their contracts, risk, and compliance since 1995. Learn more about Contract Insight™ Contract Management Software by visiting us at www.CobbleStoneSystems.com and sign up for a free demo.
866-330-0056 | www.CobbleStoneSystems.com