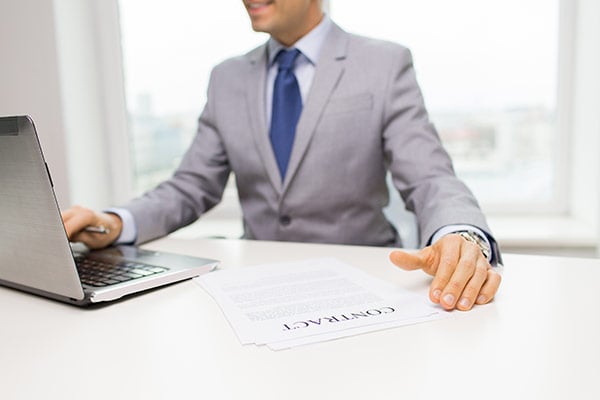 Organizations across every industry are responsible for tracking, managing, and storing their contracts and agreements with vendors, clients, and partners. For many companies with contracts and committals with vendors, tracking the sourcing of those agreements is essential. Whether agreements with vendors are reached with simple or complicated procurement processes; a software suite with full procurement and contract lifecycle management can be enormously beneficial to any organization.
Combining or merging business processes in an attempt to save time or money is not a new idea. The drawback is the potential loss in quality by essentially cutting corners. A software suite focusing on eProcurement and contract lifecycle management creates synergies; increasing efficiency without sacrificing diligence. RFPs are still able to go through their unique rules-based workflows and approval processes while seamlessly transitioning information to a new awarded contract. It would no longer be necessary to re-format, transfer, or re-enter data into a separate system or database. A loss of employee productivity because of transition confusion can be mitigated. Integrated processes would save a noticeable amount of time on the business end in the short term, and would certainly pay dividends in the long term.
Another key benefit of obtaining a software suite with full procurement and contract lifecycle management capabilities is an audit trail. Every action in a system dealing with committals, agreements, and procurements will be documented for legal purposes. The potential savings in having a completely audited and documented history of all the actions taken from procure-to-pay are huge.
Organization-wide visibility can also lead to advances in the ability to leverage existing information and data for future business decisions and projects. An integrated software suite allows any organization's legal and purchasing teams to take comfort in the fact that all necessary information is readily available for discovery.
A full eProcurement and contract management system offers tracking of budgets at the employee-level which allows the purchasing team to easily identify which requests are able to be processed based on predetermined spend limits. Rather than jumping from system to system to double check budgets, workflow and more, a fully integrated software suite includes all of the necessary requisition details along with the budget numbers. Procurement specialists are able to easily monitor organizational spend and move the requests through to a contract and/or purchase order.
The advantage of having an organization-wide software system is often overlooked from a theoretical perspective, but is incredibly pragmatic. With a unified technological solution, it is no longer necessary to attempt to traverse across systems that may be completely different; or across departments that may have employees used to dealing with totally different nomenclature.
A software suite with full procurement and contract lifecycle management capabilities also allows for cost and time savings in the new employee onboarding process. Logically, it is much easier to teach a person one thing than multiple things. It is also much easier for an individual to become proficient at a singular function rather than many. As much as organizations would love for their employees to be all stars in all areas, it is much more realistic to expect employees to be very good in one.
In summation, a software suite with full eProcurement and contract lifecycle management capabilities can lead to synergistic savings in time and money, allow for a full audit history of all processes, and synchronize an organization with one platform. An enterprise-wide deployment, however, is a huge investment for an organization. Often, the best course of action is to expand and experiment with new technologies on the department or business group level. Using input from smaller groups within an organization can accelerate the process for any business to take the next step with a full procurement and contract management software suite.
About CobbleStone Software and Contract Insight™
CobbleStone has helped thousands of contract professions better manage their contracts, risk, and compliance since 1995. Learn more about Contract Insight™ Contract Management Software by visiting us at www.CobbleStoneSystems.com and sign up for a free demo.
866-330-0056 | www.CobbleStoneSystems.com