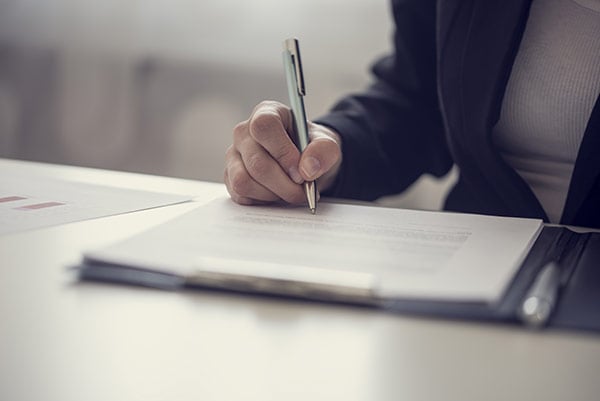 Contract writing and authoring can be the easiest or most complex step of the contract lifecycle management process. Whether the contract is going to contain a minimal amount of information, or if it is going to contain hundreds of different terms and clauses; writing all of these contracts can be a daunting and time-consuming process. Because of this issue, select providers of contract management software have a solution. By using contract templates, your authorized users can easily author a new contract by using rules-based text and clauses. This feature is beneficial in many ways, but a few of the key benefits can be outlined in more detail below.
Creating the Template
Creating a new document template is, generally, an easy process. The main goal of creating a new template is to provide your team with a starting point for a new agreement. Thus, the document will already have some details in it, but those details will have the ability to be changed. In this case, the details can be updated by the contract management software itself.
When creating a new template, some basic features should include: the ability to export the template to other platforms such as PDF, editing abilities, and page break placeholders, to customize the contract page layout. More advanced features should include: enhanced management and creation of documents, and rules-based capabilities for the information in the template such as a specific clause only being allowed to be used in a specific contract. These features are extremely useful when creating a new document template.
Clause Library
In the previous section, the use of a clause in a contract was mentioned. As I'm sure it comes as no surprise to you, clauses are crucial when authoring contracts because they can contain information that is critical to the terms of the contract. Clauses also end up playing a part when creating document templates because you can add clauses right into the template for future use. However, some select contract management software has the ability to store all of your clauses in a clause library. This clause library acts as a centralized repository for all of the clauses you have written, including primary and fallback clauses with versions.
As I mentioned above, clauses from your clause library have the ability to be automatically merged into your document based on specific business rules you set for each clause. For example, if you want a certain clause to be used in a contract ONLY if the contract is over a certain dollar amount, you can set that rule on the specific clause, allowing it to be merged into the document if it meets the criteria of the rule you set.
Some other examples of criteria rules are the type of contract, or the location of where the contract is being executed. If there are regulations based on the state of governance, you can set rules that will automatically merge in the clause that applies to each specific state.
Version Tracking
Now that you have created your document template containing the information and clauses that you want to be included, you can use that template to create a new version of a contract. Nevertheless, creating one version of a contract will most likely lead to multiple versions of a contract. Having multiple versions of a contract is expected, but it can also lead to miscommunication and misinterpretations with numerous versions of contracts being used by different people.
However, using some select contract management software, you have the ability to see each and every version of a contract in the order that it was created. This ensures that the most up-to-date version of a contract is being used without any uncertainty.
Contract authoring from a template is an extremely efficient way to create a new contract or document. When using contract management software, creating a template is very easy-to-use, and extremely beneficial for the author, as well as all of the other users of the template.
Also, the fact that dynamic clauses based on rules can be utilized with the document templates makes them even more valuable and provides a "self-serve" contract authoring tool. The ability to track the different versions of contracts made from your template is something that is very useful for the creation, comparison, and completion of each contract version.
About CobbleStone Software and Contract Insight™
CobbleStone has helped thousands of contract professions better manage their contracts, risk, and compliance since 1995. Learn more about Contract Insight™ Contract Management Software by visiting us at www.CobbleStoneSystems.com and sign up for a free demo.
866-330-0056 | www.CobbleStoneSystems.com