New Year Goals
The new year is hastily approaching, with resolutions swarming the office, and employees thinking about the months ahead. For contract and procurement managers, there are most likely processes within your organization that you and your team hope to improve. Whether your focus is compliance, communication, or overall better management processes, 2019 will be here before you know it, so why not be proactive with your new year goals and start preparing now?
I have outlined 3 useful tips that will help you prepare for managing your contracts in the upcoming year:
1. Utilize a Secure Repository
Do you waste time searching for contracts in unorganized file systems? When you do locate the documents, are you concerned with who could have edited clauses within the contract? Have you found that your colleagues face similar document management challenges? These are legitimate questions contract and procurement managers should ask themselves when considering their current contract management processes.
Obtaining the right documents when there are separate filing cabinets, binders, etc., in each department within your organization, can be a hassle. Even if your organization has Excel spreadsheets full of contracts, you will most likely still search for the correct document among different files.
Another issue you may find is that someone has edited a document they should have never had access to in the first place. When documents are accessible for anyone to modify, the concern of document security arises.
For better document and contract management, consider utilizing a secure contract repository, where all related documents are digitally stored and assigned specific user access. There are two ways a secure contract repository will help your organization:
Assigned location: You will no longer need to search physical document copies, or your team's shared drive, for the most recent copy. With CobbleStone's Contract Insight™, you can easily search and retrieve everything you need from within the system.
Contract security: Consider the importance of risk management by creating user restrictions so only permitted users will have access to view or modify specific documents. This eliminates the concern of how sensitive information is being handled.
CobbleStone's Contract Insight™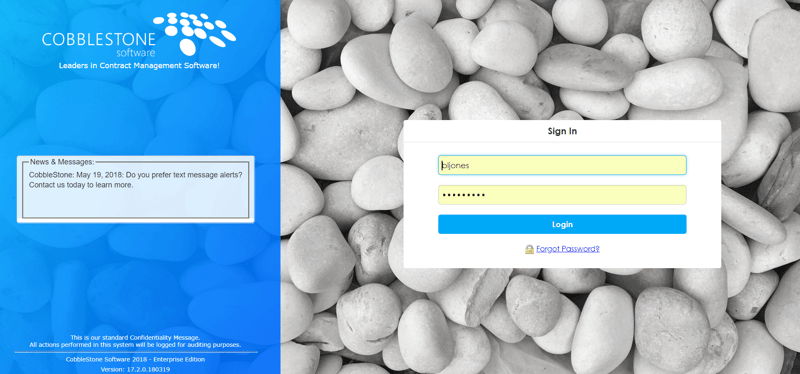 Additionally, contract management software tracks any document edits within the system so permitted users can view who has modified the document, and when.
2. Implement Automated Workflows
Do you send countless emails to colleagues and counterparties to alert them of a task to be completed, or to check in on the status of a contract or negotiation? Not only are manual task alerts and approvals time-consuming and frustrating for everyone involved, but they are an outdated practice that should be replaced with automation.
It's important to track the contract process flow to remain on schedule with the many negotiations you may be handling at one time. CobbleStone's Contract Insight™ features both internal and external automated task alerts, reminders, and approvals that can be sent to the appropriate individuals by setting rules within the system.
CobbleStone's Automated Workflows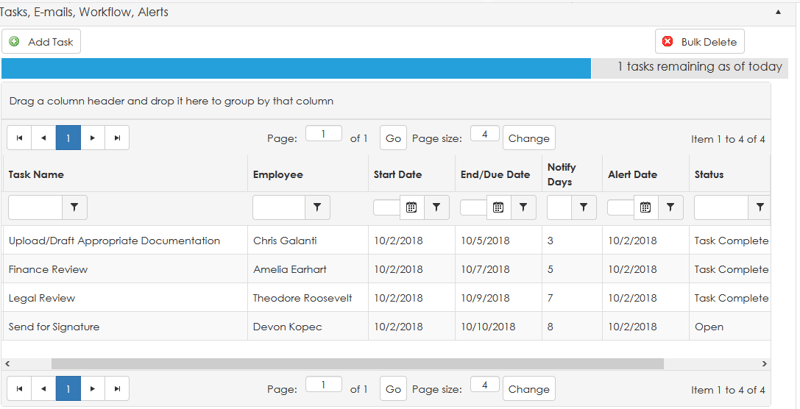 You will be impressed with the amount of visibility you obtain from utilizing automated workflows. It's as easy as receiving an email for an action item, following the steps to complete your task, and you're done! As each step in the process is completed, the workflow step will be marked as task complete in the system (shown above).
3. Enhance the User Experience
Examine your current process for communicating both internally and externally. For those who deal with vendors and clients, what are the steps you go through to communicate and negotiate with counterparties? Do they ever express frustration over the process? It's important for your enterprise to be viewed as user-friendly. This may be one of the reasons vendors and clients choose to do business with you.
A client described CobbleStone Software's configurable user interface as a "concierge experience." The software can be used both internally and externally through a Vendor-Client Gateway for collaboration, allowing you to search, track, and send vendors and clients data while capturing contract data, files, and notes directly into the system.
Users find that the Vendor-Client Gateway reduces the amount of back-and-forth communication that often occurs when using a standard communication process, such as email. By using the Gateway, both you and your counterparties will find the process to be more organized and user-friendly, allowing both parties to focus on business.
Additionally, the Vendor-Client Gateway allows you to:
Collaborate with your vendors and clients
View contracts and agreements
Exchange documents and files
Have vendors and clients register with your organization
Collect and respond to RFX vendor questions
Collect and compare line item bids from vendors and suppliers
Collect suppliers' information and vendor reporting
And more
If you manage relationships with clients, always remember that your clients have great control over your business – provide them with the best experience possible. You'll be sure to receive a return on your investment if you do.
Let 2019 be a year of improvements. You, and your team, will achieve more by setting goals in advance. To learn more about contract management software options, contact CobbleStone Software.