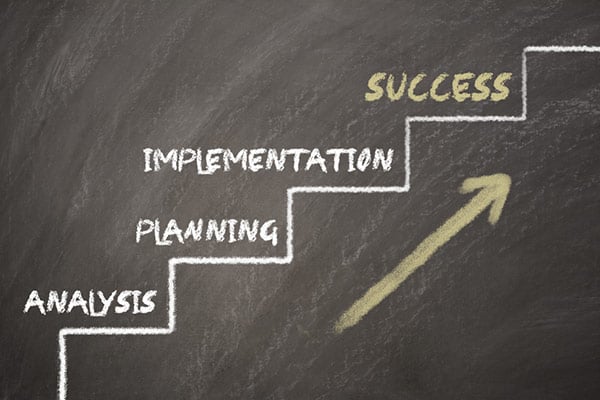 In a previous CobbleStone blog, Project Coordinator, Nash DeVita, identified the key areas that can make or break enterprise contract management software implementation success.
In this blog post, I interview Nash and dig deeper into who the contract management software administrator (who owns implementation on the client-side) should be, and what it takes on the client-side to reach the go live milestone on time with the anticipated contract management software ROI.
What job title or role aligns with contract management software implementation?
Nash: Routinely, our implementation team collaborates with someone in contract management, legal, procurement, or sales. That person can be a contract manager or contract administrator by title, or a paralegal, attorney, etc. In the public sector, city/state government, and education sector, implementation is generally owned by someone with contract administration experience. In smaller companies, implementation can be owned by an executive, a project manager, a legal professional, or someone in finance with sign-off capabilities.
There isn't one set job title or role. The direct contact on the client-side is more based on the size of the organization and their intended use of the software. For example, some organizations only need the software for a contract and document repository. In that scenario, anyone who understands what's in that organization's contracts as a whole, can lead implementation on the client-side. The ideal contract management software administrator is in a position to make decisions around what contract data needs to be tracked and what type of fields need to be configured.
Job titles don't matter. What matters is having a deep relationship and familiarity with contracts. Contract management software administrators don't have to be contract lawyers. They don't have to understand contracting on a theoretical basis, but need to fully understand the contracts coming across their company's desks.
What does it take for client-side contract management software administration teams to work well?
Nash: On big implementations, sometimes we have two to three contract management software administrators on the client-side. I had a very large implementation for a healthcare organization and throughout most of the implementation, there were two client primary contacts and at times, three. All administrators were from the contracts department and were at various supervisory levels within their organization. We had great success even with lots of data and a complicated implementation that reached the go live deadline.
The key to implementation success was their commitment to meet with our implementation team on a consistent basis to meet our agreed upon deadlines and goals. I don't suggest ever going above 3 primary points of contact on the client-side because that may lead to gaps in communication.
What does it take to ensure contract management software implementation success?
Nash: Ideally, our client-side contact should be connected to flow, contract data, and have an understanding of how the organization is currently managing contracts and what its goals are around contract management. Contract management software administrators don't need oversight over every department or even every contract type, but it's vital that they're able to interpret and communicate departmental input during implementation.
Another factor, especially with large implementations, is to identify and highlight small wins. Express the small wins to stakeholders and the team and back them with a solid understanding of what has been accomplished to date and what tasks remain on the timeline to completion.
What's an example of a small contract management software implementation win?
Nash: When the software is built to the point where we can enter historic contracts and have the full vendor/client list inside the system. We are completely ready to go with one or a few contract types. I hear a lot of clients say this is just phase one, but we want to roll it out across two departments. This is great because they can have ownership within their organization and get feedback to incorporate into implementation enhancements.
What's an example of a big contract management software implementation win?
Nash: When multiple departments set up with templates and workflow, or a number of different tasks can be completed strictly within the tool. We are through a milestone with major functionality working smoothly so we take advantage of contract automation tools.
What are some common challenges with contract software implementation?
Nash: Luckily, our contract management software is very user-friendly to set up so we do not typically see much client frustration. We coach the contract management software administrator to ask the right questions, providing clear answers to stakeholders and everyone who may be using the software.
How should contract management software administrators prepare for implementation?
Nash: Before implementing contract management software, understand what needs to go into it, what needs to go through it, and what needs to come out of it. Hold internal meetings prior to training sessions while considering the timeline of getting the software live, and have a goal in mind.
Be ready to share those goals with your software provider when you have the kickoff call. The ins and outs of what functionality you need to have out of the software should be ready for review on the kickoff call. During the kickoff, ask questions about training so you understand what to expect on those sessions. After the kickoff, review all of the information sent by the provider's software implementation team.
Admin Training is lecture based, with open-ended discussions and Q&A. You'll go through the implementer's demo system and learn the general things that can be done and the major steps to get there.
Work Sessions can happen immediately after a training session or a suite of sessions. Most of the software configuration is completed during these sessions. Admins should become familiar with the system. After the session, come back with more questions.
5 Pillars of Contract Software Administrator Implementation Success
Working contract knowledge
Willingness to learn and teach
A firm grasp on the vision and KPIs
The ability to facilitate communication on all sides
Have enough focus to cross off milestones and stay aligned with the implementation plan
Having the right people on the client-side with the right information and time available is a direct correlation to implementation success. Stay aligned with the five pillars and use them as a guide to keep everyone involved as interested in going live as possible, while keeping the organization's goals in mind. Goals will be the basis of measuring success in integrating the software effectively and quickly into your contract lifecycle to achieve a fast ROI.