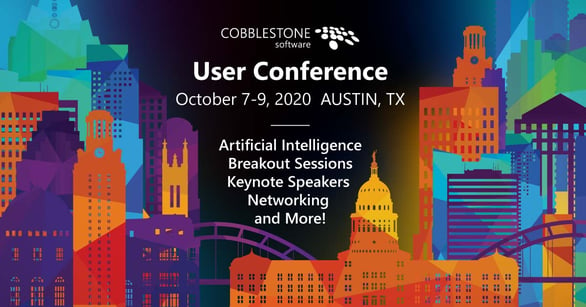 CobbleStone is proud to announce that the 2020 Contract Management Conference will be held on October 7-9, 2020, in Austin, Texas. Read on to learn why this conference is the must-attend event of 2020 to help contract management, legal, and procurement professionals become leaders in contract management.
An Event Built Around Your Feedback
CobbleStone's 2018 contract management conference was a great success that provided us with the opportunity to obtain insightful feedback from attendees.
Conference highlights of 2018
included Contract Insight
®
system user collaboration, demo sessions, breakout sessions, one-on-one support, and new feature deep dives.
One CobbleStone user said, "...I also enjoyed networking with other users to see how they utilize the system in their companies and organizations. I walked away with more knowledge of the system, but also with more confidence in my abilities to run the system..."
After the 2018 conference, we surveyed the attendees to determine where we should invest most of our focus for the 2020 event. The survey revealed that CobbleStone users were eager to learn more about
five hot contract management topics
including, workflow, searching and reporting, AI-based contract management, contract authoring with templates and clauses, and system optimization. Based on that feedback, 2020 breakout sessions include:
Workflow Intelligence: From Beginner to Advanced
Configuration for Field Management, Requests, Searching, Permissions, Decision Matrices, Bulk Data Importing, & More
AI-Based Contract Management: Data Extraction, Clause Comparison, Risk Analysis, & Monitoring
Bid Management & eProcurement
Purchase Orders, Punchouts, & Shopping Carts
Smarter Contract Writing with Templates & Dynamic Clauses
Vendor Registration Portal and Vendor Onboarding
Contract Signing Acceleration
Risk & Compliance
and More!
*Agenda is subject to change
CobbleStone will also provide a support help desk that attendees will have access to on Thursday and Friday for one-on-one system questions, updates, and more.
Why Attend the 2020 CobbleStone Conference?
CobbleStone's 2020 conference provides learning opportunities that Contract Insight users requested, so they can effectively increase their contract management expertise and bring new contract management best practices and actionable items back to their organization.
Attendees will have the opportunity to improve their skills with CobbleStone's contract management suite, learn system best practices, discover new features and tools, and learn through networking with contract, legal, and procurement professionals from other industries.
The CobbleStone 2020 conference is also the perfect time to connect with CobbleStone's team of contract management experts and to see a demo at the event.
How to Register for the 2020 CobbleStone User Conference
CobbleStone users are invited to find more details about our event and to register for the 2020 conference here. If you have additional questions, please contact us at conference@cobblestonesoftware.com or call 866-330-0056.
*Update: CobbleStone's 2020 User Conference transitioned to a virtual event in January 2021. You can learn more here.
Learn why so many contract management, vendor management, procurement, and sourcing professionals trust CobbleStone Software with their source-to-contract management needs. Book a free demo of Contract Insight today!