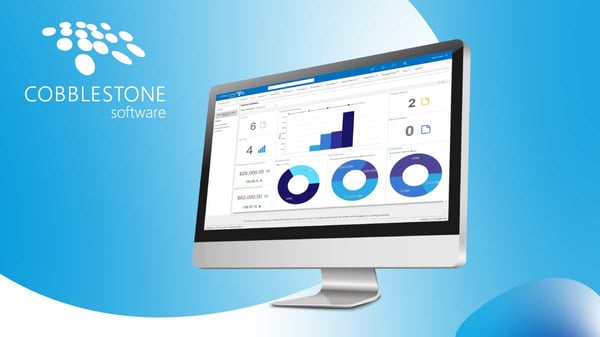 The release of CobbleStone Software's Contract Insight® version 17.3.1 in 2019 marked the arrival of Dashboard Launchpads for an enhanced user experience. Now, with the advent of version 17.5.0, users are afforded even more dashboard configuration and visualization options for next-level contract data analysis!
When creating a new dashboard, CobbleStone system administrators are now prompted to choose between the previously-established Standard Dashboard or the Executive Graphical Dashboard. This new Executive Dashboard option offers visually-engaging graphics that Contract Insight users can leverage for valuable information at a glance!
Contract Insight Enterprise version 17.5.0 users have essential contract data at their fingertips right when they enter their system with pre-configured Executive Dashboards. Read below for a detailed look at these Dashboards and how they can serve you in your source-to-contract needs!
Contracts KPI
The Contracts KPI (Key Performance Indicators) Dashboard compares relevant contract performance data to that of the preceding year. For example, users can view the contract and budget amounts of the current year versus those of last year in a contract amount, a percentage amount, and a graphical display. Also prominently presented are the total number of contracts within the system, the total number of open contract tasks, the number of pending contracts, and the number of contracts expiring within the next 30 days. Furthermore, one can readily see how diverse an organization's contract portfolio is with features that show contracts by department, contract type, and contract status.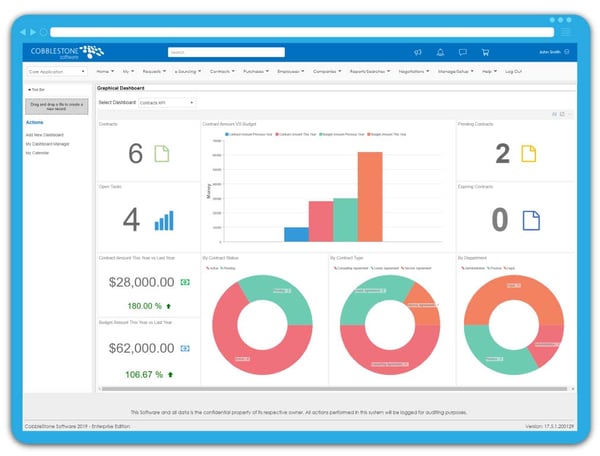 Contracts Overview
The Contracts Overview Dashboard displays an executive summary of various statistics for contracts within the system. The Contracts by Employees section, for example, presents the number of contracts each of a system's employees has been assigned. The number of contracts that are soon to expire (within 30 days) is also made available so that employees stay aware of impending key dates such as renewals. The Requests by Employees and Active Requests by Department sections show from whom and where requests have been coming. Users can also leverage this dashboard to see which contracts are active, pending, and expired so that they know where their contracts stand in the contract lifecycle.
Counts by Department
The Counts by Department Dashboard displays contract information on a department-by-department basis with visually-appealing bar graphs. Users can compare the number of contracts assigned to each department overall and within the past 30 days. Additionally, this dashboard displays contract total contract value by department and total contract value by record type so that users can see who within an organization tends to generate specific types of contracts.
Legal
The Legal Dashboard provides legal teams with an executive-level snapshot of open items, pending items, and contract statuses. Users can see pending tasks regarding requests and contracts as well as requests by contract status. The dashboard also displays the total number of contracts, active contracts, pending contracts, and expired contracts complete with their corresponding contract amounts.
Vendor Management
The Vendor Management Dashboard provides vendor management professionals with valuable information regarding suppliers and contracts. Vendor types are tracked and displayed in bar graph form, showing what types of customers are active within a system. Additionally, users can stay on top of tasks with fields that show the total number of open vendor, contract, and request tasks.
Year Analysis
The Year Analysis Dashboard provides an overview of contract, budget, and spend information. The dashboard prominently displays the total number of contracts over previous years so that organizations can see whether or not they've increased business. Furthermore, the total contract amount within a system is shown. The dashboard also presents contract amount, budget amount, and spend amount in graph form so that organizations can track the year's financials.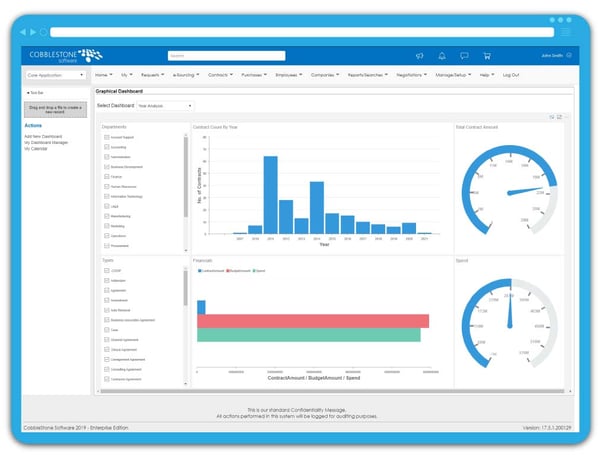 Bids Overview
The Bids Overview Dashboard is the go-to view for procurement staff because it offers various statistics regarding bid statuses and amounts. Prominently displayed are the number of open bids, the number of bids that are soon to close, the number of open questions remaining, the number of open bid tasks, and the number of pending bids. Users can also view the total active bid amount. Furthermore, colorful graphs display Active Bids by Department as well as Award Amount by Year. Users can compare current bid award amounts with those of past years with the Award Amount by Year section of this dashboard. Furthermore, one can leverage the Active Bids by Department section to see how the total number of bids compares between departments. Contact CobbleStone today for a demo of integrated eSourcing solutions.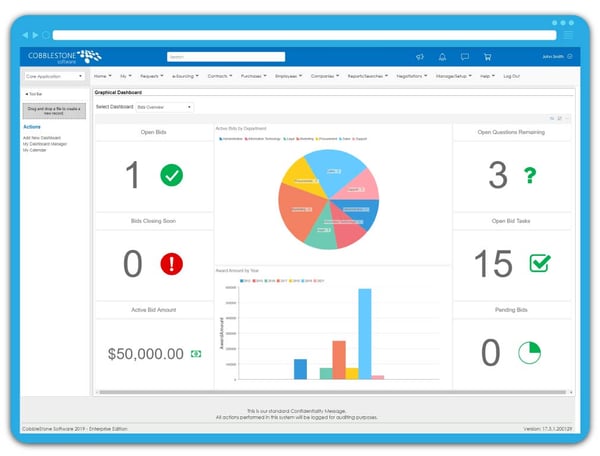 Experience the CobbleStone Difference
Contract management includes complex duties, and contract and procurement professionals should be equipped with the right tools to prosper. It's time to leverage Contract Insight version 17.5.0 for a comprehensive, visually-appealing, improved understanding of critical contract data. Get started with Contract Insight 17.5.0 to leverage exciting features CobbleStone offers for successful procurement and contract management! Contact your Account Rep today for a free demo and to learn more.