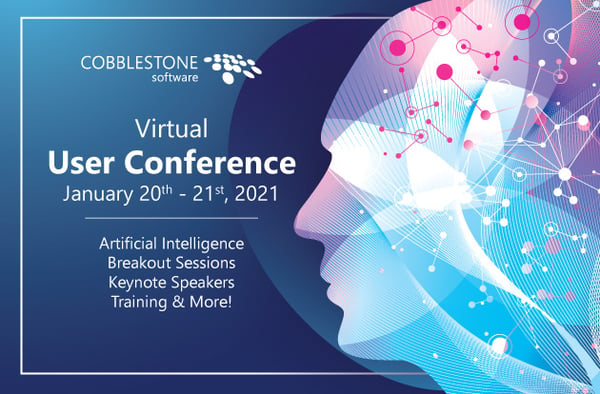 Due to unforeseen challenges caused by the COVID-19 pandemic - and in the interest of CobbleStone's partners', clients', and employees' safety - CobbleStone has postponed its in-person Austin, TX user conference tentatively until late 2021 and will now be hosting a virtual user conference on January 20th and 21st from 1 pm to 5 pm ET on each day.
The virtual two-day event will provide an interactive and exciting experience for legal, contract management, procurement, and sourcing professionals from a wide range of industries. CobbleStone's 2021 virtual user conference will include engaging keynote speakers, breakout sessions, CobbleStone exclusive product updates, demonstrations, and more. This event will prove to be an invaluable opportunity for Contract Insight® users to learn from CobbleStone Software experts and garner inspiration to implement contract lifecycle management best practices. It offers an engaging learning experience for prospective users as well.
What Virtual User Conference Attendees Can Expect
The purpose of CobbleStone's 2021 virtual user conference is to offer unparalleled value to CobbleStone's current and prospective users by teaching contract lifecycle management best practices and answering questions about their own process while using Contract Insight®. CobbleStone's Contract Insight experts will offer a highly engaging virtual experience with breakouts, training, and Q&A sessions. Considering that CobbleStone's current and prospective users' needs are at the forefront of creating the conference's agenda, below is an exposé of the anticipated session topics. Watch the video below to learn more.
CobbleStone Virtual User Conference Topics
Artificial Intelligence & Machine Learning
Learn how to streamline contract workflow and automate a myriad of contract management processes with machine learning and AI. Learn how contract intelligence can expedite data extraction, simplify contract creation, enhance clause management, mitigate risk, and increase accountability. CobbleStone's contract management software experts will share best practices on how to increase ROI with industry-leading tools in their Contract Insight system.
Intelligent Workflow & Approvals
Efficient contract management workflow with timely notifications and alerts can remind users to review, modify, and approve contracts. Learn how to maximize these functionalities to avoid process bottlenecks and missed steps.
Efficient Contract Authoring
Leverage up-to-date and pre-approved clauses and templates rather than drafting and writing new contracts manually. Learn how to leverage these time-saving tools to streamline and automate the contract authoring process.
Searching & Reporting in Contract Insight
Searching and reporting can help CobbleStone Software users to find information quickly. Users can learn how to use Contract Insight's Quick Search feature, which now offers AI-enabled search recommendations, to seamlessly search for specific contracts, requests, records, and related documents by searching for keywords or phrases. Discover new ways to create ad-hoc reports to save valuable time and streamline their processes. Take advantage of role-based dashboards with graphical analytics.
Virtual Event Sessions
Keynote Speakers
CobbleStone's virtual user conference will showcase engaging, relevant, and industry-savvy keynote speakers to encourage and inspire attendees in their legal, contract management, sourcing, and procurement processes.
Breakout Sessions
Users and prospective users can attend breakout sessions geared toward their varying contract management software experience levels. These breakout sessions will allow attendees to deepen their understanding of the software's user-friendly and highly configurable features with help from CobbleStone's Contract Insight experts to maximize contract lifecycle management workflow.
CobbleStone Software's 2021 virtual user conference topics, sessions, dates, and speakers are subject to change.
Registration is Now Open!
Attendees can now register here for CobbleStone Software's 2021 virtual user conference! To gain the latest information about updates for our highly anticipated 2021 virtual user conference, follow us on social media, subscribe to our YouTube channel, and subscribe to CobbleStone's blog. We are excited for you to join us at our upcoming virtual user conference!