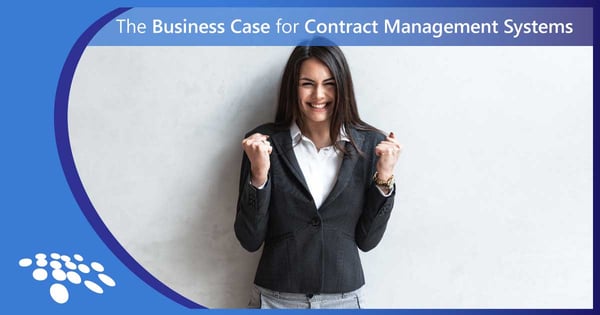 Manually managing contracts can be discouraging and stressful. It can also increase risk, decrease revenue, and drastically stifle efficiency. Thankfully, it doesn't have to be this way. According to market research performed by CLOC, 74 percent of legal departments already leverage contract management software to streamline legal ops and more!
In this blog post, we will cover how contract management systems can solve a myriad of contract process problems. We will also help you easily make a business case for contract management software to decision-makers.
The Pain of Manual Contract Management
If you are still using spreadsheets, shared drives, paper contracts in filing cabinets, legal management systems, and other outdated processes – you are missing out. There are reasons why a vast majority of legal departments and contract managers leverage a contract management solution.
Some painful experiences faced if your team is leveraging poor contract management processes include:
a lack of document version control and too many clause revisions - leaving your team confused about which version to proceed with for favorable contract language and terms.
storage limitations - making it difficult to locate contracts when you need them.
missed key dates and milestones - causing your team to fail to deliver on obligations and miss out on discounts and other opportunities.
workflow inefficiencies - which leave many of your team's tasks overlooked to sit in delay.
a lack of security - leaving your confidential materials at risk of falling into the wrong hands.
signature bottlenecks - which delay contract execution.
an almost endless list of other less-than-desirable situations.
To learn more about which pivotal processes you could be missing out on, read our "8 Critical Stages of Contract Management" whitepaper by clicking the link below:
Why Most Legal Teams & Others Choose Contract Lifecycle Management
The direct inverses of the painful experiences mentioned above can be enjoyed with a CLM solution.
Some leading features that highlight a business case for contract software include:
Building a Business Case for Contract Management Systems
Hopefully, now you see the value of contract management software.
Many contract management professionals and contract administrators are also aware of said value. Your challenge is to position that clear value in a way that matters to key decision-makers, leadership, and your boss (those who are poised to approve of your contract management system recommendation).
Some things you need to remember for building your business case for contract software include the following.
1. Clearly Define "Why" You Are Recommending CLM Software: You need to align your recommendation of all of the features above and more in a way that will provide value to your organization specifically. Calculate the cost savings and contract management software ROI for your organization or department. Specify how much contract software could shorten sales cycles and contract lifecycles for your company. Detail the pain points your team is facing and present CLM software as a source of alleviation for those pain points.
2. Get the Most Out of FREE Contract Management System Demos & Trials: Book free demos to see how a contract management software expert describes and uses the functionality you are looking for. Leverage free trials to hop around within contract management systems to prove your recommendation in action. Show your boss that you are keenly aware of how you will utilize your contract software investment.
3. Learn How to Align Your Case With Leadership: Remember to take into account your boss's need to budget and allocate in an informed way. Gain a deeper knowledge of what your boss needs to consider - and align your CLM software recommendation accordingly.
4. Face Challenges With Multiple Stakeholders: Perhaps you need your recommendation approved by your sales director, your CIO, and your CEO. Parse out your business case from each of these position's perspectives so that you can get approval for your contract management software recommendation across the board so everybody wins!
To delve even deeper into how to make a business case for contract management systems, download our free whitepaper - "Making a Case for Contract Management Software" - by clicking the link below.
Make Your Case for the Right Contract Management Software
When making your business case, it is important that you choose the right contract management software provider that offers all of the features detailed previously and more. The solution you need is CobbleStone Contract Insight®.
CobbleStone® is an award-winning contract management software that is acclaimed by clients and third-party analysts alike. It offers leading features to make contract management so streamlined and simple that a kid could do it!
Quadrant Knowledge Solutions recognizes CobbleStone as a CLM Leader in the Spark MatrixTM Report - and it's clear to see why!
Get started with CobbleStone by booking a free demo today!
Stay up to date on best practices, industry news, and CobbleStone Software updates; subscribe to our blog and YouTube Channel.