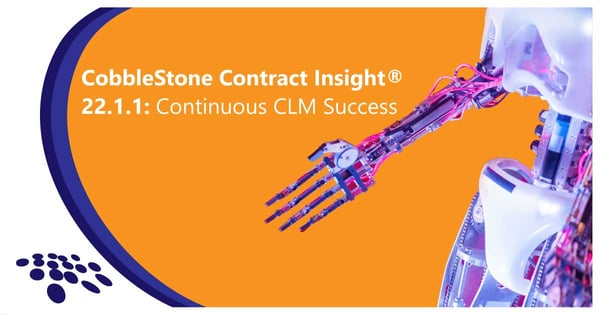 CobbleStone® has released its latest software update - CobbleStone Contract Insight® Enterprise Version 22.1.1. This new release offers refreshing contract management software tools for continuous CLM success! Read on to familiarize yourself with future-minded contract management software features and innovations to bring your legal operations to the next level!
CobbleStone Contract Insight 22.1.1: The Features
There are many user-friendly innovations and enhancements that come with version 22.1.1 to streamline and automate your contract management and eProcurement processes. Such user-friendly CLM software tools include:
a convenient and robust web add-in to improve workflow and connection between CobbleStone Contract Insight and MS Word 365.
drag-and-drop electronic signature software placeholders.
enhanced contract searching.
a more tidied and unified workflow configuration experience.
contract document previewing using Adobe.
a refreshed and cohesive eApproval and eSignature interface.
a more centralized external signing process.
diversified login with SAML redirects for Single Sign-On.
Now, let's take a deep dive into some features!
MS Word 365 Web Add-In to Improve Workflow & Connection to CobbleStone
CobbleStone users can seamlessly connect processes between CobbleStone Contract Insight and MS Word! This convenient add-in works with both the desktop and online versions of MS Word.

As shown above, users can enjoy a convenient CobbleStone ribbon within MS Word that allows them to:
collaborate with color-coded contract document redlines.
copy link or share and invite other stakeholders to contract documents.
create new contract software record pages.
create new clauses.
insert common clauses from clause library.
search documents for clauses.
replace clauses with VISDOM® AI.
upload and link files directly to contract software record pages for Contracts, Requests, Vendors/Customers, Purchase Orders, Bids/eSourcing, and Employees.
view linked contract software record pages.
view and modify contract software record details.
search for terms.
leverage all of these tools and more!
Diversified Contract Document Management With Adobe
In addition to having a robust and streamlined system for contract management with CLM software, it is beneficial that your contract software system integrates and connects with familiar applications. Such is the case with CobbleStone's Adobe integration for document management!
Users can leverage Adobe's document preview functionality for:
contracts.
requests.
bids.
purchase orders.
procurement records.
vendor portal.
employees.
signing portal.
these documents and more!
All they need to do is go to the "Files/Attachments" section of record details pages and select the document preview button.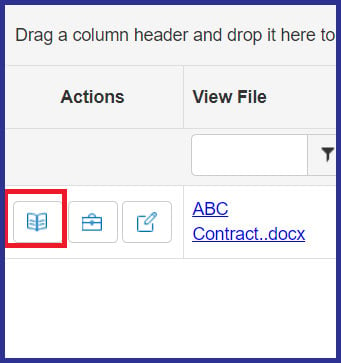 The updated document previewer can allow users to:
swiftly navigate and scroll through document pages.
preview all of a document's pages via a thumbnail on the side.
write dynamic on-screen notes and comments virtually anywhere on a document.
easily download marked-up documents.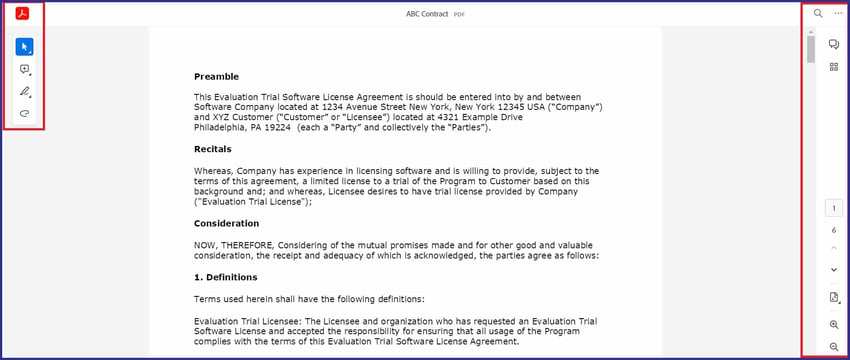 Enhanced Contract Searching Governance
In the Find/Search sections, enjoy the ability to quickly access the records you need for:
Contracts
eSourcing/Bids
Requests
Purchase Orders.

In supplementing CobbleStone's acclaimed contract search features, users can view the last five records pages that they managed or updated at a glance! From there, they can expand the list to view additional recently-updated record pages!
Users can easily access contracts and other records they recently interacted with - without the need to even perform a search!
Tidy & Centralized Contract Workflow Automation
Do you enjoy the easy-to-navigate, organized folder structure functionality of your numerous helpful ad-hoc reports? Now you have that same functionality that is consistent and available for managing contract workflows!
This user-friendly folder navigation works similarly to CobbleStone's files/attachment section - granting users the ability to seamlessly add, modify, expand, collapse, and delete folders as they see fit for keeping organized! Now, it's easier to keep track of tasks and employee accountability and shorten the contract lifecycle for maximized efficiency.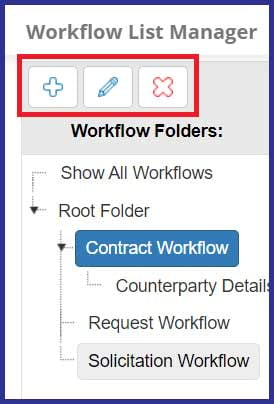 Drag-And-Drop Electronic Signature Placeholders
CobbleStone users and external signatories alike can enjoy diversified eSignature options for both performing signatures and configuring eSign preferences!
CobbleStone's Document Collaboration & IntelliSign® module features even more drag-and-drop signature placeholders. Users can specify signature configuration preferences for signature, date, and text and easily adjust height and width.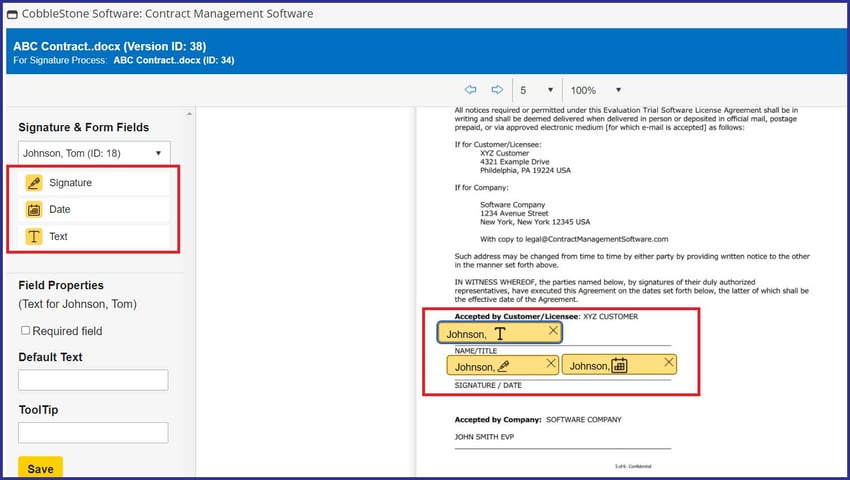 Additionally - prior to sending - placeholder options can be assigned:
to a specific signatory.
to allow signatories to easily drag and drop necessary placeholders to a document.
Contract managers, internal users, and external signatories can enjoy straightforward governance over the signing process!
Refreshed & Cohesive E-Signatures & E-Approvals
The approvals and signatures stages of the contract lifecycle are crucial. Thankfully, CobbleStone provides a refreshed and centralized eApproval and eSignature portal for ease of use and a consistent user interface.
E-Signature Portal Additions
Users have numerous eSignature portal features to streamline web-enabled signing!
Information about a current signer and signature process can be easily found in the information menu. Users can easily view:
the approval group.
the participant.
the reason for a signature process.
the date on which the correct channels were notified.
the subject and title of the signing process.
messages pertaining to the signing process.
the status.
the date the process was signed.
The drag-and-drop signing placeholders mentioned above are easily accessible for diversified and convenient signing.
A consolidated and uniform Actions menu expands and collapses at the click of a button that allows users to:
reject signature processes.
access reference files.
view and add comments for a signature process.
and download the file related to the signing process.
A convenient "What to do Next" menu allows users to easily view files:
which are pending action.
whose file actions are verified.
that need no further action.

E-Approval Portal Additions
E-Approval system updates similar to the eSignature portal have been made!
Users can leverage a convenient right-side information menu to find out about:
an approval's start date.
approval status.
approval participants and groups.
approval workflows.
reasons for an approval process (if applicable).
other pertinent information.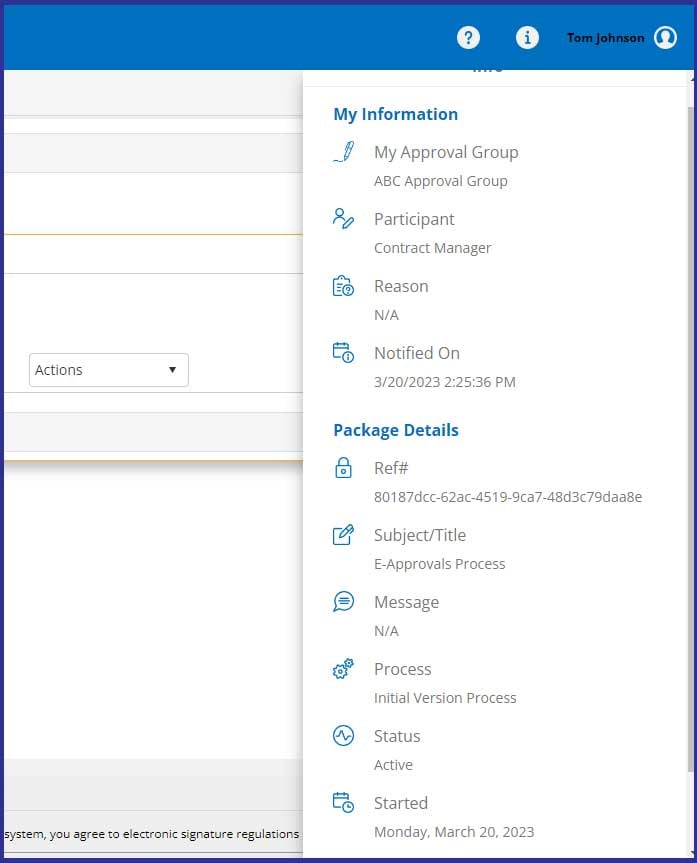 A left-side approval portal lets users quickly and easily view the next steps for approval - if needed.
A consolidated and uniform Actions menu expands and collapses at the click of a button to allow users to:
view and add comments.
access alternate contract clauses.
upload a new contract document version.
download a contract document that is up for approval.
approve a contract document.
preview a contract document.
edit the document within CobbleStone's online document editor.
Diversification of Final Signed Contract Documents
Users can centralize contract lifecycle processes with CobbleStone Contract Insight. The final, signed contract document is attached to the files and attachment section of a contract details record screen - including for externally signed documents (such as via AdobeSign, DocuSign, etc.).
This functionality brings the contract lifecycle full circle and unifies processes.
Login With SAML Redirects for Single Sign-on
CobbleStone's single sign-on functionality allows for SAML redirects. As such, users who need to use SSO Identity Providers can redirect for authenticating requests using CobbleStone's SSO functionality to log into CobbleStone Contract Insight.
Get Going with CobbleStone Contract Insight 22.1.1!
The features and functionality mentioned above are just a scratch at the surface of all of the leading innovations that your team can leverage to succeed in the oversight of contracts and eProcurement
Get started with CobbleStone Contract Insight 22.1.1 to reward yourself with exciting new features that CobbleStone offers for CLM success! Contact your Account Rep today to discover CobbleStone Contract Insight 22.1.1's enhanced functionality and to review licensing options.
Are you considering CobbleStone Software and like what you see above? Book your free demo today! Ready to try CobbleStone out for yourself? Enjoy a free trial of CobbleStone Software today.