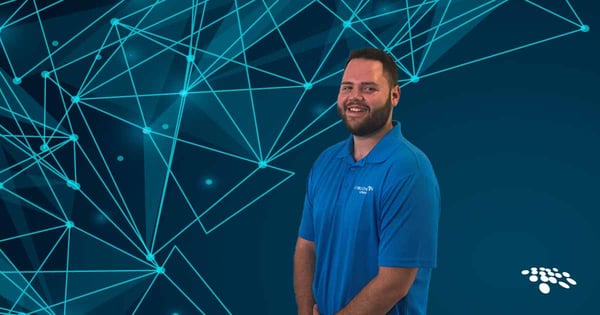 Kyle Sipple, a Senior Account Manager at CobbleStone, recently won the award for being the 2019 Account Manager of the Year – and he doesn't plan on slowing down in 2020. Kyle has been a member of the CobbleStone team since 2015, helping the company evolve into the global contract management empire that it is today. We caught up with Kyle on the heels of his big win to discuss his experience at CobbleStone as well as how he has become a Contract Insight® sales expert over the years.
Q

- How have you seen CobbleStone grow during your tenure?

A - I've seen CobbleStone grow a lot. It's been awesome seeing the growth since I started as an intern back in 2015. One thing that stands out to me is our ability to significantly grow our market share and lead with innovation in the industry. When we exhibit at conferences, contract management, procurement, and legal professionals recognize our name and actively seek us out. They are interested in scheduling a demo on the spot. That truly speaks measures, in my opinion. It's also been great to experience CobbleStone's internal growth. As our client portfolio has grown, so has the need for our team members to be flexible and transition to new roles to support our clients. Our team members continue to prove that they are up to the task.
Q

- What does it take to be a successful contract management software account manager?

A - A critical component of CobbleStone's success can be attributed to our team's willingness to go above and beyond for our clients. Successful account managers must be able work effectively in a cross-functional team environment. We work closely with our users and internal team members to provide effective solutions so our clients can manage their increasing contract complexity.



Q

- What strategy helped you get recognized as CobbleStone's 2019 Account Manager of the Year?


A - Success in account management requires a strong desire to help your clients meet their needs and help them be successful in their work. A significant advantage that's supported me has been my ability to work with clients to make their purchase provide a clear ROI. I enjoy guiding clients on how to solve their contract management challenges by using our software.
Q

- What type of organizations gain value from CobbleStone's Contract Insight?


A - We serve organizations from over 25 industries so I enjoy the variety of experience I have when helping clients from a myriad of industries with their challenges. Due to my personal experience and expertise, I typically help organizations from sectors including pharmaceuticals, healthcare, and government.
Q

- What feedback about CobbleStone Software do you hear from your clients?


A - Our client base appreciates the flexibility of the software. In addition to receiving positive feedback on our implementation and support staff, clients also praise how user-friendly our software is. Our clients can quickly support their organization because CobbleStone makes it fast and easy for them to make system changes without the need for assistance from our team or their IT team.
Q

- What positions CobbleStone as a contract management and eProcurement software leader?


A - I think the way our team cares about our clients stands out. We genuinely make client feedback and market trends essential factors in the development of our product and future features. Client satisfaction and happiness means the world to us, so we are always developing our product, our support practices, and our training standards with our clients' success in mind.
Q

- What has been your proudest moment at CobbleStone Software?


A - I am incredibly proud of all the relationships I've built with my clients and my fellow CobbleStone team members over the years. I have been able to establish and maintain a meaningful network of business relationships with people including clients and colleagues with whom I can learn from and share my expertise.
Q

- What is your goal for 2020 and what will be your plan to achieve it?


A - My goal is to support CobbleStone's phenomenal growth and expanding user-base with AI-powered CLM in 2020. To do so, I've been working very closely with the CobbleStone development team to test out some new features and functionality that we can leverage to serve our clients better. I'm excited to be a part of that, and I can't wait for all of the exciting new developments that 2020 is sure to bring.

For inquiries about working at CobbleStone, check out our current job openings, and send us your resume at resumes@cobblestonesoftware.com.