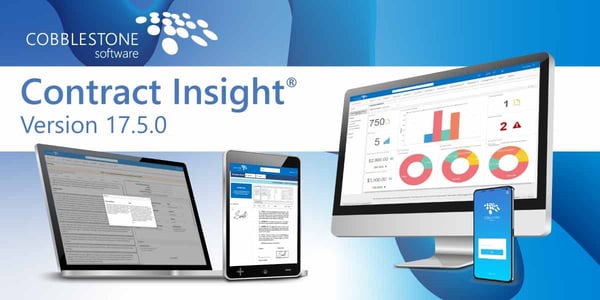 CobbleStone's latest release, Contract Insight® Enterprise Version 17.5.0, has arrived with many new features to enrich your contract management platform! Innovations like CobbleStone's numerous artificial intelligence improvements, simplified E-Signature options, an enhanced dashboard experience, enriched vendor/client gateway functionality, template improvements, and more can equip your team with the tools to succeed. Get started today with better usability and governance over your contract lifecycle management system!
Watch the Contract Insight Enterprise 17.5.0 Video
VISDOM®: Simple, AI-Based Contract Record Creation
Discover how easy contract creation can be with the new AI-based drag and drop feature, complete with auto-extraction backed by natural language processing (NLP)!

Contract Creation has never been easier with Contract Insight's drag and drop record initiation. Available out-of-the-box, this new VISDOM-integrated feature allows system users to easily import a variety of file types (such as MS Word and PDF documents) with one click of a button!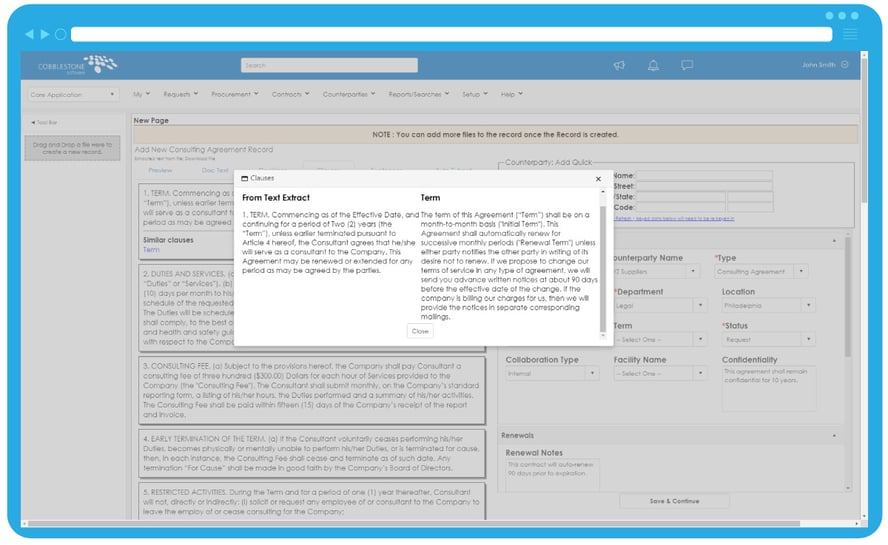 Once a file is dropped, Contract Insight users can choose the contract type they want to create with it. After that, VISDOM's data pre-processing engine, using built-in natural language processing functionality, auto-extracts and auto-fills pieces of key information in an easy-to-read set of tables. Clauses detected within the document are also displayed with the ability to easily compare to clauses within your library. Natural language processing is configurable, so system administrators can arrange the tool for the needs and purposes of their organization.
System administrators can leverage the VISDOM configuration area to establish search algorithm preferences, as well as where and when VISDOM is used within Contract Insight! Administrators can configure drag and drop record creation to be enabled in all six major system areas (Contracts, Requests, Bids, Purchase Orders, Employees, and Vendor Records).
Learn more about the drag and drop feature.
Streamlined Electronic Signing
Contract Insight 17.5.0 offers diversified E-signing options!
CobbleStone's electronic signatures now include a "Sign Now" option, which expedites the signing process and allows users to sign PDF and MS Word attachments directly from their document toolbox.
Further enhancing the signing process are Contract Insight's improved eSign reminders. System administrators can set reminders for those involved in the signing process who, in turn, receive email prompts to sign.
These reminders are configurable, so administrators can specify the number of days before the first reminder is sent and arrange the timing and quantity of subsequent notices.
Furthermore, Contract Insight's signing portal has been enhanced to support additional signing options. Along with the previously available saved signatures, typed signatures, and drawn signatures, Contract Insight offers the following new signing options:
1. Insert a date
2. Sign with initials
3. Add additional text to your signature
4. Use previously saved user title
An additional new signing feature allows for the configuration of a terms and conditions prompt on a client's signing portal, which must be accepted before signing parties are allowed to sign a document. With this helpful verification feature, the date and time at which a signing party has accepted terms and conditions will be logged.
Leverage these new features for a well-rounded, versatile, and streamlined signing experience! Contact your Account Rep today for a free demo and eSign license options.
Executive Graphical Dashboards
Optimize your Dashboard experience!
With the release of Contract Insight version 17.3.1, the user experience was enhanced with Dashboard Launch Pads. Now, with version 17.5.0, users have even more dashboard configuration options for a next-level user experience.
When creating a new dashboard, system administrators will be prompted to choose between the established Standard Dashboard or the brand-new Executive Dashboard.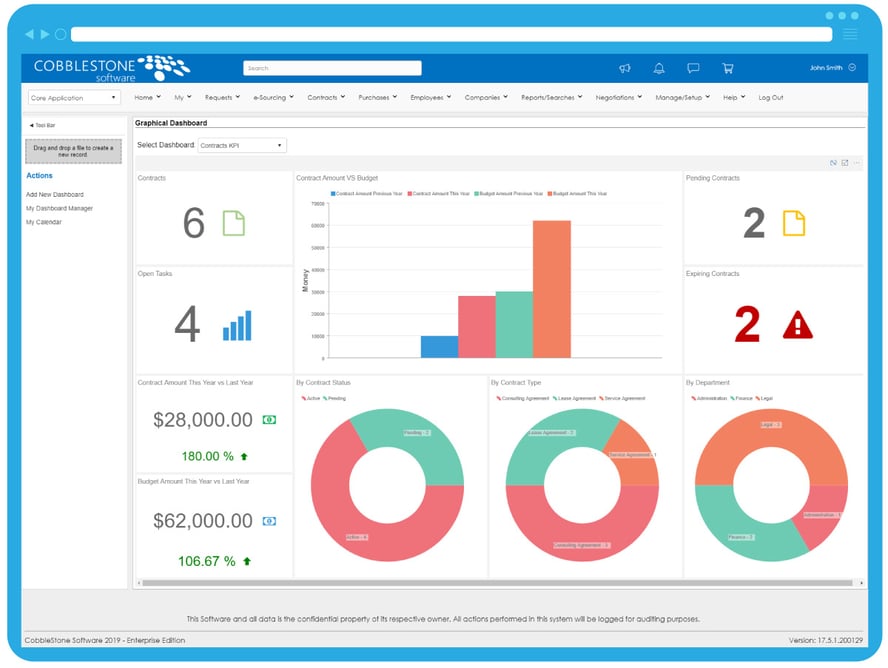 The new Executive Dashboard option presents visually engaging graphics that allow users to view valuable information at a glance!
Contract Insight Enterprise users have valuable information at their fingertips right when they log into their system, with pre-configured Executive Dashboards such as:
Contract Overviews
Contract KPIs
Legal Dashboards
Bid Overviews
Vendor Management
Counts by Department
Year Analysis
Executive Dashboards can be created for both System Dashboards and personalized user dashboards!
Simplified Contract Writing
Authoring contracts and legal forms has never been easier!
In Contract Insight 17.5.0, users can more easily create contracts from established document templates. Document merging takes place straight from the Contract Details page. The user simply needs to select a template to merge with contract data, and an MS Word contract will be created.
Note: this feature is available on the 6 main areas of the Core system: Contracts, Requests, eSourcing, Purchases, Employees, and Companies.
Easier Pricing and Data Entry on the Vendor Gateway
The Vendor/Client Gateway now offers catalog functionality and improved audits!
The improved CobbleStone Vendor/Client Gateway allows approved vendors and counterparties to add and modify items in their catalog. The Gateway now comes with an easy-to-use catalog template out-of-the-box. Vendors simply need to fill out their approved catalog template and upload it. Next, the catalog's data is processed and sent for internal approval.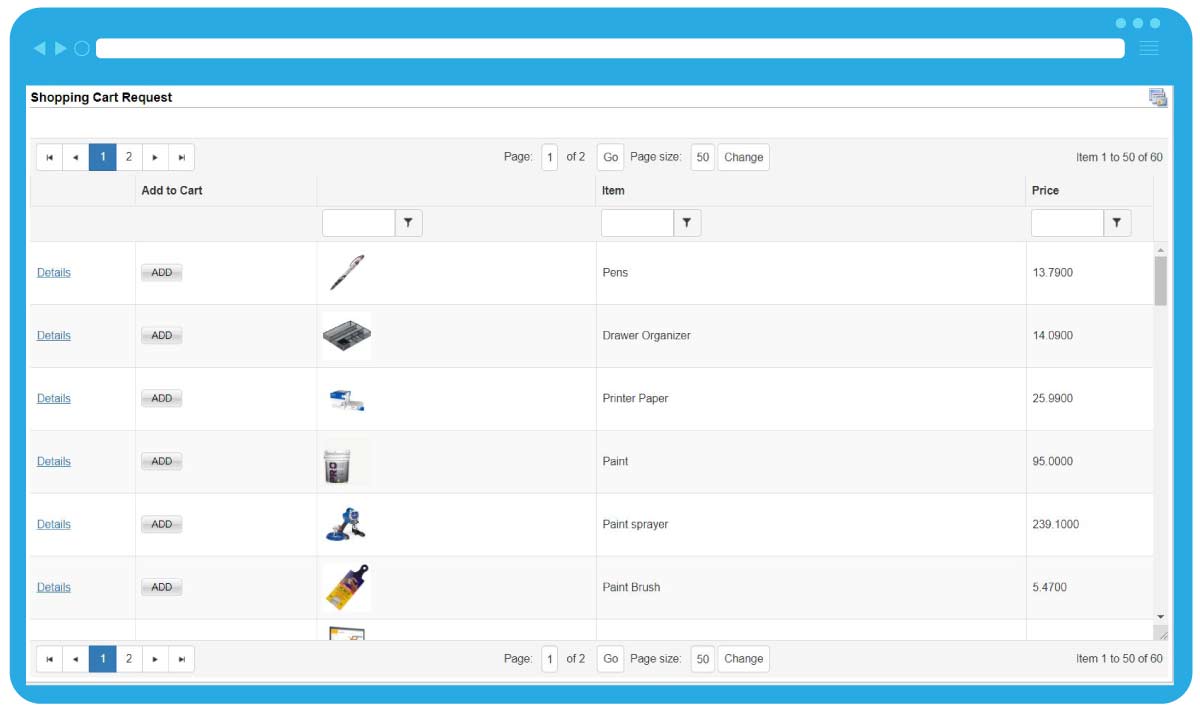 Administrative audit log history is also improved. When a vendor or counterparty performs the tasks listed below within the Vendor/Client Gateway, Admins will be notified with audit log entries.
Contract File Downloads
Request File Downloads
Purchase Order File Downloads
Sourcing File Downloads
Contact your CobbleStone Representative today for a demo of the Vendor/Client Collaboration Gateway module.
Easier Data Entry in Sub Tables
Populate your sub tables and create records faster with this convenient new feature!
With Contract Insight Enterprise version 17.5.0, users can bulk add records into sub tables for a significantly expedited record addition process.
For example, if John Smith needs to add ten line items to his pricing section, he can now create these ten records on one page and add them together, rather than input each item individually.
Seamless Integration with ProBidsSM
Transform the sourcing lifecycle, experience a more competitive bid process, and maximize contract award budgets with ProBids -integrated Contract Insight!
CobbleStone's eSourcing module is now enriched with bid enhancements in the form of integration with ProBids.com. The listing service makes it so that vendors can be easily notified about relevant opportunities and connect with buying organizations.
ProBids aggregates bids posted by buying organizations to advertise opportunities to vendors based on their qualifications. With a growing pool of over 375,000 vendors, intelligent matching algorithms help buyers and vendors find an ideal match for comprehensive sourcing and acquisition.
Leverage ProBids integration to enhance your eSourcing process today!
Explore these features and more!
In addition to the excellent tools mentioned above, Contract Insight version 17.5.0 also offers:
REST API's for improved integration security and flexibility.
dynamic field display options.
more robust dashboard management options.
survey enhancements.
advanced permissions.
iCal Downloads for the Sourcing Gateway.
and more!
Get Started with Contract Insight 17.5.0!
Please contact CobbleStone today for additional details about Contract Insight Enterprise Version 17.5.0.
Contract management includes complex duties, and contract and procurement professionals should be equipped with the right tools to prosper. Get started with Contract Insight 17.5.0 to leverage exciting features CobbleStone offers for successful procurement and contract management! Contact your Account Rep today for a free demo and review licensing options.