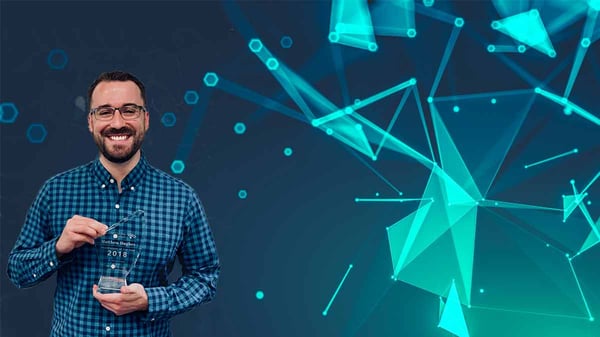 Matthew Hughes, a Senior Account Manager at CobbleStone, was recently awarded Account Manager of the Year for 2018 and says he is working towards another great year for 2019. Matthew has been with CobbleStone since May 2012 and has seen the company grow into a contract management empire with thousands of users spanning the globe. We interviewed Matthew about his experience at CobbleStone over the years and how he's become a Contract Insight® expert since starting in 2012.
How would you describe your experience growing with the company from a small business creating innovative product enhancements to a leading enterprise with thousands of users and constant demand?
Matthew: I've watched the company grow from a small group of employees to now acquiring new offices three times because we needed more space. It's been a great development to be a part of, and I see significant expansion and growth in CobbleStone's future.
What are the qualities you feel are important to be a successful Account Manager at CobbleStone?
Matthew: You must be friendly and able to interact with a diverse group of clients, customers, and leads. We deal with professionals from all walks of life and you must be able to adjust to different situations and personalities. Sales isn't always a 9-5 job, and working hard goes a long way, especially when clients see you going the extra mile for them. You must be able to think on your feet as you're presented with unique scenarios. Sometimes, you have to be able to show something in a demo on the spot – being able to satisfy the customer in these unexpected situations is everything and can be what determines if our software is the right fit. Timeliness and being proactive is also important when working with clients as we want to provide them with the best service.
What does an average day at CobbleStone look like for you?
Matthew: Reaching out to potential clients that have expressed interest in our software, scheduling calls and demonstrations, presenting demos, sending proposals and documentation, managing accounts for existing clients and checking in with them, addressing client requests, and managing RFPs. It's a busy day, but I always make time to touch base with my clients.
Have you traveled recently to meet with clients or showcase our leading software, Contract Insight? If so, how often and where?
Matthew: Yes, some months I might travel once, but then the next month I might travel three times. Recently, I traveled to Las Vegas, Boston, Omaha, Nebraska, and pretty much all of Texas. I enjoy meeting clients face-to-face to build a stronger relationship. It makes a difference with our clients.
Can you describe a time you helped a client overcome a challenge?
Matthew: One of our clients wanted to track contract clauses within their organization. They were interested in the clause library our software provides, but they manage hundreds of clauses. They needed a way for the system to handle clauses by department. I showed them a way to match clauses to each of their departments with an ad-hoc report within our contract management system. Now, when they log in and click through to the clause library in Contract Insight, they can see clauses by department, and each department will only see what they need to have access to.
You were recently awarded Account Manager of the Year for 2018. What would you say you did in 2018 that made you stand out?
Matthew: I think I went the extra mile with a lot of RFPs and demonstrations. In terms of new clients, this was a huge success. Building a relationship with these clients involved detailed proposals and the ability to wow each client with an in-person or online presentation of our software. They were very impressed with the software's innovative features and user-friendliness.
What are your goals for 2019 and how have you been working to achieve them?
Matthew: My goal is to win Account Manager of the Year for 2019 as well. I'm working hard to make sure my RFPs are as detailed and thorough as possible. I'm also going above and beyond to ensure the clients that have selected our solution are satisfied and successful. I enjoy being a part of an innovative team that helps leading organizations simplify their contract and procurement management, and I look forward to all that 2019 brings my way.
For inquiries about working at CobbleStone, check out our current job openings and send us your resume at resumes@cobblestonesoftware.com.