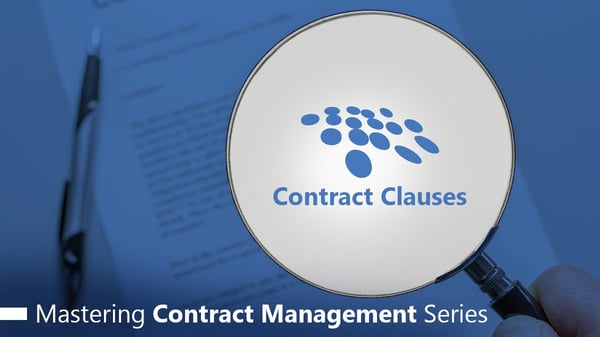 Clause management can be challenging for contract, procurement, and legal professionals. Manual contract administration tools such as spreadsheets, emails, and disconnected software tools prove to be less than effective or efficient ways to generate optimal contract documents and clauses - and rarely lead to fast approvals. Contract clauses can support standards and reduce contract risk and, when used to their potential, can positively impact your contract management process. Learn how to master contract clauses in this blog.
What are Contract Clauses?

Contract clauses are specified provisions in contracts and other legal documents. When managed effectively, clauses can save time and reduce contract authoring errors with frequently used standard text in contracts and templates. Common clauses may include indemnification, intellectual property, automatic renewal, attorney fees and costs, and statute of limitations.
The Impact of Ineffective Clause Management

While contract clauses can improve the overall contract management process, many organizations fail to manage clauses effectively, inadvertently leading to inaccurate documents, more compliance and risk issues, legal bottlenecks, slow reviews, slow approvals, and delayed execution.
Ineffective clause management via disconnected and manual contract management tools can lead to longer-than-necessary document generation timelines, lack of transparency, lack of contract collaboration, incorrect user permissions, failed compliance, slower review and negotiations, higher risk, and lost deals.
Challenges with clause tracking, document editing, version control, and audit trails can result in many harmful contract lifecycle bottlenecks. Such issues may include different clause versions saved in separate files, lack of clause compliance with existing laws and regulations, and bottlenecks when documents need to be reviewed by the legal team before moving to the next step in the process.
Manual contract management may be the source of clause management challenges. Still, leading research also shows that approximately half of the organizations using contract management software only use it as a repository - missing out on the benefits of an advanced clause library.
What Clause Management Mastery Looks Like

Clauses can be a source of contract risk, delays, and frustration, or they can be the basis of contract management success. Clause management mastery involves standard clauses that reduce risk, include required language for contracts, streamline clause approval workflows, centralize clause version control and audit trails, and foster clause use tracking. Manual contract management processes don't support clause management mastery, but leading contract management software can help.
1. Generate documents in less time: Enable your team to create accurate, timely, and compliant documents and contracts that merge your approved clauses.
2. Provide clause approval routing: Leverage advanced features to manage contract data fields, document section order, and intelligent, automated workflows. Define rules-based clauses for each document template.
3. Control access: System administrators can set user permissions for clause version access and support compliance with full clause approval routing and audit trails. Configure rules as needed for standard clause merges, fallback clauses, and others.
Simplified Clause Assembly

The leading CLM solution for the functions outlined above is CobbleStone Software. CobbleStone Contract Insight® can help you easily centralize contracts, agreements, risk documents, and more.
Stop wasting time and money with a manual document drafting and clause management process. Here are six ways to master contract clauses with simplified clause assembly that enforces compliance and eliminates challenges around data entry errors, storage, collaboration, distribution, and formatting.
1. Merge and assemble contracts, clauses, terms, conditions, and fields based on your rules with advanced contract collaboration.
2. Monitor electronic signatures with advanced dashboards, configured (automated) email alerts, and configured notifications for virtually instant status updates or one-off modifications.
3. Use rules-based terms, provisions, and fallback language that allow for intelligent contract drafting.
4. Compare if clauses or terms were changed from your standard contract terms.
5. Once fully executed, store contracts on corresponding, centralized contract data record pages with configured alerts to necessary participants.
6. Virtually ensure compliance by leveraging intelligent, automated workflow approvals, approved bid and contract templates, merging of approved clauses and terms, electronic signatures, and post-execution monitoring and closeout.
Easy Clause Management

Clause management is made easy with CobbleStone®. Your team can easily draft and create contract documents based on your pre-approved templates and include your pre-approved contract clauses' terms and conditions. Leverage features for contract drafting, including:
a

centralized repository

to store essentially unlimited standard clauses, pre-approved clauses, fallback clauses, alternative clauses,

and others.

a contract language repository for improve contract negotiations.

the ability of relevant personnel to easily access and insert standard and alternative clause language as redlines as per your user permissions configuration.

the ability to dynamically merge contract data fields with clauses from your pre-approved library.

management of virtually unlimited templates and document versions with clause merging and approved contract data fields.

management of situational or specific templates - such as templates leveraged for FAR, DFAR, and GSA contracts.

CLIN management (contract line item number management) and virtually effortless insertion of line items into contract templates.

swift exportation of documents as standard files such as MS Word docs and PDFs.

clause ownership to alert clause owners when another resource attempts to edit an assigned document.

the CobbleStone PC Helper App for simplified clause inclusion on MS Word and MS Outlook.
Routing approvals and quickly signing with electronic signatures.
& So Much More!
Are you ready to take control of contract clauses? See how CobbleStone Software can help you generate documents in less time, improve permissions and compliance, and negotiate and sign faster. Leverage this complimentary report to see why Forrester names CobbleStone a Leader in CLM Software!
If you are ready to see CobbleStone Software in action, book a free demo today!
Build your contract management skills further by reading additional blogs in the Mastering Contract Management Blog Series.