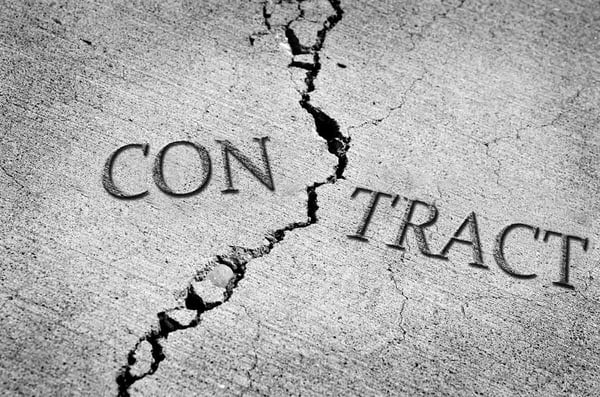 Many organizations understand the potential value, positive impact, and negative impact of their contracts. They reach a point where they're committed to creating a strategic contract lifecycle management process that's supported with the right contract software, tools, and people.
The challenge is that when it comes to contract management, strategy, technology, and commitment are not enough to achieve goals like decreased risk, increased efficiency, and improved visibility.
At CobbleStone, we've witnessed contract management professionals attempt to do the right thing:
They invest in contract management software and use the system for their new contracts
They have employee and leadership buy-in
They use a spreadsheet for data extraction to transition legacy contracts into the system
This is the stage where Contract Lifecycle Management Fails. Why? Because using a spreadsheet to transition hundreds or thousands of contracts is a resource expensive, time-consuming, and error-prone approach.
Where does this leave an organization? Typically, in a situation where their goals of:
Providing visibility to the right people at the right time
Assessing risk factors, obligations, and protections
Understanding total contract value and risk exposure
Complying with regulations, avoiding costly penalties, and increasing revenue
...are impossible.
Contract management professionals and legal teams will throw their hands up as it becomes evident that CXOs and the board don't have the insight they need to make better decisions.
Employee adoption of Contract Lifecycle Management will be low, and they will fall back into old inefficient habits of using paper files and unorganized document storage.
The above equates to Contract Lifecycle Management Failure.
Turn Around Contract Lifecycle Management Failure
What's the solution to achieve contract lifecycle management efficiency, more compliance, more in-depth control, and standardization? How can you turn contracts into actionable data?
The Answer Is: Contract Discovery, Contract Data Extraction, and Contract Analysis
We've seen that most organizations do not have the human resources available to spend time reviewing and transitioning legacy contracts into their contract management software. This lack of resources leaves organizations blind as contracts that have already been executed are not leveraging the new system's capabilities of fully searchable, indexed contracts and documents; including metadata, terms, provisions, and other key data fields.
The organizations that do attempt extraction on mass amounts of unorganized data, soon find that they lack the in-house resources needed to transition legacy contracts quickly and accurately into actionable data.
Get Maximum Value from Your Contracts
CobbleStone Software realized this considerable contract management pain point was detrimental to the potential success that organizations could recognize with better contract management. We wanted to improve the contact data extraction process and overall contact visibility, so we developed AI-Powered Data Extraction.
With this new service, we extract double the number of clauses, provisions, conditions, terms, and key dates like renewals and terminations - in half the time, with AI-backed technology.
Contract Data Discovery and Extraction Services remove the challenge of not having the right resources for data extraction and positions organizations to get the most value out of their contracts while encouraging contract lifecycle and contract management software adoption throughout the organization.
It's time to stop failing at contract lifecycle management, and CobbleStone is here to help you win.