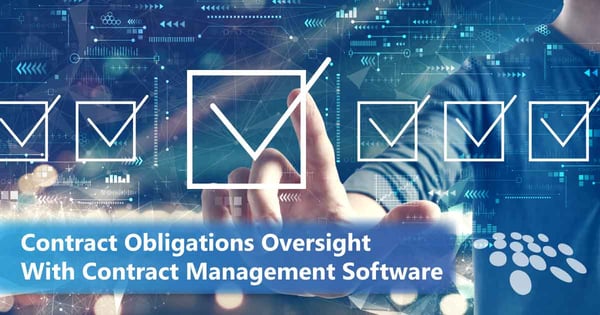 Contract obligations are – to put it simply – the contractual commitments that parties involved in a contract have agreed to entirely satisfy. Successful contract obligation management requires organizations to ensure that they have met the obligations agreed upon in a contract in a timely manner. Unfortunately, manual contract management methods can make the contract lifecycle – which includes contract obligations – confusing, disorganized, decentralized, and almost impossible to handle properly. As such, key dates, milestones, payments, deliverables, and more can be missed. Thus, organizations should avoid the pitfalls of contract management by ditching manual and outdated contract administration processes in favor of robust, user-friendly contract management software.
What Are Legal Obligations Created by a Contract?
Examples of contract obligations that contract lifecycle management software can simplify are:
payments.
task and delivery times.
quality of goods and services.
Detrimental effects of obligations mismanagement include:
being sued for damages.
counterparties requesting release from a contract.
a compulsion to continue performance (though, by this point, in poor standing with a low chance of contract renewal).
Tracking Contract Obligations
Organizations tracking contract obligations must track task assignment, task escalation (to ensure timely task completion), obligation key dates, obligation milestones, task approvals, spend management, and more. As such, organizations need a one-stop, centralized system for handling contract obligations if they want to be sure to avoid breaches of contract and other deleterious consequences of missed obligations.
Obligation Management System
The best obligation management system for organizations looking to stay out of legal troubles and other sources of anguish is leading contract lifecycle management software. A user-friendly contract lifecycle management system provides organizations with useful contract management tools to tackle all of the abovementioned tasks and more on one platform from contract requests to contract renewals.
Meet Contract Obligations With Contract Lifecycle Management Software
Robust contract lifecycle management software streamlines and simplifies contract obligations management. Obligations in a contract can be a breeze to oversee with the help of contract lifecycle management software that provides full oversight.
Contract Obligation & Task Management
Contract value does not need to dissipate when the contract has been executed. The life of a contract and its crucial relationships can be managed pre- and post-execution with automated alerts, intelligent workflow automation processes, intelligent risk assessment, comprehensive spend management, robust compliance monitoring, and advanced reporting metrics.
Better Spend Management
Organizations can take advantage of user-friendly contract pricing and budget tracking. Contract management software users can track and monitor vendor-related costs, line item reporting, financials reporting, and receive advanced budget alerts.
Intelligent Obligation & Task Events
Workflow processes for obligations and tasks do not need to be relegated to organizations' pre-execution time frame. With contract lifecycle management software, these workflow processes can be targeted to execute when configured criteria are met, prior to execution, post-execution, and more. This flexibility virtually ensures that the proper approvals, notifications, and alerts will be initiated for every contract at precisely the right time - according to organizations' needs.
Obligations Notifications & Alerts
Automated email and calendar alerts can be configured and delivered by a future-minded contract lifecycle management software system. These alerts can notify key stakeholders to obligations assignments, information, requirements, and deadlines.
Contract Obligations Oversight & More With CobbleStone®
If you are impressed with the contract obligations features and functionality mentioned above, you will be excited to know that CobbleStone Software offers so much more than contract obligations management.
CobbleStone Contract Insight® offers user-friendly features to manage the full contract lifecycle - not just contract obligations. Your organization can efficiently unify the entire contract lifecycle, quickly and simply author and negotiate contracts, easily collaborate, mange compliance, keep track of costs, receive alerts and notifications, streamline approvals, take processes into the future with VISDOM® AI and machine learning, quickly sign with IntelliSign® electronic signature software, increase productivity, and reduce contractual expenses. Forrester names CobbleStone a Leader in CLM software - and it's clear to see why!
CobbleStone's long-acclaimed and seamlessly integrated contract management, vendor management, eProcurement, and eSourcing software solution has been trusted for over 20 years by organizations from around the world looking to automate contract lifecycle management. Get started today by booking your free contract management software demo.
To stay up to date on best practices, industry news, and CobbleStone Software updates, be sure to subscribe to our blog and YouTube Channel.