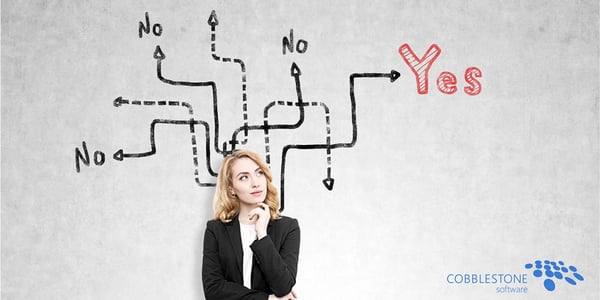 Contracts can play a crucial role in running your organization. Contract management expertise alone isn't enough for organizational success if your team is left wading through spreadsheets and time-consuming, error-prone, manual document management processes.
Having software to help you manage contracts may be the solution that your organization needs to seamlessly store, locate, and review the hundreds, thousands, or even millions of contracts that you process each year.
Before you invest in contract management software, make sure you understand the different factors that can impact hosting, user access, features, and implementation – so you can make an informed contract management software purchase decision.
In this blog post, I identify four areas to consider before investing time and money in a CLM solution.
#1 Contract Management Software Hosting Options
Usually, there are two options for hosting contract management software; Software-as-a-service (SaaS) and on-premise hosted. A SaaS option can provide your organization with agile access to the system, generally, at a fraction of the price of an on-premise solution.
An on-premise solution will require equipment and software installation. It is a great option for organizations concerned with security control since the software and data is fully housed on your organization's server(s). Organizations that have moved to a corporate cloud can also take advantage of an "on-premise" deployed solution.
SaaS solutions are an excellent option for organizations without the budget for the hardware necessary to host on-premise. A SaaS solution also means that there is no hardware installation at your organization's location, relieving your company of managing the software completely. The SaaS solution option can provide you with enhanced security, availability, and performance.
#2 Number of Contract Management Software Users
Depending on your organization, the number of users that you will need to access the contract management system will vary. Size of the organization and permissions are factors to keep in mind when choosing your system. Discuss the following questions with your team:
Will the whole team or organization need access to the system?
Who are the primary users who will always need to have access?
How many users will ever need to use the software simultaneously?
What will be the roles of those users?
Once you have determined the users, and what their roles will be within the system, it will be easy for your organization to determine the number of user licenses you will be utilizing and what kind of access they will require.
#3 Contract Management Software Features
Depending on the software you choose, there may be limitations to configuring the system to fit your organization's needs optimally. Some software products come out-of-the-box with minimal configurations available, while others offer complete configuration.
Some contract management systems, like CobbleStone Software's Contract Insight™, are wholly configurable and allow users to customize their software easily.
Choosing the right software features to run your contract management process makes all the difference. It's helpful to speak with a software professional about what your team needs and what is available in the system. There may be add-ons that could be useful to your team like a public access portal for FOIA (Freedom of Information Act) requests, or offerings that integrate with your current systems like e-signature and CRM software.
Having the correct tools within the system will allow you to have control and visibility of your contracts. The contract lifecycle is an essential factor to keep in mind when picking out your features. Review your contract processes before choosing software features to ensure you get the most out of the system you purchase.
#4 Contract Management Software Implementation
One of the most significant cost factors for contract management software is the implementation phase. Going into your contract management implementation phase unprepared is not recommended. You want to know what your organization is getting out of your software investment while managing expectations around time from kick-off to launch.
What does your implementation include?
Are there additional costs and services that may come up?
What is needed from your team?
To better prepare, read 6 Steps for CLM Software Implementation Success.
Taking control of your organization through its contracts by utilizing contract management software will lead you to better internal processes and provide a better user experience. You will not only recognize improved workflows within your team, but you will receive a better user experience by keeping all related documents, tasks, and alerts in one central repository.