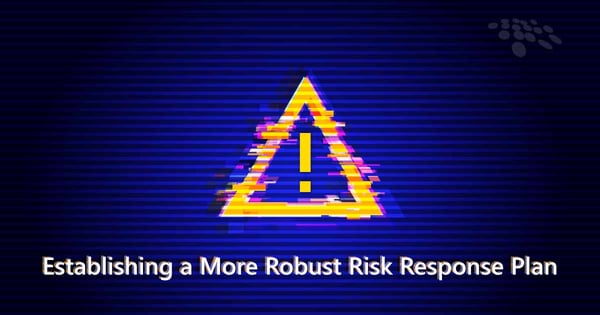 Successful contract management can dramatically increase revenue and organizational growth (among other things)…but unchecked contract risk can be disastrous. Inadequate contract risk prevention measures can cost your organization money and time and result in costly and damaging instances of contract mismanagement - including negligent clause language and less than legitimate business associations. To avoid these deleterious situations and more, your organization must forge and implement an ironclad risk response plan and stick to it. You can get started with your powerful risk response plan with the aid of trusted contract management software.
What Is a Risk Response Plan?
A risk response plan is the process of establishing protocol to increase opportunities while decreasing threats to the life of a contract. A risk response plan should involve ensuring safe yet rapid access to contract data and stakeholder information, leveraging proactive risk mitigation and risk mapping tools, supporting the easy searching and reporting of contract clauses, and more.
Risk Response Plan
Your risk response plan should be supported by a risk management software platform - such as contract management software. Tools for your risk response plan can include a searching and reporting interface for risky contract language and relevant contract and vendor data, a risk assessment matrix, intelligent workflow automation to promote timely task performance, and compliance oversight tools.
Searching for Risk Prevention
Leading risk management tools - such as trusted contract management software - allow you to quickly search for relevant terms within contract data.
Let's use an example that is quite relevant within the current landscape.
Say your organization is having trouble fulfilling contractual obligations due to the far-reaching consequences and limitations of the COVID-19 pandemic. Consequently, your organization finds itself faced with the need to seek out where within your contracts force majeure clauses are located to determine whether the suspension of contractual duties is legally justifiable.
Luckily, you can leverage risk management tools found within contract management software.
With robust contract management software, you can search for a single word, a set of words, or phrases that may be in the document that you are looking for - thanks to a user-friendly search bar.

For instance, you would likely search for the term "force majeure." Once searched, you can experience multiple sets of results that include your term, including as it appears within contracts, requests, and companies within your system with links to related record pages or contracts. Advanced contract management software solutions - such as CobbleStone Contract Insight® - even let you export search results into MS Excel format. CobbleStone® users can also narrow the scope of their results with sort and filter functionality to more rapidly access the information they need for their risk response plan. Learn more about searching within CobbleStone Software by watching the video below.
Vendor Management Tools for Risk Response
You can utilize vendor management tools to evaluate documented past risks associated with a vendor, counterparty, or other business association. When your team is evaluating a vendor or stakeholder, easy access to pertinent information regarding associated risk can help your organization determine if they should renew a current agreement with that risk-associated party or - instead - cut ties. As such, your organization should use a powerful vendor management software interface - such as CobbleStone Vendor Management Software - to optimize your risk response plan with relevant risk management features such as negotiations and terms tracking, performance assessments, and many more.
Analyze Contract Language
Another important aspect of your risk response plan should be analyzing contract language. Contract management software for risk mitigation allows you to automate the analysis of contract language using contract AI to review language agreed upon in existing contracts. As such, your organization can leverage contract intelligence to quickly and intelligently analyze existing documents for contracts, requests, bids, purchase order records, and vendor records - mining for certain risk-prone key words or phrases that may have been approved in the past but are no longer favorable to your organization. Thus, you can virtually ensure that your organization does not renew or agree to an extension of a current agreement that no longer works best for your internal needs and no longer meets your risk management requirements.
Contract Management Workflow Automation
Mitigating risk for contracts in both the pre-award and post-award stages of the contract lifecycle can be difficult - especially when your organization is dealing with numerous internal and external contract stakeholders of ranging authority. In the post-award contract stage, you can easily lose track of crucial contract risk factors and obligations milestones without the proper notifications system in place.
Workflow bottlenecks can not only breed process bottlenecks and inefficiencies - but they can also exponentially increase contract administration risks if your organization inadvertently excludes a relevant stakeholder from an obligatory contract task – such as repositioning clause language in a manner that minimizes risk and saves your organization time and money. Unfortunately, your risk response plan could fail.
You can avoid these risk-incurring situations by incorporating configured contract workflows and notifications into your risk response plan. You can leverage contract management software to assign stakeholders to specific tasks - and enable them to receive notifications for completion. Upon task completion, relevant stakeholders can be notified within pre-configured workflows to complete subsequent workflow tasks. You can also assign clauses to necessary stakeholders with "clause ownership." In turn, relevant stakeholders can be notified whenever an assigned clause is modified.
You can assign post-award contract obligations and contract compliance notifications to necessary stakeholders to foster timely anticipation and accountability for improved risk compliance. As a contract's upcoming renewal date draws near, internal and external contract stakeholders can be notified promptly per an automated workflow process. Additionally, you and your team members can receive on-screen alerts and recommendations in real-time via notifications configuration for increased contract visibility. Your internal stakeholders can also leverage AI-based contract management software tools to help pinpoint areas of opportunity to leverage upon contract renewals for further enhancement of your risk response plan and increased ROI.
Risk Management Assessment
Assessing contract risk within a variety of contracts can be difficult without visualization and prioritization tools. Whether your organization is dealing with ten or ten million contracts, identifying and subsequently prioritizing risk factors can prove challenging when sifting through countless words and other data variables within pages and pages of documents. Identifying risk for your risk response plan can prove nearly impossible without a centralized and graphical risk opportunity and assessment tool.
Luckily, leading contract lifecycle management software supports risk assessment tools to graphically present risk variables at a glance within your documents for comprehensive risk prevention. Rather than manually shoveling through your contract documents and contract records for risk variables, you can utilize a visually engaging graph that can plot contracts based on their identified risk score – offering a holistically visualized risk response plan of active contracts that can assist you in effectively prioritizing contract risk decision-making.
Additionally, you can analyze how a contract would perform in certain situations with hypothetical risk variables and exposure within a user-friendly risk assessment matrix - further helping you and your internal stakeholders strengthen your risk response plan and prepare for the unpredictable.

You can utilize this visual risk assessment matrix and statistical data analysis tool to identify positive, negative, or neutral facets about your contracts to help improve your contract strategy. You can also configure message alerts to notify you if a contract incurs a value of X% greater than the average contract within your contract repository.
OFAC Search Tool
To further boost your risk response plan with visually engaging functionality, you can leverage the OFAC search graphical risk mitigation tool to identify if your contracts - including involved vendors and employees – are in compliance with the Office of Foreign Asset Control's national sanctions list.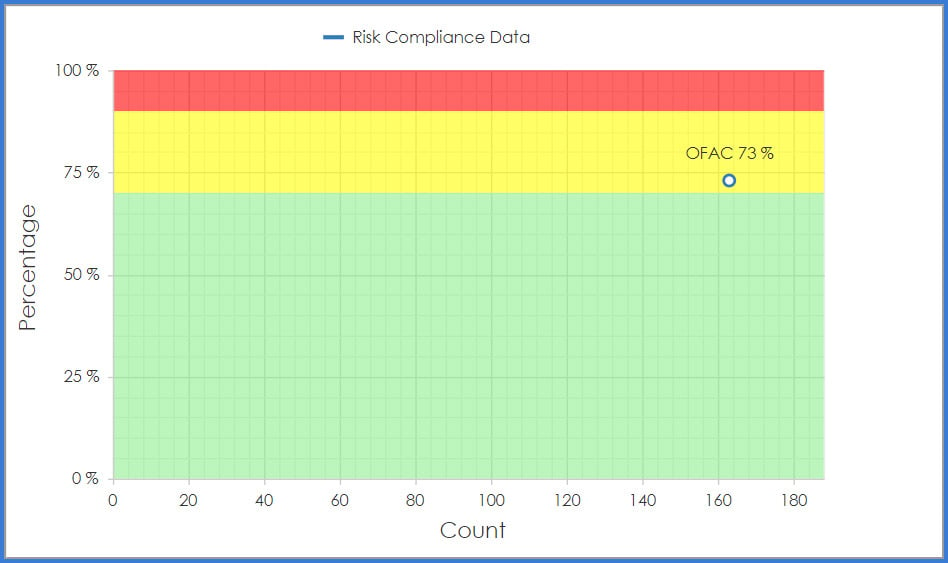 This graphical risk visualization tool can supercharge your risk response plan - allowing you to identify a contract's OFAC compliance status in the pre-award and post-award stages. You can configure rules to notify your team in real-time if a contract meets or exceeds a specific OFAC Search percentage to allow for swift risk response before it becomes untenable.
Implementing a Risk Prevention Plan With CobbleStone Software
Now that you know how to positively transform your risk response plan with the aforementioned tools, it is time to choose the best risk management software solution for the job. That solution is CobbleStone Software's leading contract management software platform.
Advanced contract risk response planning begins and ends with CobbleStone Contract Insight, which is recognized as a CLM software Leader according to Forrester. CobbleStone Software can equip you with the best tools to drive contract management success.
CobbleStone Software's trusted, award-winning, seamlessly integrated contract management software suite streamlines the contract process with prime governance, decreased friction, and increased flexibility from contract requests to contract renewals. CobbleStone Software has been hailed as a visionary leader in CLM software since the mid-1990s – and continues to consistently innovate to embrace digital transformation. CobbleStone's robust, user-friendly and scalable solution seamlessly integrates with mission-critical applications for unified and seamless contract management.
Discover why thousands of contract managers trust CobbleStone Software with their contract management needs. To learn more about CobbleStone's unparalleled contract management software, book a free demo with a Contract Insight expert today!
To stay up to date on best practices, industry news, and CobbleStone Software updates, be sure to subscribe to our blog and YouTube Channel.