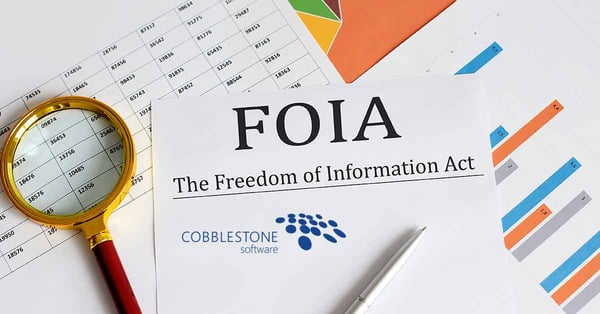 Since 1967, the Freedom of Information Act (FOIA) has preserved the public's right to request access to US Federal Agency contract records and data; the government of the United States is required to disclose federal agency records, including commercial or financial information. Learn about the Freedom of Information Act and how a public access portal for FOIA government contracts - coupled with the far-reaching power of leading-edge contract management software - can streamline requests for FOIA contracts.

What Is the Freedom of Information Act (FOIA)?
At the end of the 1950s, the press and the public were consistently being denied information they sought out from agencies within the United States government - from the executive branch in Washington DC to the military and other agencies. As such, FOIA was eleven years in the making after countless arguments on whether it was necessary for broader transparency from the United States government. After reluctance from President Lyndon B. Johnson, the Freedom of Information Act was signed into action in 1967, and citizens were subsequently guaranteed the right to submit requests to access federal agency data under federal law.
FOIA does not guarantee that all information requested is approved. All public agencies and organizations have the right to refrain from disclosing information with good reason (such as information that falls under the approved FOIA exemptions). Any information regarding national security, law enforcement, certain trade secrets, or privileged or confidential information obtained from a person's personal records is eligible to be exempt from FOIA requests.
FOIA Public Access Portal & Contract Management Software
The obsolete way for the public to request information is to submit a request to the organization in question. After that, a resource within that government agency would be required to compile the information, scan the relevant files and documents, mail said files and documents to the requestor, and then follow up to ensure delivery. However, as we enter the future of contract management, there are better ways.
Public access portals increase contract transparency and make the FOIA request process more efficient for government organizations and those to whom they are providing contract records. A public access portal should be complimentary to a government contract management software system. CobbleStone Software's integrated government contract management software solution - CobbleStone Contract Insight® - streamlines FOIA requests, saving time for both the government agency being examined and the entity searching for agreement information.
Government agencies leveraging CobbleStone Software can direct the general public to their configured public access portal for contract-related FOIA requests. CobbleStone's highly configurable, public-facing portal allows organizations to provide the general public with access to selected contract data and files/documents with feature-rich searching, querying, reporting, exporting, and downloading services to automate and expedite FOIA request processing.
CobbleStone's integrated contract software and FOIA solution helps organizations adhere to legislated and internal requirements through flexible business process automation and tracking. CobbleStone Software helps both government organizations and inquiring entities to solve government FOIA objectives of all sizes.
Easier FOIA Requests & Government Contract Management with CobbleStone
As detailed above, investing in an integrated government contract management software system for FOIA requests can streamline information attainment processes. However, this is just a scratch at the surface of what CobbleStone Software's government contract software solution can do.
CobbleStone Contract Insight has various user-friendly features that enable organizations to effectively manage contracts, FOIA requests, purchase orders, bids, requisitions, and more. Easily leverage tools for managing FOIA requests, requisitions, approvals, awards, compliance management, key dates, budget alerts, calendar alerts, simplified vendor reporting, automated intelligent workflow, proper contract closeout, and online collaboration.
CobbleStone's long-acclaimed government contract management software suite is trusted for pre-award to post-award contract management. It is also conveniently available on the United States GSA Schedule 70. You only need a PO to get started!
Book a free demo with a Contract Insight expert today!
To stay up to date on best practices, industry news, and CobbleStone Software updates, be sure to subscribe to our blog and YouTube Channel.
*Legal Disclaimer: This article is not legal advice. The content of this article is for general informational and educational purposes only. The information on this website may not present the most up-to-date legal information. Readers should contact their attorney for legal advice regarding any particular legal matter.
This blog post was updated on July 24, 2023.