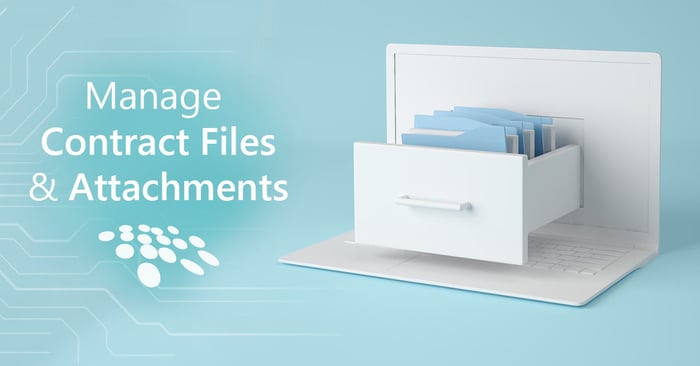 Managing, storing, and organizing files and attachments pertaining to contract management processes without the right the right tools can be challenging. Limitations that may come with exporting, downloading, and storing contract files and attachments manually can lead to disastrous consequences - including (but not limited to) delays with gathering contract request materials, the use of obsolete versions during contract authoring, lapses in contract negotiation collaboration, approval and eSignature delays, missed key dates and milestones, squandered opportunities, and other contract lifecycle bottlenecks.
Contract managers no longer need to worry about managing files and attachments related to the aforementioned processes manually. Thanks to leading contract management software, organizations can make the most of contract files and attachments for centralized and automated contract administration. Here's how.
Readily Import Contract Files & Attachments
Leading-edge contract lifecycle management software permits users to upload virtually unlimited contract documents of essentially any file type - including MS Word, PDFs, TIF files, voice messages, images, emails, and spreadsheets.
With advanced CLM solutions, files versions are tracked - as well as which employee has uploaded a given file or version for organization-wide accountability. Text-based contract files are indexed and searchable with version history for auditing purposes. A contract management software administrator may restrict viewing privileges of non-admins - increasing control!
Advanced contract software solutions offer a file toolbox that can perform intelligent data extraction from documents, convert PDF to MS Word, convert MS Word to PDF, run document version comparison, perform file indexing, lock files, and much more.
Additionally, powerful integration between MS Word and contract management software - such as with CobbleStone's PC Helper App for MS Word - can allow users to compare local documents and documents within contract management software all while keeping track of versions and letting users easily upload and download said documents and versions seamlessly.
Easily Download Contract Files, Attachments, & Reports
Trusted contract management software allows users to download mission-critical contract data and contract files in a variety of formats. Contract management software system ad hoc reports and one-off search results can be seamlessly exported to spreadsheet format. Robust contract software also allows users to configure their own custom reports, which support a variety of export format options including MS Excel, MS Word, MS PowerPoint, PDF, Rich Text, CSV, and many more.
Furthermore, electronic files that are stored within a web-enabled (SaaS) CLM system can be downloaded in their native format.
With robust download functionality for contract files, documents, attachments, data, reports, and more, contract management software users can make the most of the contract lifecycle!
Improve Contract Storage with Document Descriptions
With scalable contract administration software solutions, organizations can easily tag or label contract documents by adding a description about each one when uploading - enhancing contract categorization and contract storage.
With a configurable File Categories list - such as the one offered through CobbleStone Software's leading source-to-contract management software platform, Contract Insight® - organizations can define a list of preset File Categories with which to tag documents. Once a new file or attachment is uploaded, users can quickly assign configured File Categories to that document. Users may easily sort and/or filter the documents on a contract screen for a more personalized experience.
Effortlessly Import Contract Files From Desktop or the Cloud
For a more streamlined and user-friendly experience of importing mission-critical contract files and attachments, accredited contract management software affords authorized users helpful options.
Users can upload one or more contract files and attachments to a contract record to centralize and marry valuable contract data with relevant attachments and supplementary material. With advanced contract software solutions, this functionality supports file explorer and drag-and-drop upload options for a more rapid and user-friendly experience.
With a multi-contract file importing capability, users can perform file uploads directly from a desktop and assign documents to relevant contract records.
Quickly Import Contract Files From Email Attachments
Users of scalable and user-friendly contract lifecycle management software platforms can upload a virtually unlimited number of electronic contract files and attachments (of essentially any file type) to contract records - straight from their MS Outlook email interface. An example of a visionary contract software solution that offers this advanced functionality is CobbleStone Software with the celebrated, proprietary CobbleStone PC Helper Application for MS Outlook.
Email attachments can also be attached to a contract record with the ability to save attachments locally and then upload documents to the appropriate contract record(s). This functionality also extends to email threads themselves.
Painlessly View Documents Within Contract Management Software
Future-minded CLM software equips users with the ability to view contract files, contract documents, and contract attachments that have been uploaded to Contract records, Request records, Vendor records, Customer records, and Employee records.
Users can utilize an online document preview feature. This gives them the ability to view a MS Word or PDF document within the contract management software user interface without having to download the file(s) - further unifying processes!
Transform Contract Files & Attachments Management With CobbleStone!
Now that you have learned about process-defining contract management software features that help you to reap the most out of contract files, contract documents, and attachments, it is time to maximize those tools and other leading contract lifecycle management tools with CobbleStone Software's leading source-to-contract management software suite, Contract Insight!
CobbleStone's celebrated, award-winning, fully integrated contract management software solution streamlines the contract lifecycle with decreased friction, heightened governance, and optimal flexibility from contract requests to contract renewals. CobbleStone has been a visionary leader in CLM software since the mid-1990s. CobbleStone's robust, user-friendly, and scalable solution seamlessly integrates with a number of mission-critical applications for centralized and seamless contract management.
Discover why thousands of contract managers trust CobbleStone Software with their contract management needs. To learn more about CobbleStone's unparalleled contract management software suite, book a free demo with a Contract Insight expert today!
To stay up to date on best practices, industry news, and CobbleStone Software updates, be sure to subscribe to our blog and YouTube Channel.
Are you interested in future-minded contract management software tools? In our blog - 6 Critical Contract Management Tools for 2021 – learn how to leverage industry-leading CLM software tools for streamlined, user-friendly, and low-friction contract lifecycle management success!