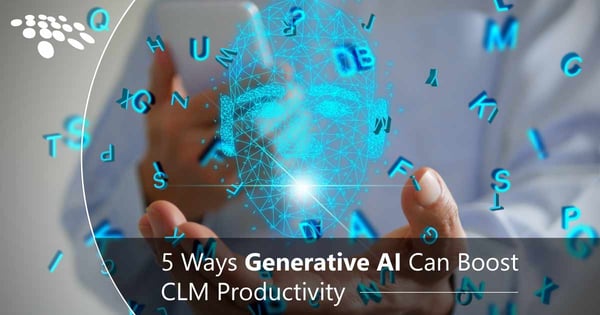 The use of artificial intelligence is all the buzz right now. From Microsoft Bing's use of OpenAI's ChatGPT to Google's Bard AI Chat Bot - the topic of responsible use of artificial intelligence continues to trend. To add to that, generative artificial intelligence (a useful AI technology feature that generates human-like content) is being reviewed extensively - not only from a usability perspective, but from a legal work standpoint.
The realm of legal ops and contract management – traditionally viewed as time-consuming and laborious – is ripe for automation and streamlining with the power of AI. Generative AI for contracts plays a pivotal role – enhancing accuracy and efficiency. Let's explore five ways how.
But first…
How Artificial Intelligence Has Changed Everything
Over the past fifty years, society has seen artificial intelligence advanced and adopted in many areas - from predictive analytics (such as weather forecasting) to technology that adjusts to changing surroundings (such as GPS navigation). Now, AI technology can construct what were previously seen as creative assets - such as drawings and written pieces of content.
So how can legal teams get in on the action? The answer is generative AI for contracts – and here are five key ways it is helping transform contract management.
# 1 – Contract Clause Recommendations
With new natural language processing and deeper contextual understanding of linguistics, generative AI tools can provide clause recommendations that compare existing clauses to not only those in your organization's playbook of legal clauses, but also those from a larger corpus of pre-training and generated clauses.
This contract intelligence process can not only minimize the risk of missing essential clauses, but also saves precious time – enhancing the efficiency of contract drafting and negotiation. Additionally, less experienced members of legal teams can glean valuable information for legal research and understanding the intricacies of different clauses and how they fit into different types of business contracts.
#2 – Generative Clauses
As a waterfall benefit to clause recommendation (see above), I rank generative clauses next.
Beyond simply recommending clauses, generative contract AI can summarize or augment clauses on an automated basis. With vast databases of categorized clauses and improvements with generative technologies, modern AI-powered tools can generate clauses in a matter of seconds. As a bonus, tools that can set (or select) sentiment for specific words or phrases in clauses with favorable (or less) terms can add additional value.
This functionality can reduce the need for manual contract drafting while reducing the risk of human error – virtually ensuring accuracy for every contract.
#3 – Contract Auto-Redlining
To build upon items 1 and 2 above, generative AI can significantly streamline contract redlining. AI can auto-redline legal contract documents (such as MS Word documents, Google Docs, or documents stored within contract management software) and quickly change clause text for favorable contract language. This technology can not only review a draft, and redline a contract – but can also locate clauses, match clause-based context to a clause category, and compare clauses to those in a configured and optimized legal library (which is specific to a legal team's needs and pretrained such that it functions as a legal team's playbook) or those autogenerated from a legal intelligence system.
This functionality can help ensure that each contract aligns with established legal parameters – enhancing the accuracy and compliance of every agreement. Not only can legal teams streamline contract review processes, but they can also free themselves up for more strategic tasks.
#4 – Contract Pattern Recognition
Pattern recognition is an area of generative artificial intelligence that takes the text of a document, extracts many elements into useful contract data points, and uses historical data and predictive analytics to make recommendations as an assistive legal technology.
A good example of how this functionality works might be as follows. Typically – for specific contract types - payment terms are a net 60 days. The legal assistive AI recognizes that, for a specific contract, the terms are net 90 days. The system would then show assistive alerts to bring this discrepancy to the attention of a legal team.
#5 – Contract Auto-Drafting
Contract auto-draft is an area that combines many of the items listed above – complete with specified rules to detect data and trigger entire contracts, amendments, and more.
By integrating clause recommendations, generative clauses, auto redlining, and pattern recognition, generative AI can draft comprehensive contracts that fulfill legal requirements, cater to the specificities of a business relationship, and minimize risk.
Contract auto-drafting not only improves CLM efficiency, but also enhances the quality of contracts – virtually ensuring that they are thorough, compliant, and optimized. As such, legal teams can shift their focus to contract analytics and future-minded insights.
Key Takeaway for Generative Contract AI
It is impressive how legal technology is growing and becoming adaptive very quickly. The above points are to be taken as testaments to assistive technologies that empower legal workers to do their best work – rather than replace the deep thought and human understanding that powers legal operations success.
If your legal team and/or legal practice is interested in learning more about how you can leverage these and other legal artificial intelligence tools, book a free demo of CobbleStone Contract Insight® CLM software today.
Special thanks go to all of the CobbleStone® developers, computer technicians, linguistic experts, and legal professionals that help us all press on toward better contract and legal management software technology.
Thank you, and keep contracting!
To stay up to date on best practices, industry news, and CobbleStone Software updates, be sure to subscribe to our blog and YouTube Channel.
*Legal Disclaimer: This article is not legal advice. The content of this article is for general informational and educational purposes only. The information on this website may not present the most up-to-date legal information. Readers should contact their attorney for legal advice regarding any particular legal matter.