CobbleStone at the 2019 NIGP Forum
NIGP: The Institute for Public Procurement hosted its annual NIGP Forum on August 25th – 28th, 2019 in Austin, TX. The NIGP Forum is considered the largest educational conference exclusively for public procurement in North America and is a great place for procurement professionals to connect and collaborate on overcoming common procurement challenges. CobbleStone attended the 2019 NIGP Forum and exhibited our leading contract management and eProcurement software to attendees. Discover key conference takeaways and hot session topics from the event.
Daniel V. and Devon K. at the 2019 NIGP Forum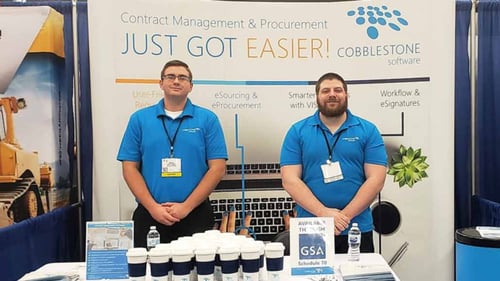 Transitioning From the
2019

NIGP Forum to Procurement Success

Hot topics from the 2019 NIGP Forum included sessions on strategic and proactive procurement best practices and procurement process improvements. For those working towards these procurement goals, discover some of CobbleStone's supportive resources, events, and offerings below that can help you create a better procurement process:
Preparing for Your Procurement Transformation
The session titled, "Transformation: Ready or Not…" discussed preparing for the future and being ready for a procurement transformation. Procurement professionals should realize that this transformation is happening now, and that contract management and eProcurement software are already standard tools being used by successful organizations. To help you prepare your organization and inform your team, consider signing up for CobbleStone's free seminar series, "The Road to Contract Management and Procurement Success," introducing the fundamentals of contract management and eProcurement software. Reserve your seat now.
Understanding the Importance of "Cradle to Grave"
The session titled, "From Cradle to Grave: Procurement is Just the Beginning" helped attendees understand that a successful procurement process does not end after writing the solicitation. Contract management, from contract monitoring to reviewing invoices and closeouts, is a full lifecycle process that can be much more efficiently processed with contract management software such as CobbleStone's Contract Insight®. Sign up for a free demo of CobbleStone's award-winning software to determine if it's the right fit for your organization.
Getting Buy-in From Management
The session titled, "Promoting Value: Processing Improvement for Procurement Professionals" discussed how process improvement can be hard, especially when it comes to getting buy-in from management for technology such as contract management and eProcurement software. For those who relate to this challenge, CobbleStone offers a free guide on getting executive buy-in called, "Making a Case for Contract Management Software." Get your free guide today.
eProcurement Software for Public Purchasing Professionals
CobbleStone's Contract Insight software helps public procurement professionals manage the full contract lifecycle and has functionality that can meet your organization's specific contract management and procurement process needs. Whether it's solicitations, RFPs, award management, or contract approvals, your team can manage the entire process through CobbleStone's leading contract management and eProcurement software. Get started today.