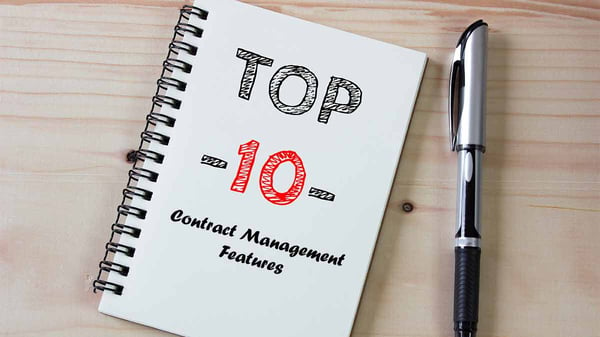 Contract management software has many features and benefits to help contract and legal professionals track and manage the full contract lifecycle from initiation, or the request of a new contract, through drafting, review, approval, execution, and post-execution compliance tracking. Discover the top ten contract management software features that will help you gain control of your contracts and develop a better process.
1. A Personalized System Dashboard
A personalized system dashboard can help you stay organized when managing your contracts. Dashboards can include action tools that provide users with easy access to key areas of the system like submitting a request or checking on contract statuses. You can also add reports that display important details about your contract like pending requests, number of contracts expiring in the next 30 days, high-risk contracts, and more.
2. Task Notifications & Emails
Receiving in-system notifications and emails to your work email can help you stay on track both inside and outside the system. When a task requires your attention, such as a request for signature, you'll be notified in ample time and may have the option to complete the task in the office or on-the-go.
3. Searchable Contract Records
Contract records are essentially a listing of key contract details to help simplify contract management. By outlining important details of the document, users can easily find the contract information they're looking for like key dates, renewal notes, counterparty information, and more.
4. Easy System Searching
With searchable contract records, you can easily find what you're looking for fast by searching for keywords associated with each document or contract record. Users have the option of searching for keywords of a document or searching by contract type to narrow the results.
Searching in Contract Insight® Tutorial
5. Canned Reports
For those who search for the same thing day-to-day, an Ad-Hoc Report feature will eliminate the need to conduct these searches and instead display the searches in list form for easy access.
6. Intelligent Contract Workflows
Contract workflows take contract management to the next level by automating and streamlining your process. Each step, from contract drafting to review and approval, gets tracked with real-time status updates and audit tracking. Those assigned a task, such as legal review or contract for signature, will be notified via email and/or in the system so teams can eliminate process bottlenecks and become more efficient at communicating.
7. Advanced Contract Authoring
Author documents from your organization's templates with merging field data and clauses from a pre-approved language library in your contract management system.
As an example, let's say you have two different governing law clauses that you're able to agree to. You would set both up in your language library and then, based on the location assigned to the contract, the system would know whether to pull clause A or clause B. Data can pull from the contract record like:
the effective date
the counterparty and their address
the contract amount
and other key data throughout the body of the document
8. Contract AI & Machine Learning
Contract AI can be your personal assistant for data entry and risk analysis. Instead of spending days manually entering every contract detail in your contract management system, let contract AI extract the key information for you and automatically populate it into the appropriate fields. You can also determine things like high-risk contracts to help you create a better contract management strategy and be proactive with contract risk.
9. Contract eSignatures
An eSignature integration helps streamline and simplify the signing process for contract professionals. Users can easily send a document for signature right from within the system, notifying the signee that a document has been sent for signature with capabilities to review and eSign anywhere, anytime.
CobbleStone eSignatures
10. User Manual & Tutorials
Having the right resources, such as a user manual, step-by-step guides, and video tutorials can help you and your team fully understand the ins and outs of the system. Being a system expert and knowing it's functionality will help you receive a better ROI on your contract management software.
The Contract Management Solution With the Top 10 Features
Since 1995, CobbleStone has been pioneering the contract management software industry, developing user-friendly tools that are necessary to succeed with advanced contract management. CobbleStone's award-winning Contract Insight® Enterprise Edition is a contract management system built for contract management success. With CobbleStone's 20+ years of industry-leading experience, the organization has been able to develop tools that help create a better contract management experience. Contract Insight is a flexible, configurable system that can meet your organization's specific needs. See which version of Contract Insight is right for your team on our Contract Insight features comparison page.
For a free demo of Contract Insight, contact the CobbleStone Team today by emailing us at Sales@CobbleStoneSoftware.com.