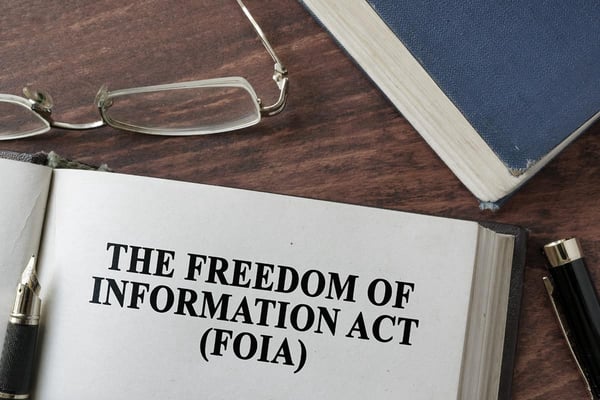 The Freedom of Information Act (FOIA) is great if you don't work in government and believe that, as a citizen, you should be entitled to knowledge of your government's actions. On the other hand, if you are a government contract administrator, complying with FOIA can be a time consuming process. Especially if you are responsible for tracking the seemingly never ending supply of public records or determining if a contract record is, or is not, exempt to FOIA.
The government encourages executive branch government agencies to find time and cost effective ways to remain transparent to the public. This mission drives three important points of consideration:
How to Distinguish Whether Information is Available to the Public
Not all information is available through the Freedom of Information Act. For example, an organization needs to ensure that their trade secrets and employee records that would violate personal privacy are not accessible. One of the keys to streamlining requests for information is to automate the process in which organizations determine whether or not information is available to the public. Submit an upfront request to your vendors/suppliers to declare confidential versus non-confidential information, then display the publicly accessible information as an extension of your internal contract management software.
How to Track Information Available to the Public
The process of tracking and delivering the records available to the public is crucial. Efficient tracking of public documents and delivery of FOIA requests can lead to major organizational advantages. A contract document management system as opposed to physical record keeping can save time and lower the potential cost of penalties resulting from loss or error.
How Information is Available to the Public
The most important thing to consider is how the public is able to access the information available to them through the Freedom of Information Act. The financial and time costs of delivering requests individually or dedicating an employee for this role can be enormous. A contract public access portal corresponding to the documents already being tracked by your organization can help eliminate further costs and even make it easier for the public to gather the information they need.
Freedom of Information does not mean that your organization should be imprisoned by complicated processes to adhere to the law. Efficiently distinguishing whether information is available to the public, tracking that information, and delivering that information can turn something tedious into a true advantage. Investing in a process or system that alleviates some of the internal stress can give your organization freedom from the burden of FOIA request processing.
About CobbleStone Software and Contract Insight™
CobbleStone has helped thousands of contract professions better manage their contracts and contract compliance for more than 20 years. Learn more about Contract Insight™ Contract Management Software by visiting us at http://www.CobbleStoneSystems.com and sign up for a free demo.