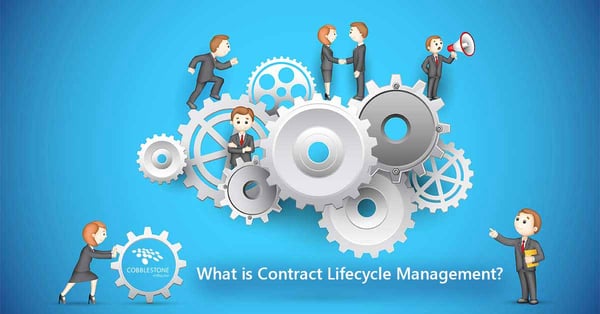 Organizations of all sizes face the need to juggle multiple contracts simultaneously, with each contract being at a different stage of the contract lifecycle. Leading contract management software reduces risk, improves productivity, and maximizes a contract's value. But what is contract lifecycle management? Read on to find out!
Contract Lifecycle Management
Contract lifecycle management is the process under which a contract is drafted, reviewed, signed, and executed. The "lifecycle" model is used to visualize a contract's journey. It begins with requests and ends when requests are entirely fulfilled - with the potential for renewal. The eight common steps are Requests, Authoring, Negotiations, Approvals, Signatures, Obligations, Compliance, and Renewals.
The Contract Lifecycle
1. Requests: This initial phase of the lifecycle allows business stakeholders to gather essential details associated with a new contract, amendment, renewal, etc. The request stage arguably sets the tone for whether a contract undergoes efficient processing or is rife with delays.
2. Authoring: Also known as the contract writing stage, this step involves contract parties putting the terms of a contract into written copy by consolidating standard contract clauses, contract key dates, contract counterparty information, and other essential data.
3. Negotiations: During the contract negotiation phase, parties negotiate the parameters drafted during the previous stage. After back-and-forth collaboration and redlining, conditions agreed upon provide insight regarding the expectations of all involved parties.
4. Approvals: A review on the part of all parties occurs. Parameters are set to meet compliance standards, contract obligations, milestones, and special terms of a contract. For a healthy contract approval process, an accessible and up-to-date record of changes that have been made to the contract is a must. As such, an audit trail recorded by contract management software is crucial for efficient contract lifecycle management.
5. Signatures: A chief employee or an authority with high clearance signs a contract - thus ratifying its enactment. Platforms that offer future-minded and user-friendly electronic signature software functionality make it easy to sign contracts one-off or in bulk, in the office or on the go, and in an increasingly mobile landscape where manual signatures are time-consuming and inefficient.
6. Obligations: All parties acknowledge their defined responsibilities, milestones, key dates, deliverables, and payment windows.
7. Compliance: It is agreed upon that, in addition to those specified in a contract, general and field-specific contractual rules, standards, guidelines, and practices are observed. Proper compliance management helps reduce late fees, litigation, and bottlenecks and sets the stage for future contracts.
8. Renewals: Parties are given a chance to revisit discounts, renegotiate terms, and engage in further opportunity realization.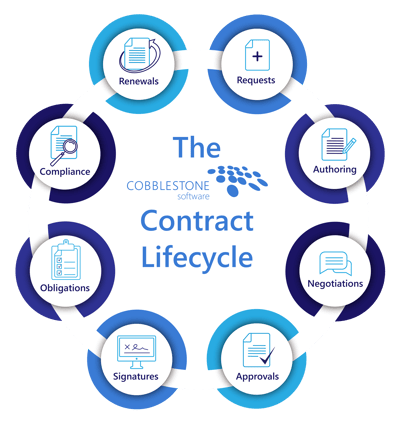 If you would like a more in-depth look at the eight contract lifecycle stages above, view our free whitepaper on the eight critical stages of contract management by clicking the button below!
Now that you are familiar with the contract lifecycle process, it's time to learn how to transform your organization's contract lifecycle management process with user-friendly, robust, scalable, low-friction, and automated contract lifecycle management software.
Enhance Contract Requests
Cutting-edge contract management software automates contract request management - making for an intuitive, accurate, simple, and efficient process.
Teams can quickly establish a request intake form that can virtually ensure that all relevant request information is captured in a centralized fashion. An easily-navigable screen lets requestors efficiently provide the information required - allowing individuals reviewing and approving requests to conveniently view that information in one place.
Organizations can also set up a request wizard - or a dynamic questionnaire that helps requestors determine what type of request they need to submit. This guidance comes in the form of pre-configured and dynamic questions. Once a questionnaire is submitted, the system assigns users to the relevant request page based on their answers.
Once a request type is determined, organizations can use the aforementioned self-serve contract writing process with clause merging. Tasks related to requests can be accounted for using automated alerts, a report designer for ad-hoc reports and custom reports, system dashboards, and the ability to approve requests and create contracts - all on one interface!
Maximize Contract Authoring
Contract authoring is a complex and multidimensional process. Without reliable contract lifecycle management software (or CLM software), organizations must rely upon a contract authoring process that lacks the functionality to use preferred contract templates with pre-approved clauses from a standard, pre-approved clause library.
CLM software empowers clients with standardized version tracking that maintains the consistency of a single and unswerving contract - virtually no matter how often it circulates. Users can easily create contracts and other records from a contract document with contract management AI that allows for intelligent data mapping and data extraction. (Contract artificial intelligence also offers myriad benefits beyond enhanced contract authoring. You can learn more by reading the AI whitepaper below.)
Leading contract management software allows organizations to track compliance tasks and document versions, improve clause management with the ability to merge contract data with pre-approved clause templates, enhance item management and line-item management, provide flow down clauses and notifications, optimize contract negotiations, and much more!
To improve document collaboration, leading-edge contract management software supports enhanced online document editing. For example, CobbleStone Contract Insight® supports mission-critical MS Outlook, MS Word, MS Office 365, and Google Workspace plug-ins - as well as their proprietary CobbleStone® online document editing interface. These tools simplify, centralize, and streamline contract document editing. Organizations can keep relevant stakeholders in the loop with automated version tracking to expedite and organize processes.
Optimize Contract Negotiations
Reliable contract lifecycle management software systems simplify contract negotiations with:
• the aforementioned contract writing process that features clause merging from a dynamic clause library as well as clause ownership.
• organized and streamlined document collaboration and document version control.
• intelligent workflow automation to stay on top of tasks, key dates, and milestones.
• efficient, centralized online negotiation collaboration and approvals.
• a streamlined, user-friendly, and highly configurable signing process.
Organizations should enlist the aid of leading-edge contract management software to make the chess-like, back-and-forth contract negotiation process smooth, easy, and centralized - reducing bottlenecks and delays and promoting accountability.
Expedite Contract Approvals
The contract approval process can be vexing because chains of command are often intricate and variant between parties. The best CLM software offers approval authority clarity with automated approval routing. A standardized format under a trusted CLM application expedites and optimizes the approval process. Automated notifications and alerts regarding when a document needs approval streamline the approval process and promote accountability. Updates regarding changes in chain-of-approval make it so stakeholders quickly receive updates about who needs to approve tasks and actions related to a given contract.
Manual contract lifecycle management virtually forces contract managers to personally oversee the assignment of tasks and remind everyone involved in the approval process to perform their assigned duties. Delay on the part of anyone involved stalls the approval process.
Contract lifecycle management software with workflow automation enabled makes contract workflow management more efficient, alerting the right people at the right time with notifications and automatic alerts. Managing in-house collaboration and negotiation is simplified with the proper tools to track processes. Workflow automation cuts contract approval time by eliminating potential bottlenecks and ensuring that everyone involved in the approval process performs the proper steps on time.
Sign Fast & Easily with Electronic Signature Software
A configurable, streamlined, and user-friendly document collaboration and electronic signature software system helps keep the approval and signing processes moving, whether key signatories are in the office or working remotely. Contract management, legal, procurement, and sourcing professionals can utilize credible electronic signature software to keep collaboration and electronic signing processes running smoothly thanks to:
faster signing.
easy one-off signatures.
a rules-based electronic signing process.
and more!
Enjoy a streamlined, user-friendly, and configurable signing and document collaboration process in or out of the office with a cutting-edge electronic signature software interface.
To learn more about electronic signatures, watch the video below!
Easily Manage Obligations & Compliance
Due diligence regarding timely contract obligation fulfillment is vital to healthy contract lifecycles. Thus, clerical organization assists contract managers in both meeting their contractual requirements and in providing attention to more strategic aspects of contract management - such as contract analytics and opportunity realization. (Would you like to improve contract analytics but are not quite ready to invest in contract management software? No problem: get started with our free contract tracker.)
Additionally, contract managers are always ahead of the curve when they have proper CLM software. If a counterparty has an obligation or contract compliance standard that they must quickly meet, contract lifecycle management software can notify involved parties with automated key date and task alerts, compliance and obligation status reports, and user-friendly dashboards. With future-minded, automated, and user-friendly tools that promote accountability, contract managers can virtually rest assured knowing that contract lifecycle processes can commence without issue.
Contract obligations and general compliance are crucial stages of the lifecycle for parties to track. The preceding lifecycle stages are for naught unless the terms and conditions of a contract are followed through upon. Contract management software provides the visibility parties require to effectively manage contracts post-execution.
For example, leading contract lifecycle management software supports OFAC search to virtually ensure that contract counterparties, vendors, employees, customers, and other vital resources as compliant according to the US Department of the Treasury.
A solid foundation of CLM practices offers contract management and legal professionals the skills to oversee post-approval stages of the contract lifecycle. CLM software can intelligently inform parties of whether standards and/or terms on a contract have been met. Obligations and compliance can be monitored so that both parties meet expectations civilly and without the need for litigation hang-ups.
Quickly Navigate Contract Renewals
Don't miss out on opportunities from contract renewals. Enhance the renewal process with contract automation.
Organizations can leverage highly configurable, user-friendly, and automated contract management lifecycle management that optimizes contract renewals with:
Automated reminders and calendar alerts

for effective renewal and obligation management.
A secure cloud-based repository

with version tracking to ensure teams can easily search and access the current versions of all agreements.
Comprehensive audit trails

to track renewal statuses and every change made throughout the life of the contract.
Intelligent contract management workflows

to automate tasks and facilitate fast negotiation, reviews and approvals, and signing.
Contract analytics

that provide insight into the value and risk of all contract types - uncomplicating renewal decisions.
Electronic signatures

for faster and more secure sign-offs.
Seamless integration

with accounting systems, CRM, and other mission-critical applications.
Why Contract Lifecycle Management is Crucial
Outdated contract lifecycle management tools potentially lead to nettlesome and damaging legal consequences due to a lack of observance of contractually-binding terms and conditions. Such is the importance of proper contract lifecycle management software. Wide-ranging and easily-digestible interaction with the contract lifecycle gives all parties, virtually anywhere and anytime, access to deadlines and requirements so that they can navigate the contract process - nearly devoid of problems.
Click the button below to learn how to easily show decision-makers the value of contract lifecycle management software with our free whitepaper!
Boost Your Contract Lifecycle Management Today!
It is demonstrably irresponsible to navigate the contract lifecycle without the support of reliable CLM software. You need a robust CLM solution to tackle the stages highlighted in this blog post. The solution you need is CobbleStone Contract Insight.
CobbleStone Contract Insight is an award-winning, trusted contract lifecycle management solution. CobbleStone has pioneered contract lifecycle management since its inception. The software's plethora of features empowers organizations to manage contracts more efficiently, mitigate risk, oversee compliance, draft documents quickly, track costs, receive alerts, sign documents with eSignatures, and reduce contract management costs due to lost productivity stemming from outdated contract administration procedures.
Take control of contract lifecycle management today by booking a free demo!
To stay up to date on best practices, industry news, and CobbleStone Software updates, be sure to subscribe to our blog and YouTube Channel.
This article was originally published on October 16, 2019, and last updated on June 28, 2022.