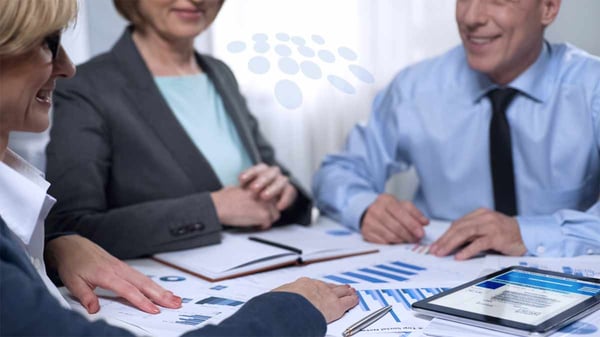 Organizations of all sizes need to juggle multiple contracts at a time, with each contract being at a different stage of the contract lifecycle. Leading contract lifecycle management software is crucial in reducing risk, improving productivity, and maximizing a contract's value.
What is the Contract Lifecycle?
The contract lifecycle is the evolutionary process under which a contract is drafted, reviewed, signed, and executed. The "lifecycle" is a paradigm through which an understanding of a contract's complicated journey is comprehended and compartmentalized. It begins with requests and ends when said requests are entirely fulfilled. The eight common steps are as follows:
1. Requests: All stakeholders share what they expect from a new contract, amendment, or contract renewal.
2. Authoring: Involved parties put the terms and conditions of a contract into writing. Any authorized personnel can execute the authoring phase - not just general counsel. All involved parties identify themselves, and pending terms are specified.
3. Negotiations: Parties negotiate the parameters drafted during the previous phase. After back-and-forth communications and redlining, conditions agreed upon provide insight regarding the expectations of all involved parties.
4. Approvals: A review on the part of all parties occurs. Approval time is contingent upon how far up the command chain a party must send an approval. An accessible, up-to-date record of changes that have been made to the contract is a must, so an audit trial recorded by contract management software is crucial for efficient contract lifecycle management.
5. Signatures: A chief employee or an authority with high clearance signs a contract to ratify a contract's enactment. Software that offers e-Signature capabilities makes it easy to sign contracts one-off or in bulk, in or out of office, in an increasingly mobile landscape where manual signatures are time-consuming and inefficient.
6. Obligations: All parties acknowledge their responsibility and milestones, key dates, deliverables, and payment windows are defined.
7. Compliance: It is agreed upon that in addition to those specified in a contract, general contractual rules, standards, and practices are complied with. Proper compliance management helps reduce late fees and bottlenecks and sets the stage for future contracts.
8. Renewals: Parties are given the opportunity to revisit discounts, renegotiate terms, and leverage other opportunities.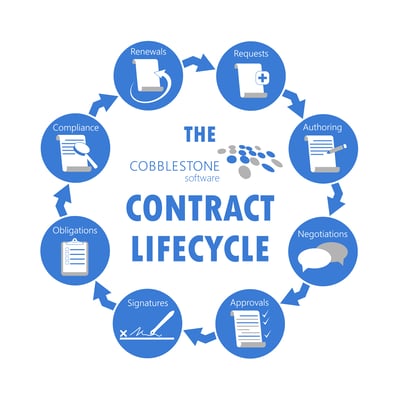 Consolidating Authored Documents
Contract authorship is a complex and multidimensional process. Without reliable contract lifecycle management software (referred to as CLM hereafter), the risk arises that documents may not be composed using preferred contract templates with pre-approved clauses.
CLM software empowers clients with a standardized version tracking feature that maintains the consistency of a single, unswerving contract - no matter how often it circulates. Holdup associated with revision is costly and inefficient. Delayed negotiation periods lead to roadblocks in the lifecycle and, consequently cut the value of contracts.
Optimizing Negotiations
Reliable CLM systems simplify the contract tracking, reviewing, and revision processes during negotiations. Easily-readable and palatable changes offer a win-win situation because all parties can easily edit contracts, and consume contract details without bewilderment or confusion.
Expediting Approval
The approval process can be vexing because chains of command are often intricate and variant between parties. The best CLM software offers approval authority clarity. A standardized format under a CLM application expedites and optimizes the approval process. Notifications regarding when a document needs approval, in a uniform format, streamline the approval process. Updates regarding changes in chain-of-approval make it so stakeholders quickly receive updates about who needs to approve certain facets of a given contract.
Manual contract workflow management forces contract managers to personally oversee the assignment of tasks and remind everyone involved in the approval process to perform their assigned duties. Delay on the part of anyone involved stalls the approval process.
Contract lifecycle management software with workflow automation enabled makes management of contract workflow more efficient, alerting the right people at the right time with notification and automatic alerts. Managing in-house collaboration and negotiation is simplified with the proper tools to track the process. Workflow automation cuts contract approval time by eliminating potential bottlenecks and ensuring that everyone involved in the approval process performs the right steps on time.
Managing Obligations & Compliance
Due diligence regarding timely obligation fulfillment is vital to healthy contract lifecycles. Thus, clerical organization assists contract managers in both meeting their contractual requirements and in providing attention to more strategic aspects of contract management such as data analysis and opportunity realization.
Additionally, contract managers are always ahead of the curve when they have proper CLM software. If a counterparty has an obligation or compliance that they must quickly meet, contract lifecycle management software can notify involved parties with automated key date and task alerts, and contract processes occur without issue.
The Post-Approval Importance of Contract Lifecycle Management Systems
Contract obligations and general compliance are crucial stages of the lifecycle for parties to track. The preceding lifecycle stages are for naught unless the terms and conditions of a contract are followed through upon. Contract management software provides the visibility parties require to effectively manage contracts post-execution.
A solid foundation of CLM practices offers contract management and legal professionals the skills to oversee post-approval stages of the contract lifecycle. CLM software can automatically inform parties of whether standards and, or terms on a contract have been met. Obligations and compliance can be monitored so that both parties meet expectations civilly and without the need for litigation hang-ups.
Why Contract Lifecycle Management is Crucial
Outdated contract lifecycle management tools potentially lead to nettlesome and damaging legal consequences due to a lack of observance of contractually-binding terms and conditions. Such is the importance of proper contract lifecycle management software. Wide-ranging and easily-digestible interaction with the contract lifecycle gives all parties anywhere, anytime access to deadlines and requirements so that they can navigate the contract process devoid of problems.
What is CLM Software?
Contract managers need access to many disparate types of information from varying stages of the contract lifecycle. Therefore, all pieces of relevant data from every single step of the contract lifecycle must be accessible. A reliable CLM solution is necessary for efficiency. CLM software organizes contracts and related data in an accessible hub. Those with permissions have the ability to view and engage with all relevant documents in a single location.
CLM is a multi-faceted and important aspect of contract management. Manual contract management leaves room for detrimental errors and, or hang-ups. CLM software eliminates such difficulties and worries though the providence of order and structure for each stage of the contract lifecycle and throughout it, resulting in higher levels of productivity and proficiency. Legal risks are reduced as well, increasing savings and efficiency.
It is demonstrably irresponsible to navigate the contract lifecycle without the support of reliable CLM software. CobbleStone's Contract Management Software, Contract Insight®, is hailed as the paragon of contract lifecycle management solutions. CobbleStone has pioneered contract lifecycle management since its inception. The software's plethora of features empowers organizations to manage contracts more efficiently, mitigate risk, oversee compliance, draft documents quickly, track costs, receive alerts, sign documents with E-signatures, and reduce contract management costs and lost productivity due to outdated contract administration procedures.
CobbleStone's contract lifecycle management software is relied upon by thousands of contract, risk, sales, and legal professionals worldwide.