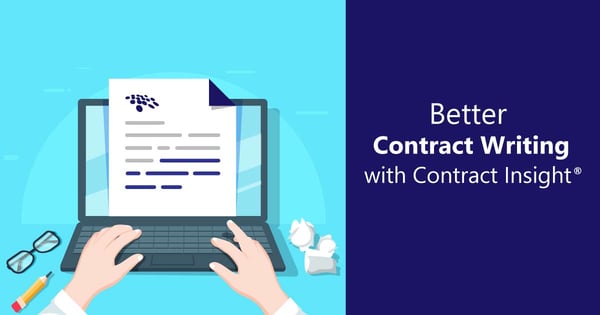 Contract writing is an essential phase in the contract lifecycle. During the contract writing stage, contract parties put the terms of a contract into written copy. Inefficient contract writing processes often rely on scattered clauses, poor compliance management and version tracking, insufficient line item management, and a lack of unified contracts and subcontracts. These processes can lead to an organization that is hindered by error-prone contracts with missing clauses, missed key dates and milestones, and a decentralized process that impedes the contract lifecycle.
Contract Writing Software
Your organization needs a contract management solution that streamlines and enhances contract writing with improved clause management. Leading software helps by tracking compliance tasks and document versions, enhancing item management, providing flow down clauses and notifications, optimizing negotiations, and more. The solution your organization needs is CobbleStone Software's scalable contract management suite – Contract Insight®. Here's why.
Easy & Efficient Clause Merging
Your organization can dynamically write documents using templates with merging field data and clauses from your pre-approved language library. CobbleStone provides your organization with a centralized clause library that can help you produce accurate, compliant, and timely documents and contracts. Your contract management team can manage virtually unlimited document versions and templates with pre-approved data fields and clauses.
You can leverage clause libraries for more specific templates such as those for GSA, FAR, and DFAR contracts. Contract Insight also supports CLIN (contract line item number) management and inclusion of line-items in contract templates. Contract documents can easily and conveniently be exported to standard file formats such as PDFs and MS Word.
You can leverage CobbleStone's MS Word integration for helpful negotiation tools such as Track Changes and a proprietary MS Word ribbon plugin. Additionally, CobbleStone offers an external file utility for streamlined negotiations and enhanced version control.
Contract Writing in Action
To give an applicable overview of how the abovementioned functionality works, let's examine a hypothetical scenario. Let's say, for example, your organization has two governing clauses that it can agree to. You can set up both in your clause library and, based upon the rule you define, the system could insert Clause A or Clause B. Note that this is just an example with two clauses, but you can set up virtually as many as your organization needs.
Continuing with this example, let's say you have a consulting agreement.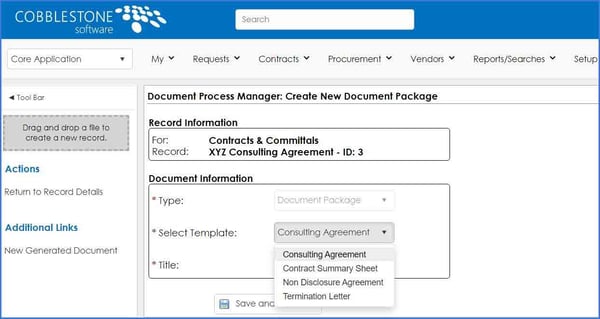 A templated clause document is selected for merging with a contract's details and will subsequently be downloaded and opened in MS Word.
You would select your consulting agreement template while creating a new document package, and, upon downloading it, you would see it open in MS Word. Thanks to an integrated templating tool, data such as the contract's effective date, counterparty information, the contract amount, and other key contract data appear throughout your new contract document, and you can edit them as needed.
For optimal governance over contract negotiations, you can set Track Changes within MS Word so that changes to your document after the data has merged are tracked and displayed, adding further control throughout the process. CobbleStone also offers a PC tool that integrates with MS Word and provides a "CobbleStone" tab in your main menu ribbon for further improved contract negotiations.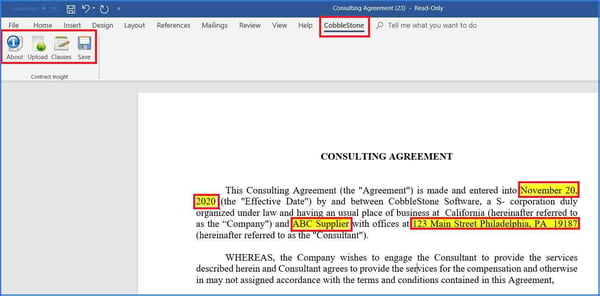 This image displays the CobbleStone tab in your MS Word Ribbon, as information pulled into a new contract.
You can utilize this integration with CobbleStone's file utility to swap clauses from your organization's clause library, and you can leverage the file utility to upload the most up-to-date document versions into your Contract Insight system while tracking version history.
Your organization should make the most of advanced contract writing with clause swapping via an approved clause playbook to expedite contract generation and keep track of changes made as well as the most up-to-date versions of a document. Handle clauses and contract writing in one centralized location with Contract insight!
Comprehensive Compliance Tracking
Maintaining compliance is instrumental in building trust and sustaining a positive organizational reputation. Contract Insight provides your organization with advanced tools for contract compliance from requests up through when the PoP (period of performance) has ended.
Regulatory, legal, and other types of compliance standards can be managed with the help of system notifications for key dates and renewals. Your organization can schedule alerts to ensure contract compliance.
For example, you can configure your system so that a contract requires monthly reporting for the duration of the contract PoP if a specified FAR clause has been selected. As such, your contract management team stays on top of contract compliance and regulation requirements and avoids breaches in compliance or legal issues.
Maintain your organization's reputation and feel confident that you are consistently following laws and standards with the help of Contract Insight.
Comprehensive Flow Down Functionality
CobbleStone's robust contract management software can support flow down clauses and notifications if your organization is enlisting a subcontractor for a given contract.
As an example, let's say your organization enters into a GSA contract with a federal government agency. For this hypothetical scenario, your organization needs to pass some of your contract's obligations to a project management company. Thus, your organization would have to have a contract with the subcontractor.
Contract Insight makes it easy to keep track of flow down indicators. You can easily tag flow down obligations and clauses so that they can be included in subcontractor documents. Keeping track of virtually every aspect of your contract would make it easy for you to manage your contract with the federal agency and your subcontract with a project management company.
Transform Your Contract Writing Process with Contract Insight
Now that you know how to perform advanced, dynamic contract writing with Contract Insight, it's time to get started with a streamlined and centralized contract management process!
Contract Insight - CobbleStone's acclaimed contract management, procurement, sourcing, and contract writing software has helped a myriad of professionals, including contract administrators, legal teams, and procurement professionals from a variety of industries, to positively transform their source-to-contract lifecycles.
CobbleStone helps organizations enhance their contract management process from requests to award to PoP to expiration. With Contract Insight's user-friendly and robust interface, your organization can transform your contract writing process with dynamic clause merging and an incredibly convenient and robust version tracking interface!
It's time to make a positive change your entire contract lifecycle – including the revolution of your contract writing process – with long-trusted and proven contract management software! Take the first step - Book a free demo of Contract Insight today!