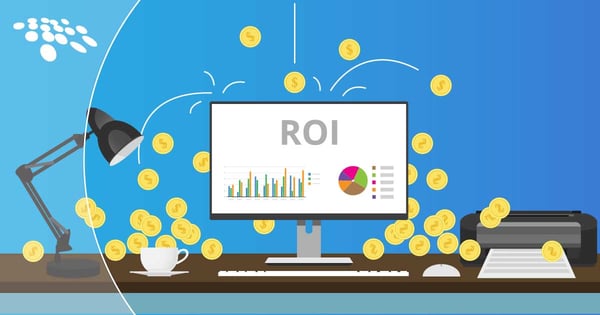 Contract lifecycle management (CLM) software can seem like a significant investment. However, there is a high price to pay for low cost, poor contract management that will ultimately cost your organization much more in the long run. What's more, you can plainly see the ROI contract management software provides if you know what to look for. As such, let's take a look at 11 ways your organization can enjoy a strong contract lifecycle management ROI.
#1 – Time Savings
Time savings are a significant benefit that contract management solutions can provide to legal teams. CLM software automates time-consuming tasks associated with contract creation, review, approval, and more. Some features that save time and resources include:
automated workflows of tasks and those performing them.
the rapid merging of contract clauses and legalese with pre-approved templates for many types of contracts.
straightforward searching and storage.
a variety of reports and analytics tools.
Overall, contract management systems can cut contracting cycle times and allow legal departments to focus on more strategic activities.
#2 – Configurability
Configurability allows your organization to tailor the software to meet your specific contracting process needs.
Contract management software allows you to flexibly configure workflows to match your unique pre- and post-award contract processes. Pre-approved templates can be customized for both common and uncommon contract types (which can also be almost endlessly configured)! Metadata fields for contracts can be added as needed, and security and UI settings are elastic as well!
The point is that a malleable process allows you to improve contract processes across the eras of your organization.
#3 - Customer & Partner Satisfaction
Customer and partner satisfaction are crucial for your organization's success. Contract management process success can contribute significantly to enhancing these relationships.
Speedier contract negotiations and electronic signatures lead to more efficient transactions – which can positively impact satisfaction. Increased visibility into terms and progress can enhance trust and transparency in these relationships. Access to vendor collaboration interfaces can add convenience and autonomy to these processes. Proactive renewal management can give customers and partners ample trust that you will re-negotiate or expediently renew in a timely manner.
#4 - Decreased Cost & Legal Spend
Cost savings start with the elimination of a costly paper-based process that requires paper ink, postage, and more. With a lower risk of evitable errors, there are less costly legal fees related to disputes and settlements. Contract leakage – which occurs when agreements are executed without proper review and approval (and thus with unfavorable terms) is avoided for high potential for cost reduction. Additionally, your organization can lessen costly legal consulting fees and improve in-house efficiency.
#5 - Enhanced Visibility
At virtually any given moment, your CLM software users can track the status of a contract (such as where it is in the approval process, whether it is active, and if it is hitting important milestones). A searchable contract repository lets you search for contracts, metadata, files, and more down to the phrase or even word level. Notifications and alerts keep your team right on top of contract process requirements.
#6 - Improved Collaboration
Real-time collaboration with access control allows your users to actively work on contracts together with the ability to check-in and check-out contract documents to avoid confusion. Version contract helps ensure that everyone is aware of how a contract has evolved. Tasks can be assigned and escalated (in the event that they are not being performed in a timely manner) so that there are multiple fail safes to ensure contracts flow smoothly.
#7 - Compliance & Risk Management
Proper contract compliance is critical – especially in highly regulated industries or if your organization is subject to specified legal requirements. Additionally, there are many risks involved in contract management that vary be industry and contract type.

Contract management software allows your organization to map contract risks – including those associated with noncompliance – so that you can visualize the hazards of poor contract management. A risk assessment matrix can plot risk and risk exposure in a visually engaging manner.

As such, your organization can see the contract management ROI of decreased risk and increased revenue.
# 8 - Data Analytics
A holistic oversight of return on investment (ROI) can come from contract and process analytics. Leading contract management software contains ad-hoc reports, graphical dashboards, and button tiles that allow you to see virtually everything and anything you might need to know at a visually engaging glance - including average contract amount, contracts expiring in the next 30 days, budget remaining, etc.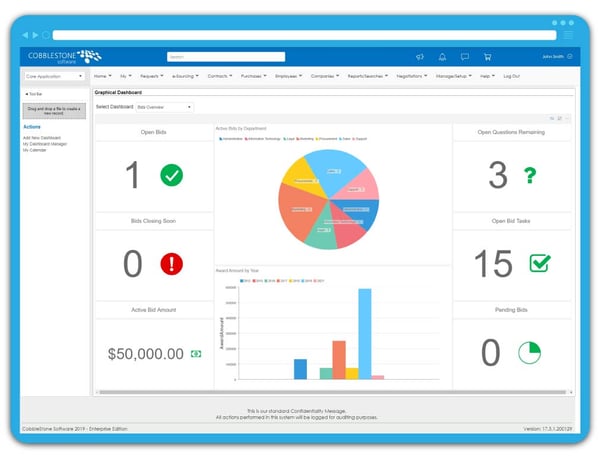 #9 - Integrated Vendor Management
Vendor relationship building can actively build your organization in reputation, revenue, global presence, and more. Leading contract management software integrates vendor management features such as bids, vendor rating and scoring, vendor communication tools, and seamless vendor awards and contract creation so that you pick the best potential vendor and maintain a happy and fruitful relationship together.
#10 - Contract Information Security
Contract management software can drastically increase the security around not only your contracts but also your sensitive data and that of your contract counterparties and vendors.
You can easily establish system rules around the security of documents, PII (personally identifiable information), PCI (payment card information), and much more. Additionally, trusting a provider that has necessary security attestations, such as SOC 1, SOC 2, Privacy Shield, and others, further increases security and information safety.
#11 - Scalability
Any contract management software solution worth its salt should evolve with your process of managing contracts. As contract complexity and volume grow, so should your contract management solution.
Thankfully award-winning contract management solutions - such as CobbleStone Contract Insight® - allow you to start with fundamental, in-demand features and add to your experience as you need to. Just take a look at these three distinct and scalable contract management software versions and see for yourself!
While you are at it, use our contract lifecycle management ROI calculator to see how all of the tools mentioned throughout this blog and more will positively transform your contract management process.
If you would like to see CobbleStone® contract management software's ROI in action, book a free demo with an expert today!
Legal Disclaimer: This article is not legal advice. The content of this article is for general information and educational purposes only. The information on this website may not present the most up-to-date legal information. Readers should contact their attorneys for legal advice regarding any particular legal matter.