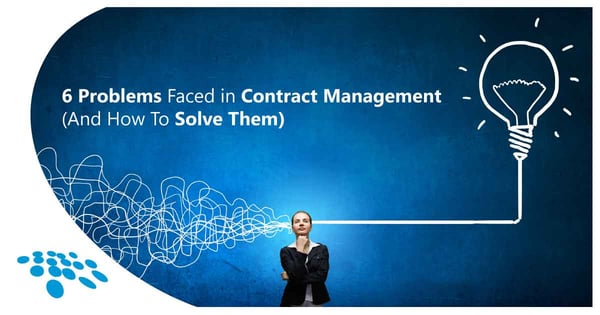 As contract management is a multi-faceted process with numerous steps and moving parts, it is easy for your organization to face problems. This risk of contract management issues is significantly increased if your organization leverages manual or antiquated contract management tools. To elucidate the CLM hardships you face and encourage growth - here is a list of six problems you might encounter in contract management. After that, we can note how to solve such issues with contract management software.
Problems Faced In Contract Management
There are a variety of problems your organization might face in contract management. Today, however, we will focus on:
decentralized contract storage.
contract language and contract clause limitations.
a lack of contract document version control.
delays and mistakes in contract approvals and contract signatures.
missed key dates and workflow tasks.
and missed contract renewal opportunities.
#1 - Decentralized Contract Storage
Suppose you rely on a manual system for storing your contracts, including filing cabinets, disorganized digital processes, email servers, and shared drives. In that case, you can compromise your contracts' security, accessibility, and organization. This makes them easy to lose.
Additionally, manual contract storage methods can make it hard to maintain version control, enforce contract security preferences, track critical dates and milestones, and support archiving and retention rules.
Furthermore, these storage methods can increase contract risk exposure, weaken contract performance, and reduce control. Searching for contracts with these methods is nearly impossible.
Overall, the lackluster contract storage methods above can leave your contracts unsecured, prone to disk, unorganized, and almost useless, given that versions can be unclear and tasks and milestones are difficult to ascertain and stay on top of.
#2 - Contract Language & Contract Clause Limitations
Manual contract writing methods can force your team to create new contracts from scratch. This tedious and delay-prone process can require your team to download various contract templates, manually enter numerous contract data points and clauses, and locate scattered information. Templates stored haphazardly can make drafting contracts and including the correct contract clauses and language difficult.
The inclusion of obsolete and incongruous clauses, templates, and language can result in unfavorable contract terms, delays, missed obligations, missed opportunities, and compliance issues.
#3 - A Lack of Contract Version Control
Keeping track of contract versions and having a robust audit trail of document edits is crucial for healthy contract management. Unfortunately, your organization may be tracking contract versions with detached processes in disparate locations. Additionally, saving files locally can result in misplaced document versions with crucial contract edits that can affect a contract's performance.
A lack of contract version control can result in your old versions of contracts seeping through toward the contract approval stage. Inappropriate contract language and clauses can erroneously be included in contracts. Your organization can miss out on opportunities and favorable terms that were included in new but overlooked contract versions. This can also result in a lack of clarity on necessary tasks, deliverables, and obligations. Contract failure, breaches of contract, and costly legal troubles can also ensue.
#4 - Contract Approval & Contract Signature Bottlenecks
Scattered spreadsheets, multiple shared drives, and sporadic emails can result in contract approvals that fail to meet regulatory compliance and business rules. This can result in missed opportunities for pricing options, time-sensitive documents, and special terms. Additionally, high costs for wet contract signatures and postage can decrease your organization's bottom line and delay the execution of contracts. Send-to-sign time can increase if signature routing is unclear and delayed. Without a system to perform bulk signatures efficiently, valuable time and resources will need to be sacrificed.
#5 - Missed Key Dates & Workflow Tasks
Low-cost and insufficient contract workflow processes can require contract administrators to oversee each stage of the contract lifecycle - one by one. Missed obligations, overlooked key dates, breaches of contracts, and unclear approval chains can result. Workflows handled with spreadsheets and back-and-forth emails for tasks and critical dates can result in overlooked responsibilities and a lack of accountability. Contract failure rates can skyrocket, resulting in missed opportunities, decreased revenue, and legal issues.
#6 - Missed Renewal Opportunities
Error-prone, inefficient, and time-consuming contract renewal processes can increase risk and reduce the chances of renewal opportunity realization. Your organization can miss renewal dates and - thus - overlook valuable opportunities. Additionally - rather than auto-renew contracts - your organization could be required to repeat tedious contract processes just to renew a contract - resulting in wasted time and resources.
The Solution to Problems Faced In Contract Management
All of the problems mentioned above clearly reveal the high price of low-cost contract management. Manual and antiquated contract management processes are likely to result in you facing the detrimental consequences above and almost countless others. Luckily, leading contract management software can solve the problems mentioned above and - again - nearly countless others. The leading solution you need is CobbleStone Contract Insight®.
CobbleStone® is an award-winning CLM software platform that has received widespread acclaim from users and analysts alike from an almost endless array of industries. The practically countless success stories of CobbleStone Contract Insight are a result of CobbleStone's leading features to address the problems above and more, including:
better contract storage with a secure contract repository.
superior contract clause and contract language management with the ability to merge templates and clause fields with those from your pre-approved clause, template, and section library.
numbered contract versions and detailed audit trails for automated document collaboration and version control.
speedy approval routing automation and robust eSignatures that can cut send-to-sign time by up to twenty percent.
intelligent workflow automation with rules-based workflow configuration, task escalation, and increased accountability.
automated contract renewals, contract analytics, and much more.
Discover why thousands of contract management teams worldwide trust CobbleStone to address problems faced in contract management. Book your free demo today!