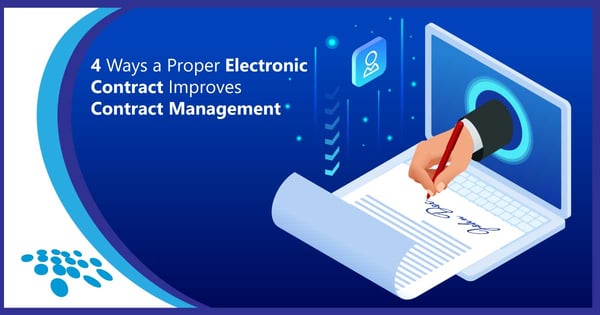 Traditional paper contracts were replaced long ago by better contract processes. The paper document has been foregone in favor of digital contracts. However, not all computer-based contract management processes are created equal.
Not All Computer-Based Contract Management Processes Are Created Equal
Limited digitized contracts – though a step in the right direction away from paper-based ones – still have harmful shortcomings.
A lack of task visibility can result in missed key dates and deadlines. Revenue can be wasted on delayed contract approvals and missed opportunities. Organizations can fail to generate legally enforceable contracts – potentially leading to legal troubles. A lack of security can expose organizations to a process that lacks integrity and is vulnerable to data breaches.
Thankfully, advancements in legal technology have paved the way for a proper electronic contract. Electronic contracts go beyond simple contract storage and document editing tools. Rather, electronic contracts provide a holistic approach to contract lifecycle management. They can save time, save money, and they are legally binding and secure.
As such, here are four ways electronic contracts can foster effective contract management.
#1 – They Save Time
Electronic contracts save time for when a contract is created and signed – and each step in between.
Contract workflows make it so organizations waste essentially zero time meandering around a stalled contract process. Intelligent workflow automation can engage the right people at the right time with:
virtually unlimited contract notifications.
automated emailed alerts.
system calendar notifications.
and workflow task reminders.
Reporting, analytics, and audit trails help contract managers remain in the know regarding the lifecycle of a contract.
Contracts can be quickly signed electronically with electronic signatures. Time is saved when resources do not need to worry about waiting for contracts to travel or be mailed. With centralized electronic signing automation on an electronic contract system, organizations no longer need to waste time:
sending contracts manually via email.
tracking contracts within a disorganized filing system.
storing contracts within shared drives and other messy systems.
and following up on contracts via email.
#2 – They Save Money
Electronic contracts save money and increase revenue.
On an electronic contract system, organizations can save money that is usually wasted on:
paper costs.
ink printer costs and maintenance.
travel expenses.
And mailing and shipping costs.
Additionally, organizations with access to native and flexibly integrated contract negotiation tools can improve the terms and conditions of contracts. As such, organizations are more likely to include favorable contract and clause language – increasing opportunities and revenue.
Workflow automation makes agreeing to the terms of a contract more rapid. This prompt response can foster a favorable business relationship. This punctuality applies to contract renewal tools to help organizations never miss a lucrative opportunity.
Organizations can even calculate their electronic contract management software ROI to help ensure the highest-value digital contract process.
#3 – They Are Legally-Binding
Electronic contracts are legally binding and enforceable by law. This enforceability is thanks to federal laws – namely:
The Uniform Electronic Transactions Act (UETA)
The Electronic Signatures in Global & International Commerce Act (ESIGN Act)
These laws make electronic contracts as legally binding as their antiquated process predecessors. Courts will enforce them if need be.
#4 – They Are More Secure
Electronic contracts are more secure.
An electronic contract management software system provides a secure contract repository that helps:
optimize and safeguard the location, organization, protection, search, and distribution of contracts.
oversee control.
promote accountability.
boost productivity.
and store essentially unlimited contract data and documents.
Electronic contracts with a digital signature process drastically improve security when parties sign contracts.
If eSignatures are the digital equivalent of handwritten signatures, digital signatures are the equivalent of notarized signatures. A certificate authority (CA) is an electronic "notary," and the digital signature process verifies:
the electronic contract is authentic and comes from a verified source.
the electronic contract has been untampered with since the parties signed the document.
The identities of parties signing contracts online are verified by a trusted organization (a CA or a trust service provider (TSP)).
Electronic Contracts – Get Started With These 4 Benefits Today!
Now that you know the benefits of electronic contracts. It is time to choose the CLM solution that offers the benefits above and more. The electronic contract management software solution you need is CobbleStone Contract Insight®.
CobbleStone® is an acclaimed electronic contract management software solution that supports process automation throughout the life of electronic contracts. CobbleStone Software's features have been praised by users and third-party analysts alike.
CobbleStone has received numerous awards and recognitions. Just recently, CobbleStone was deemed the CLM Leader in the SPARK Matrix™ 2022 Report.
But don't just take our word for it.
Book a free demo with a CobbleStone expert to see how to easily oversee electronic contracts on a centralized system.
Ready to try CobbleStone out for yourself? Enjoy a free trial of CobbleStone Software today.
*Legal Disclaimer: This article is not legal advice. The content of this article is for educational purposes only. The information on this website may not present the most up-to-date legal information. Readers should contact their attorneys for legal advice regarding any particular legal matter.