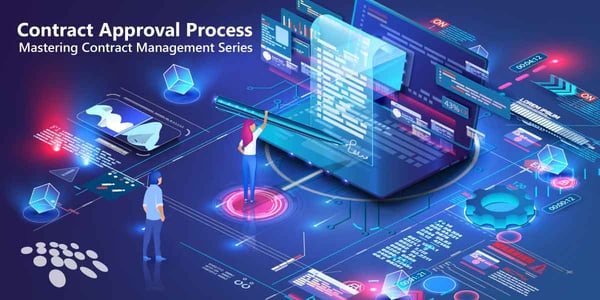 The contract approval process can prove challenging for many contract management and contract administration professionals. Without the proper contract lifecycle management tools in place, bottlenecks and human error can lead to longer contract lifecycle times. Delayed contract approvals may fail to meet business rules, business processes, and business and regulatory compliance standards - potentially leading to missed opportunities for time-sensitive pricing options and special terms. The challenges and problems of inefficient contract administration are apparent, but what are the root causes of the issues with contract approvals?
The simple answer is that manual contract management processes can cause issues with contract approvals because these processes often rely on decentralized spreadsheets, disorganized emails, and shared drives for task management, contract redlining, contract negotiations, and contract approvals. Instead of relying upon such antiquated methods, master contract approvals with user-friendly, robust contract management software.
When Contract Approvals Go Wrong
A manual contract approval process can be inefficient, lack visibility, and increase contract risk - which can lead to miscommunication, confusion, delays, lost time, and lost revenue. Below are common challenges with contract approvals.
Do these scenarios sound familiar?
Your team struggles to keep track of contracts and contract approval status with phone calls, disparate emails, and disorganized spreadsheets.
Having contracts reviewed by the right people at the right time is all too rare and inconsistent. Contracts in need of timely review or approval are delayed - and sometimes lost - due to an inefficient contract approval process.
Back and forth communication is necessary for contract requests, contract redlining, negotiations, and approvals with important materials being lost in translation due to missing or inaccurate information.
Approval obligations and milestones are regularly missed or overlooked.
Audit trails are nearly impossible to follow through a string of emails and a disorderly set of document versions, making it almost indeterminable who requested an approval, who approved a contract, and when it was approved.
You and your team do not have visibility of contract approval status or the transparency to pinpoint exactly where bottlenecks occur.
Your current contract approval process does not facilitate accountability or prioritization.
A Simple Solution to a Complex Problem

Contract approvals may be incredibly challenging today - but these hardships do not need to continue. The path to rapid, centralized contract approval processes comes from a contract software solution that offers intelligent contract workflow automation.
A contract workflow is an automated process built around your organization's rules and contract approval processes to support sequential, timely, and targeted contract reviews and contract lifecycle automation by routing documents to the right people at the right time - offering sensible and seamless task escalation, eliminating bottlenecks, and promoting organization-wide accountability.
Future-minded contract approval workflows with user-friendly, AI-based contract management software can be based upon contract type, departments or people involved, counterparties, or the many other parameters that can be defined and easily configured by your team. Contract workflow automation can increase visibility, improve productivity, and reduce contract risk by allowing your organization to leverage seamless and automated escalation paths for contract reviews and approvals. Workflow automation can quickly move your team's contracts from contract requests to contract approvals and (if applicable) contract renewals while supporting every stage of the contract lifecycle.
Leading-edge contract management software supports full workflow automation - making workflows easy to configure with rules-based processes tailored to your organization's unique needs. Business and regulatory compliance can be streamlined with automated task alerts, email notifications, task lists, and visually engaging and user-friendly dashboards for enhanced organization, reporting, and contract analytics. Contract approvals can be conveniently expedited with the ability to approve of or reject contracts via automated email processes. Actions and steps taken can be logged with timestamps and the names of users performing given tasks - promoting accountability and providing full audit trails. Constant worries about current contract status, who or where a contract needs to be routed to next, and more can be concerns of the past.
The Path to Contract Approval Mastery
Now that you know how you can leverage web-enabled contract management software to streamline and simplify your contract approval process, it is time to enlist the aid of a tried and true solution that has helped thousands of industry professionals worldwide in both the public and private sectors. That tried and true solution is CobbleStone Contract Insight®.
CobbleStone Contract Insight simplifies the workflow process from drafting to legal review and collaboration to approval - and through to signing and renewals. CobbleStone Software's advanced support of automated contract workflow configuration can shorten contract approval cycle time with intelligent automation, contract tracking tools, and task escalation to eliminate process bottlenecks - resulting in improved accountability and more seamless contract closeouts.
Many regulations - such as SOX and HIPAA - require contract review and approval. CobbleStone offers security settings and user permissions that may be assigned based on a contract, employee, department, or security role basis to support approval workflows for contract compliance.
Faster Approvals & CLM Oversight With CobbleStone Contract Insight
The path to faster contract approvals starts with intelligent, automated contract workflows integrated with contract management software. Decrease contract cycle time by routing approvals to the right people at the right time, leveraging contract templates, improving contract process management, facilitating secure collaboration, negotiation, and electronic signatures, and easily tracking and reporting on the entire approval process.
Intarcia Therapeutics had contract management issues due to their lack of visibility, and a manual contract and request process. Read Intarcia's case study to see how CobbleStone helped improve their contract status transparency, approval alerts, reporting, and more!
Given all of the robust tools that CobbleStone offers on one unified platform, It's no wonder why Forrester names CobbleStone a Leader in CLM software!
CobbleStone Software has been a visionary pioneer in contract lifecycle management since its inception. The myriad of features available with CobbleStone Contract Insight thoroughly equips organizations to manage contracts efficiently, easily manage risk, oversee compliance, rapidly draft documents, track costs, obtain alerts, sign documents with electronic signatures, and decrease contract management costs due to minimized productivity stemming from outdated contract administration.
Learn why thousands of contract managers across the globe trust CobbleStone with their contract management needs. To learn more about CobbleStone's unparalleled contract software, book a free demo with a Contract Insight expert today!
To stay up to date on best practices, industry news, and CobbleStone Software updates, be sure to subscribe to our blog and YouTube Channel.