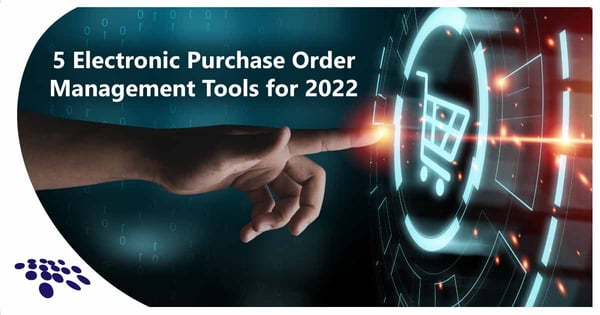 Purchase orders play a vital role in ensuring you have the goods and services necessary to operate and expand your business. With robust purchase order management software, you can lower administrative costs, boost accountability, enhance communication and asset management, and assist your organization in achieving successful operations - all while enjoying seamlessly integrated contract lifecycle management. Read on to learn five key electronic purchase order software tools within contract management software.
Electronic Purchase Order
An electronic purchase order is a digital document outlining the purchasing terms and conditions by which buyers and suppliers shall abide. An electronic purchase order management software suite can track assets received, dates, quantities, shrinkage, and locations. By utilizing a simplified and integrated electronic purchase order management software system, organizations can avoid miscommunication and error-filled purchase orders.
#1 - Integrated PO Management, Vendor Management, & Procurement
Purchase order requests can be delayed by prolonged phone hold times, late email response times, and other manual bottlenecks and inconveniences. These delays lead to wasted time, money, and assets and prevent purchase order management professionals from quickly replenishing resources under established deadlines. Additionally, without a way to seamlessly collaborate with vendors and generate contracts, your organization can experience delays and costly errors.
Fortunately, with the help of purchase order software, your purchasing team can quickly request and create POs from templates, track order amounts against contract budgets, reduce data entry, and consolidate purchase orders. A streamlined purchasing process not only saves time and money but also reduces human error. Furthermore, purchase management software can allow for communication with third-party vendors through a highly configurable vendor collaboration portal for online third-party collaboration, document sharing and review, better eProcurement management, faster RFx and bidding, and much more.
#2 - Purchase Order Punchouts & Shopping Carts
Punchout integration for purchase orders makes requests and fulfillment easy. Products can be selected from leading suppliers through connected vendor website catalogs.
A seamless shopping cart connector within electronic purchase order management software can allow authorized resources to create shopping cart requests and shopping cart POs - based on user permissions settings.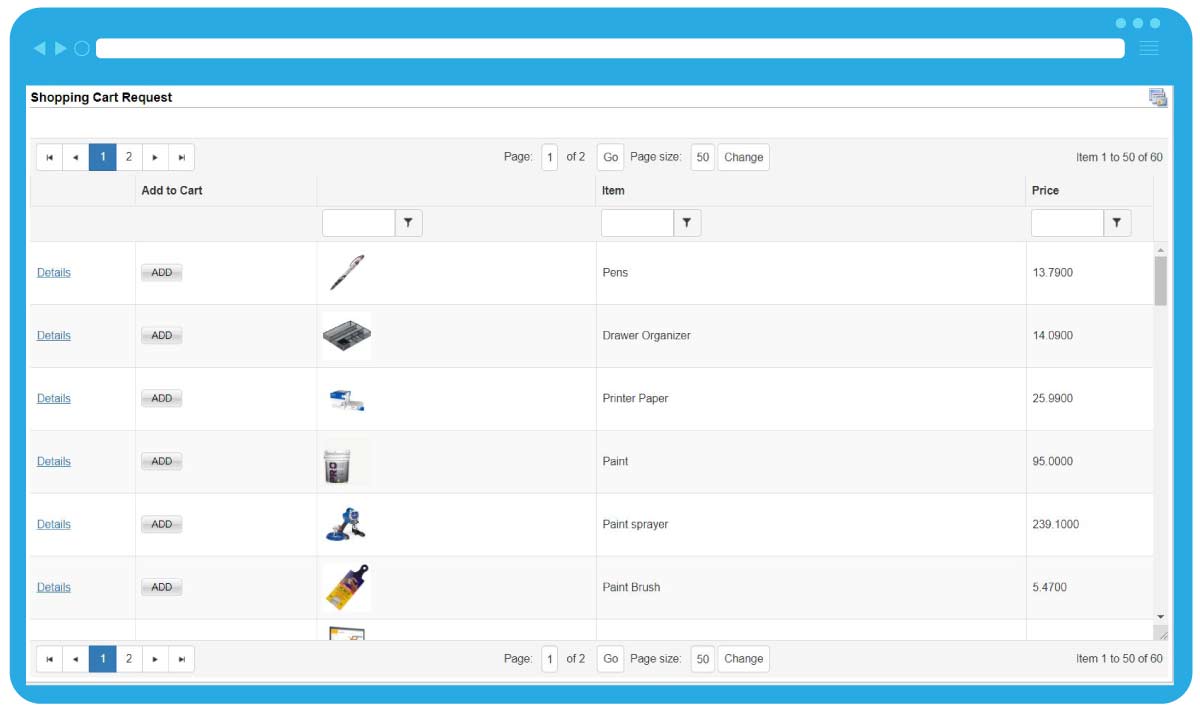 Monotonous PO data entry can be a thing of the past thanks to streamlined catalog creation within purchase order and contract management software. With virtually the click of a button, you can transfer items from a contract or PO record into a neat and tidy item catalog!
#3 - Purchase Order Management Dashboards & Reports
Gathering asset data from a multitude of platforms - such as physical files and spreadsheets - can lead to prolonged purchase order processes.
By combining order details, you can access critical asset information, and you can expect expedited purchase orders.
Conveniently for you, your purchase order management system can support purchase order dashboard creation to provide a comprehensive view of purchase orders and their locations. Additionally, request details, including requestors, vendors, statuses, and line items are easily discernible. Purchase software can also give you improved risk visualization. Vendor data can be analyzed against compliance standards set forth by the Office of Foreign Asset Control's (OFAC) national sanctions list with visually engaging OFAC search integration for better risk transparency.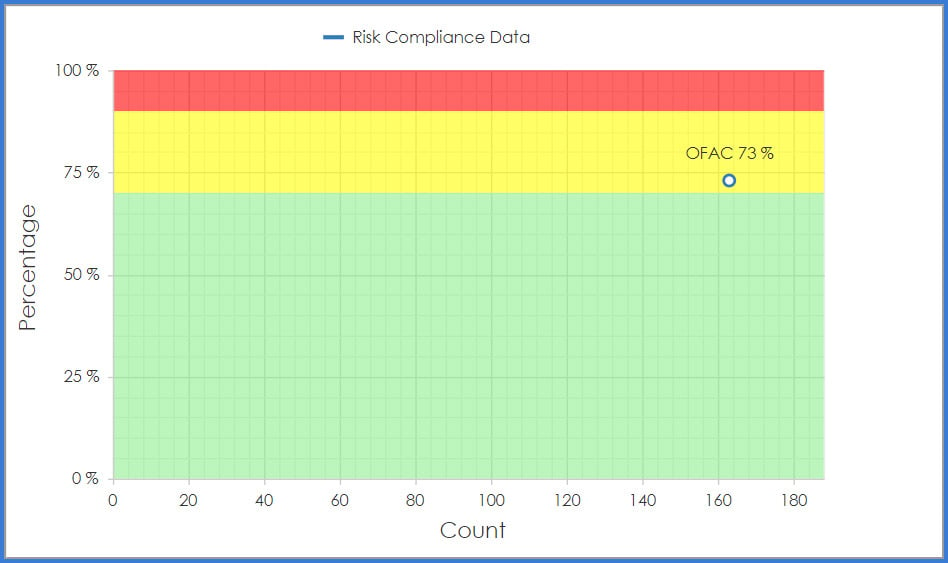 #4 - Purchase Order Tracking and Asset Transparency Interface
Purchase order asset tracking invites complications when organizations depend on outdated processes that sustain the threat of human error – such as spreadsheet data entry and non-traceable communications. Purchasing professionals cannot afford to risk ordering surpluses, which take up valuable space, or inadvertently not ordering assets in need of replacement.
Favorably, an electronic purchase order management software suite can help trace assets received, dates, locations, shrinkage, and quantities with comprehensive data fields and workflow alerts. Your purchasing team can more successfully track assets internally and significantly improve purchase order communication with streamlined asset management – while securely overseeing inventory and decreasing unnecessary spending.
#5 - One-Stop Purchase Order Management & Contract Lifecycle Management
Managing contracts from POs separately from initial purchase order requests can lead to errors. Furthermore, manual methods involving scanned documents via email and mailing paper-based documents for signatures can lead to order delays and harmful vendor miscommunication.
Thankfully, electronic purchase order management software can help alleviate these issues by supporting contract generation directly from PO requests. This process centralization can streamline unified contract management and purchase orders. Electronic purchase order software can hasten the contract management processes by allowing the submission of contract requests, review of approvals, seamless collaboration, contract negotiations, quick signing with eSignatures, and the management of compliance until a contract is ready for renewal – in one user-friendly system.
With integrated contract lifecycle management and purchase order management, your team can essentially ensure that assets and vendors comply with your budget and pre-approved expectations until a purchase order contract is up for renewal. For speedy renewals, electronic purchase order management software can help keep your team notified. Advanced reporting can be leveraged to pinpoint areas of contract performance against contract management KPIs to maximize ROI.
CobbleStone® for Electronic Purchase Order Management
The ultimate purchase order management tool for 2022 is one that marries all of the features above and more for a streamlined and centralized purchase order management process that seamlessly integrates with contract lifecycle management, vendor management, and eProcurement. The solution you need is CobbleStone Contract Insight®.
CobbleStone Contract Insight is an award-winning electronic purchase order management, contract lifecycle management, eProcurement, and eSourcing software solution that has been trusted by thousands of organizations from a vast array of industries. CobbleStone is an end-to-end solution that can decrease friction, increase governance, and optimize flexibility with seamless scalability according to your organization's needs. It's no wonder why almost countless organizations enjoy a success story built on CobbleStone Contract Insight.
Don't waste any more time on a divorced purchase order management, contract lifecycle management, and eProcurement process that decreases your bottom line and wastes time. Book a free demo of CobbleStone Contract Insight today!
To stay up to date on best practices, industry news, and CobbleStone Software updates, be sure to subscribe to our blog and YouTube Channel.
*Legal Disclaimer: This article is not legal advice. The content of this article is for general informational and educational purposes only. The information on this website may not present the most up-to-date legal information. Readers should contact their attorney for legal advice regarding any particular legal matter.