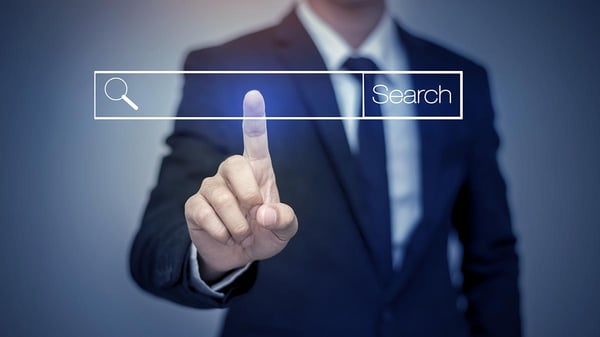 Contract Insight's® Quick Search feature allows system users to easily search for specific requests, contract records, contracts, and related documents by searching for keywords or phrases. This process is similar to common search functionality we use on most online platforms (it's fast and easy!). Learn from this Contract Insight video tutorial how to easily search within your system.
In addition to the video tutorial, below is a step-by-step guide on how to search in Contract Insight with the Quick Search feature.
To use the Quick Search feature, enter keywords into the search bar at the top of the screen above the main navigation menu. Users can search for a single word, multiple words, or phrases that may be in the document they are looking for.
1 - Searching in Contract Insight

For this example, we will be searching for the keyword, "software".
To begin searching in Contract Insight, type a keyword into the search bar and hit "enter".

This takes us to the quick search results where you can find multiple sets of results that include the keyword, "software", including a list of contracts (shown above), requests, and companies within the system with links to the related record page.
For today's example, we will focus mainly on the contract quick search results, which is displaying a list of contract records where the keyword "software" is found.
Keep in mind, quick search results can be exported outside the system to Microsoft Excel format. Each of the search result lists, including contracts, requests, and companies, will have an export button (shown above) that let's you export that list into an Excel file.
2 - Filter and Sort Search Results

Right now, there are 68 results for "contracts", so if we would like to narrow the scope of our results, we can filter and sort by standard or user-defined fields set up in Contract Insight. To add a field column to these results, simply select the "columns" button and choose the field you would like to add.
For this example, we want to review our expired agreements. To do this, go to the "Status Name" filter box and type the word "Expired". Then, click the drop down to choose the filtering rule, "Equal To". The contract results for the keyword, "software" will be reduced, and will then only show us all expired contracts associated with the keyword, "software".
3 - Finding the Keyword Source

When we look at our search results, the "source" column tells system users where their search criteria is found. To see the source itself, there is a "view" button next to each result that lets you open the contract details page.
If you just want to look at the documents associated with this record, click on the expand arrow. This displays a drop-down list of any attachment that has been uploaded to that record.
4 - Downloading or Previewing a Document

To download a document in its native format, you can do so easily by clicking on the "download" link. You can also preview PDF and Word files online without downloading. CobbleStone's file preview tool displays the document and identifies where in the document your search criteria is found.
It's time to get started searching in Contract Insight. For more information on leveraging contract management software tools, check out our other Contract Insight tutorials or email us at support@cobblestonesoftware.com.