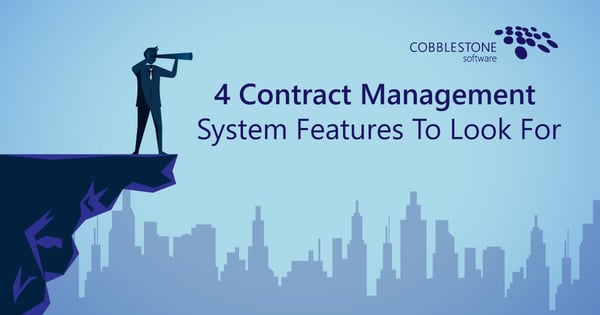 2021 has already brought many enhancements and innovations to contract management automation - and contract management technology will not stop enhancing contract management processes any time soon. Your organization could be missing out on user-friendly and future-minded contract management system tools. As such, here is a list of four must-have contract management software features for a streamlined, simplified, cost-effective, and configurable process for increased ROI.
#1 - Full Contract Lifecycle Management
As contract volume and contract complexity increase, your organization can seriously fall behind without a holistic contract management system. A low-friction, time-saving, and cost-effective contract lifecycle management software solution can help your organization enjoy efficient contract administration while overseeing the entire contract lifecycle in a centralized fashion.
Leading contract lifecycle management software can support your organization with an easy-to-understand software interface for the complete contract lifecycle – from requests to renewal opportunities – including:
a helpful

contract writing

interface that supports simplified merging of contract documents with templates from your organization's pre-approved clause library.
centralized, simplified

contract negotiation, contract collaboration, contract review, and contract approval routing.
comprehensive contract tracking and contract analytics.
automated key date alerts and notifications.
full risk management and risk analysis with real-time risk recommendations.
tracking and process configuration for various contract types for a myriad of different industries.
seamlessly integrated RFx management (including RFPs).
simple searching and reporting, featuring a highly configurable ad hoc and custom report designer.
& much more.
Advanced CLM software solutions can support intelligent contract workflow automation so that your organization can streamline the contract lifecycle from start to finish.
#2 - Contract Intelligence
With AI-based contract management software, contract management system processes are streamlined and automated. Your organization can configure a process for systematically analyzing contracts and changing static contract documents into dynamic building blocks for successful contract administration, risk management, and proactive opportunity identification. Proprietary contract intelligence can help your organization reap the most from contracts. Watch the video below to learn more about contract management AI.
Your organization can maximize automated data entry to save time, money, and resources for when users add new contracts into their systems. Your team can identify crucial data such as key dates, clauses, phone numbers, counterparty information, email addresses, locations, financial data, and much more to replace the need for tedious, manual data field entry.
Intelligent clause extraction, identification, and categorization can foster continued machine learning – allowing your team to maximize a contract management platform that constantly improves. Powerful contract intelligence affords your organization the ability to locate standard clauses within a document when it is introduced. Your organization can subsequently add clause text found to training data for continuous machine learning – consistently enhancing future clause recognition!
Contract management AI can aid your organization in pinpointing potential contract risk variables by analyzing text within newly introduced documents and identifying "good" and "bad" contract language – according to a preconfigured, rules-based sentiment. Proprietary contract intelligence can also detect potentially sensitive data, run statistical data analysis, and give helpful risk mitigation recommendations based on real-time contract data.
#3 - Rapid Electronic Signatures
An electronic signature tool integrated with a leading contract management system can aid your organization in transitioning from negotiations to signing swiftly - as your team navigates the ever-evolving landscape of contract management platform processes.
A rapid signing process for web-enabled signature collaboration and speedy electronic approvals can cut send-to-sign time by up to twenty percent. Your organization can send documents out for signatures seamlessly after contract negotiation is complete. Leading-edge contract management software solutions provide a unified, web-enabled repository within a centralized online portal for end-to-end oversight of partially or fully executed electronic signatures.
Manual methods for the signing of new agreements, bulk HR documents, policy updates, addendums, amendments, and more can thankfully become a thing of the past with the right agreement management system tools to send virtually unlimited documents for signatures in bulk. Sending documents is easy, and your contract stakeholders can sign from virtually anywhere at essentially any time. External signatories can receive emails that seamlessly take them to necessary signing portals without involving your contract administration software system. Watch the video below to learn about CobbleStone Contract Insight® 's electronic signature platform - IntelliSign®.
With a leading contract management software suite with integrated eSignatures, signing and approval collaboration is efficient, swift, and centralized.
#4 - Seamless Contract Management System Integrations
Your contract management process can really sing if your organization leverages contract management software integrations for the enhancement of various CLM processes.
Be on the lookout for contract software solutions that integrate seamlessly with mission-critical applications. CobbleStone Contract Insight - for instance - conveniently integrates with a number of proprietary and leading external applications, such as:
Google Workspace (formerly G Suite) for concurrent contract negotiation with CobbleStone Contract Insight and Google Docs.
MS Office 365 for online contract negotiation with MS OneDrive and CobbleStone Contract Insight.
ProBids.com

for a more competitive bid process.
CobbleStone PC Helper Apps for both

MS Word

and

MS Outlook

to streamline and integrate multiple areas of contract management, vendor management, eProcurement, eSourcing, and more.
simple, intelligent

OFAC search

integration for improved risk management and federal compliance.
CobbleStone's proprietary artificial intelligent engine - VISDOM AI®.
proprietary IntelliSign

eSignatures.
and numerous other seamless, leading integrations.
Get Started Today With The Leading Contract Management System
Now that you have learned about four must-have contract management system features to look out for, it is time for you to choose a cloud based contract management software platform that features these four tools and many more. As such, it's time you got started with CobbleStone Contract Insight.
CobbleStone Software's acclaimed, long-trusted, fully integrated contract management software platform expedites and simplifies the contract process with heightened governance, minimal friction, and greater flexibility from contract requests to contract renewals. CobbleStone has been a visionary leader in CLM solutions since the mid-1990s. CobbleStone's easy-to-use, robust, and highly scalable product seamlessly integrates with mission-critical applications for centralized contract management. It's no wonder why Forrester names CobbleStone a Leader in CLM software!
Learn why thousands of contract managers across the globe trust CobbleStone with their contract management needs. To learn more about CobbleStone's unparalleled contract software, book a free demo with a Contract Insight expert today!
To stay up to date on best practices, industry news, and CobbleStone Software updates, be sure to subscribe to our blog and YouTube Channel.