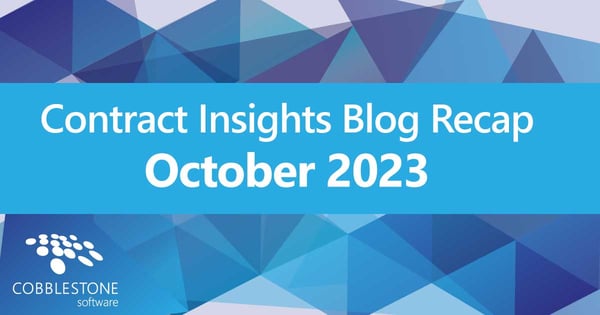 Did you miss any of our blog posts from October? Don't worry; we have outlined each of them for you. Stay up-to-date with industry topics, real-world case studies, and contract management software and procurement best practices in November by reading the latest CobbleStone® content.
With rapid advancements in our ability to connect and form business relationships, managing contracts has become more challenging than ever. With the increase in the volume and complexity of contracts, the risk of inadvertently overlooking a crucial detail or deadline is on the rise. One such area of potential oversight is the uncontrolled auto-renewal of contracts, which can lead to significant financial and operational implications for a business...
Legal departments trudging through manual processes for contract generation and management can be left to feel the walls closing in. With every new business opportunity comes a cascade of contracts - each demanding precision, timeliness, and impeccable oversight. But even the best can miss a beat. From accidentally overlooking a critical termination deadline to the tedious hours spent reinventing the contract wheel, the pitfalls of manual contract management become glaringly evident...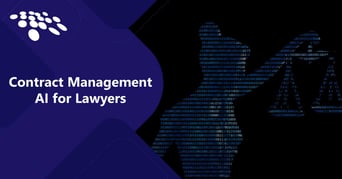 Legal professionals are increasingly leveraging technological innovations to enhance efficiency, time savings, and accuracy. One of these powerful tools for legal work includes AI systems. AI for lawyers has become a cornerstone in transforming traditional legal practices. Legal AI is not a concept of the future but a present reality, altering the landscape of contract management and various legal processes...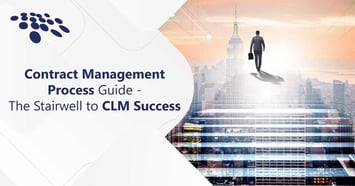 Manual contract management processes may suffice for organizations with low contract volume and contract complexity. However, when the number of contracts increases to hundreds, thousands, and beyond, contract failure rates increase exponentially. Read on to learn how to master contract tracking with leading contract management software...

Project management is an intricate dance of planning, executing, and overseeing projects to ensure they are completed efficiently and effectively. At the core of this process are project management contracts. These vital documents delineate the terms and conditions, scope, and roles and responsibilities for a project - hopefully ensuring that all parties involved have a clear understanding of the expectations...
Procurement departments can encounter procurement workflow inefficiencies without the proper procure-to-pay tools – especially when implementing inefficient and disjointed contract management processes. You can avoid risk, unreasonable vendor pricing, and vendor non-compliance by leveraging contract management processes in procurement that centralize processes, technology, and people...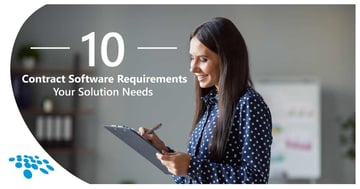 There are many contract management solutions on the market. As such – searching for the best contract management software with which to manage contracts can be daunting. But it doesn't have to be; you just need to know which contract lifecycle management requirements to look for...
Contract lifecycle management (CLM) software can seem like a significant investment. However, there is a high price to pay for low cost, poor contract management that will ultimately cost your organization much more in the long run. What's more, you can plainly see the ROI contract management software provides if you know what to look for. As such, let's take a look at 11 ways your organization can enjoy a strong contract lifecycle management ROI...
Now that you are caught up with our October articles, be sure to keep an eye out for our November content. Never miss a blog post again, and let us notify you when new articles are published by subscribing to our blog! No time to read? Then check out CobbleStone's YouTube channel for exciting video content. Be sure to like and subscribe!
CobbleStone's user-friendly, robust, and scalable solution seamlessly integrates with mission-critical applications, including MS Word, MS Outlook, and MS Excel, for unified and seamless contract management.
Discover why thousands of contract management professionals trust CobbleStone Software for their contract management, sourcing, and procurement needs. Book a free demo with a CobbleStone Contract Insight expert to learn more about CobbleStone's acclaimed contract management, eProcurement, and eSourcing software!