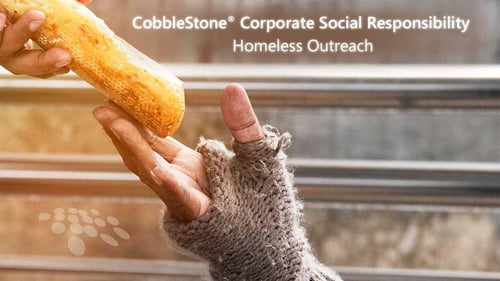 Since CobbleStone Software's founding over 20 years ago, we have sought to make a meaningful impact on the world – not only as a leading contract management software, eProcurement, eSourcing, and vendor management software provider but also as a socially conscious organization that gives abundantly to our global and local community. Read on to learn how our corporate social responsibility (CSR) partnership with The Unforgotten Haven will help feed our local homeless community.
CobbleStone Software's Mission
CobbleStone's mission is to provide the most advanced, cost-effective, and user-friendly contract lifecycle management and eProcurement software applications that enable employees to do their best work. Our mission also includes the following:
We take a pledge to follow our

Code of Conduct

.

We take a pledge to respect our clients, our co-workers, our environment, and ourselves.

We strive to be successful by exemplifying sincerity, personal integrity, humility, courtesy, wisdom, and charity.
Because of CobbleStone's pledge to the abovementioned values – especially courtesy and charity – we strive to make a positive impact on the world, including partnering with The Unforgotten Haven's Homeless Outreach Initiative to help feed our local disadvantaged community.
Corporate Social Responsibility At Work – A Unifying Initiative
CobbleStone employees are banding together to donate time and supplies to assemble 150 sandwiches for distribution to the homeless. CobbleStone personnel will also adorn the paper sandwich bags with encouraging words – helping to spread love and light to the disadvantaged. Some employees are donating supplies – such as peanut butter, jelly, brown paper bags, sandwich bags, chips, and water – and others are donating their time to caringly assemble the giveaways for distribution. With the many CobbleStone staff involved – both donating and assembling – this CSR homeless outreach initiative simultaneously strengthens our internal corporate collective and helps fill our local homeless community's needs.
About The Unforgotten Haven
"The Unforgotten Haven is a 501(c)3 non-profit organization whose mission is to help the less fortunate." They partner with community organizations, including churches, and provide services without charge. Their project groups, which exceed twenty, enable them to accomplish their mission – including feeding the homeless, distributing snack packs to cancer patients in chemotherapy, and supporting women in domestic violence shelters. While most of their donations and services aid the New Jersey local community, their efforts can expand nationally – including supporting hurricane relief efforts in Florida, North Carolina, and Louisiana. Michele Gambone founded The Unforgotten Haven in 2014 with the humble beginning of supporting a family who was living out of their car, and now the organization has helped over a million people and animals in need.
Previous CobbleStone Software CSR Initiatives
Some of our previous corporate social responsibility initiatives include our involvement with the following organizations:
Lindenwold Animal Adoption Center

Toys for Tots

Cathedral Kitchen

Local Fire and Police Departments

Walk MS – a walkathon hosted by the National Multiple Sclerosis Society

EnviroOne

And Others!
CobbleStone Cares For Community – Internally & Externally
While CobbleStone's proprietary blog, Contract Insights, is considered a go-to resource for industry-leading knowledge, we equally care about our employees, clients, and the world we share. By shedding light on our corporate social responsibility initiative with The Unforgotten Haven, we look forward to continuing to serve you – our readers – as your industry-leading resource for contract lifecycle management (CLM), eProcurement, eSourcing, and vendor management software solutions.
To learn more about the mission of The Unforgotten Haven, click here.
About CobbleStone Software
CobbleStone's trusted, award-winning, fully integrated contract lifecycle management software - recognized as a Leader by Forrester - streamlines the contract process with optimal governance, reduced friction, and high flexibility from contract requests to renewals. CobbleStone Software has been a visionary leader in CLM software for over 20 years. CobbleStone's user-friendly, robust, and scalable solution seamlessly integrates with mission-critical applications for unified and seamless source-to-contract management.
Discover why thousands of contract managers trust CobbleStone Software with their contract management needs. To learn more about CobbleStone's unparalleled contract software, book a free demo with a CobbleStone Contract Insight expert today!
To stay up to date on best practices, industry news, and CobbleStone Software updates, be sure to subscribe to our blog and YouTube Channel.