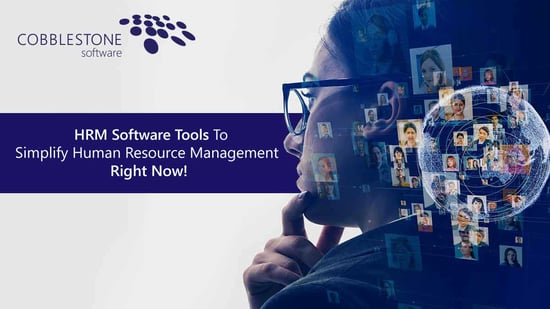 HR management professionals have a lot of different responsibilities to keep organizations functioning properly - including job postings, staffing, organization and proper use of the workforce, maintenance of the workforce, tracking and measurement of workplace performance, oversight and implementation of reward systems for employees, professional development, and more. With all of these responsibilities and more piling on, human resource management professionals can fall behind with disorganized tracking methods, lost materials, missed key dates, and more. Luckily, integrated HRM software and contract management software can help.
What Does HRM Mean?
With all of the different directions that human resources and management professionals can be pulled in, it is important to hammer down just what HRM ( human resource management ) really involves. The overarching purpose of HRM is to promote workforce success via an organization's different people. This makes it important for HR management to maintain a strategic and organized approach to leveraging "people" to gain a competitive advantage in any industry landscape. It is designed to maximize employee performance in service of an employer's strategic objectives. As such, company policies and procedures need to be upheld in the promotion of organizational goals. While other departments have their own objectives and KPIs, HRM professionals remain consistently responsible for overseeing mission-critical employee recruitment, employee training and development, performance metrics tracking, employee termination, and employee reward management (including the comprehensive and consistent management of payroll, bonuses, raises, etc. HR management also entails the handling of maintaining organizational practices as they apply to compliance requirements, industry standards, and government law.
With all of these far-reaching responsibilities and more, it is important for HRM professionals to have the best tools at their disposal for organizational growth. This is where HRM software can help!
HRM Software Success for Better Human Resources Management
Using the proper HR MGMT tools - such as CobbleStone Software's integrated HRM and contract lifecycle management software - CobbleStone Contract Insight® - can positively transform HRM processes.
HRM professionals can leverage CobbleStone® HRM software to easily create requests for the interview process with user-friendly data fields and reports to effortlessly collect key data such as:
who is applying for what position and where.
how many people are actually calling in for their interviews.
a Files & Attachments section for all interview documentation such as applications, references, resumes, and interview notes. Specific employee information can be configured to be redacted in the file section - so that there is organizational visibility of only employee information that is public, and private information is kept secure.
field mapping to take an interviewee directly to an employee record.
configurable ad hoc report metrics and company information.
Tidy, highly configurable employee lists can simplify and streamline employee onboarding and auditing. Team and department reporting can be expedited and improved with the ability to track HR metrics - such as average days to hire, where employees are hired from, insurance information, OFAC search to ensure employee compliances, terminations, length of employment, and more. Comprehensive oversight of address information, personal email addresses, and cell phone numbers promote optimal communication in case of emergencies. Configurable sub tables can help organizations track data important to their needs, such as employee schedules, employee time off ( PTO ), employee metrics, annual HR audits, and salary changes / promotions.
Intelligent workflow automation with CobbleStone Contract Insight streamlines the onboarding process. HRM professionals can create pre-hire workflows and list items needed prior to an employee's start date. HR management personnel can also create post-hire workflows and list anything an employee needs to do after they are hired. Subsequent workflows can be configured to ensure compliance with requirements across the board!
With CobbleStone's electronic signature software - IntelliSign® - human resources and management can configure electronic signature flow processes to automate signatures. Mass signing tools can be used for acknowledgments and policy changes. Signatures can easily be managed for annual signings, write-ups, and other purposes as well.
What is human resource management professionals want to see an organization-wide headcount? How many FTE (full time equivalent) employees, part time employees, or interns? How many employees have been onboarded this year? Luckily, CobbleStone HRM software users can utilize executive graphical dashboards to view and analyze this key information and more in colorful and visually engaging snapshots. CobbleStone Software's HR Administrator recommends configuring dashboards for interviews, upcoming days off, and employees hired/employees terminated - just to name a few.
Survey tools can be used to track managerial performance and internal suggestions in the promotion of a better and more healthy workplace for all employees. Stand-alone tables can be used to track assets not relevant to employees such as job posting costs, views, and shares - as well as turnover rate.
Overall, HRM professionals can enjoy a centralized process for all of their HR management needs.
Get Started With CobbleStone Contract Insight!
Now that you are aware of CobbleStone's comprehensive and future-minded HRM software tools for HR management prosperity, you may be excited to learn that CobbleStone Contract Insight is a one-stop source for the automation and optimization of human resource management, contract management, vendor management, procurement, sourcing, and more!
CobbleStone Contract Insight assists organizations from a variety of CLM software industries - including human resources management - to improve their business processes and foster digital transformation with a leading contract lifecycle management system. Contract lifecycles can transition from obsolete and inefficient liabilities into dynamic assets that support contract management KPIs. Forrester names CobbleStone a Leader in CLM software - and it's easy to see why!
See how you can leverage CobbleStone's HRM software tools in CobbleStone Contract Insight for HR management success by booking your free demo.
To stay up to date on best practices, industry news, and CobbleStone Software updates, be sure to subscribe to our blog and YouTube Channel.