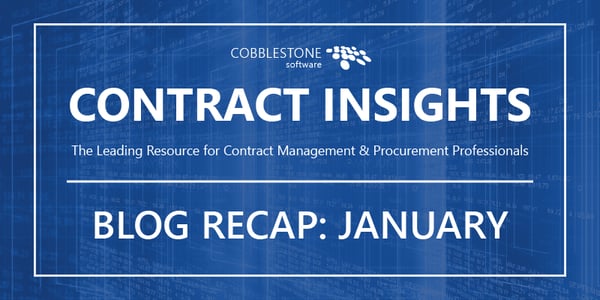 Did you miss any of our blog posts from January? Don't worry, we've outlined each of them for you. Stay up-to-date with industry topics, real-world case studies, and best practices by reading CobbleStone's latest content.
The terms "contract management" and "contract lifecycle management" may seem synonymous however, there are clear lines that can make or break the positive impact and value that contracts create. Contract lifecycle management moves beyond contract management by focusing on requests, authoring, negotiations, approvals, signatures, obligations, compliance, and renewals. Determine which path is right for you.
Manually importing and analyzing contracts can be time-consuming, frustrating, and often results in lost documents or other mistakes. Learn how a CobbleStone Software client utilized contract data extraction services and text mining smart tools to transform their process to be supported with data-driven strategy.
Contract management software can benefit any organization that needs to manage contracts or agreements, but one of the most common objections is the cost. Budgets are a considerable factor in all business decisions, but low-cost contract management comes at a higher price. Learn why low-cost contract management is deceivingly expensive.


Looking to increase your knowledge of industry best practices and learn how to overcome contract management challenges? These 8 contract management conferences will allow you to meet other professionals in your field, collaborate on overcoming process challenges and bottlenecks, and learn about smart tools that are rapidly changing the way organizations do business and manage contracts.
For users who are new to e-signatures, and who want to train their team on the process, this step-by-step guide can help show how to use Adobe Sign as an integrated tool in Contract Insight.
Contract managers face the challenge of overseeing the contract lifecycle from request to renewal, while struggling to show stakeholders the significance of an often complicated and undervalued process. The goals of reducing risk, increasing productivity, and improving visibility are at the core of effective contract management strategies. However, all too often, the tendency for failure remains high.
CobbleStone continues to lead after 2018 being a record-breaking year filled with many accomplishments including new leading clients, increased revenue, AI advancements, thought leadership engagements, significant staff growth, data center enhancements, and more.
CobbleStone offers government agencies and other contract professionals many options for simplifying their contract management process. Learn from this client success story how an important segment of the San Diego Government used CobbleStone's Contract Insight™ to help overcome common contract management challenges.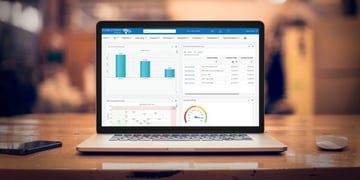 Contract management software can provide business professionals with better (and faster) results, meaning fewer mistakes, improved accuracy, smoother processes, and better monitoring.
Now that you're caught up with our blog, be sure to keep an eye out for our February content. Never miss a post again, and let us notify you when new content posts, by subscribing to our blog!