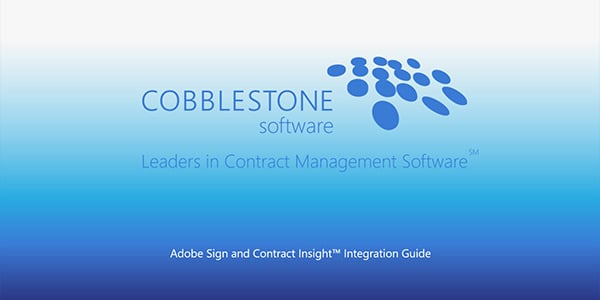 CobbleStone Software's contract management software, Contract Insight™, allows users to complete the source-to-signature process in one simple, configurable system. The final stage in this process, signing the contract, can be streamlined with the use of e-signatures. Contract Insight's seamless e-signature integration tracks each step in the process. Users can be notified when a contract is ready for signing through automated workflows and real-time status updates.
E-signatures are incredibly useful for organizations with a lengthy review and signing process consisting of multiple parties. Knowing where in the process a contract is helps all parties involved be able to plan better and streamline the process.
Contract Insight offers numerous options for seamless e-signature integration including Adobe Sign, DocuSign, CobbleStone's proprietary eSign tool, and more. For users who are new to e-signatures, and who want to train their team on the process, this step-by-step guide can help show how to use Adobe Sign as an integrated tool in Contract Insight.
Step 1
To begin using Adobe Sign in Contract Insight, you must first sign in to the login screen of your core system.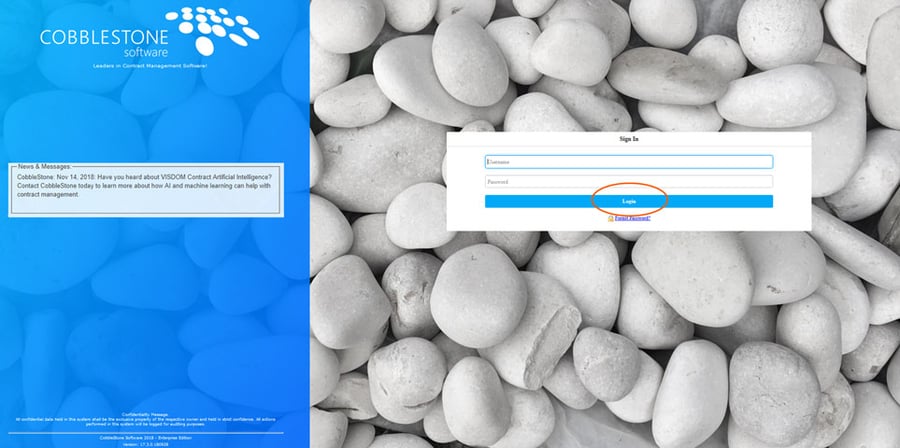 Step 2
In your Contract Insight system, search for the contract record containing the document you wish to send for signature. You can do this through a simple search, by searching through all contract records, or by searching for the contract record in an Ad-Hoc report. Most times, you will be notified via email that a contract is ready for electronic signature, and you can easily click the link in the email notification. Once in the contract record, scroll down to where the document is attached and click on the red document toolbox (shown below) to show tool options for that document.
Step 3
Once the document toolbox has opened, choose "Esign Document" (shown below).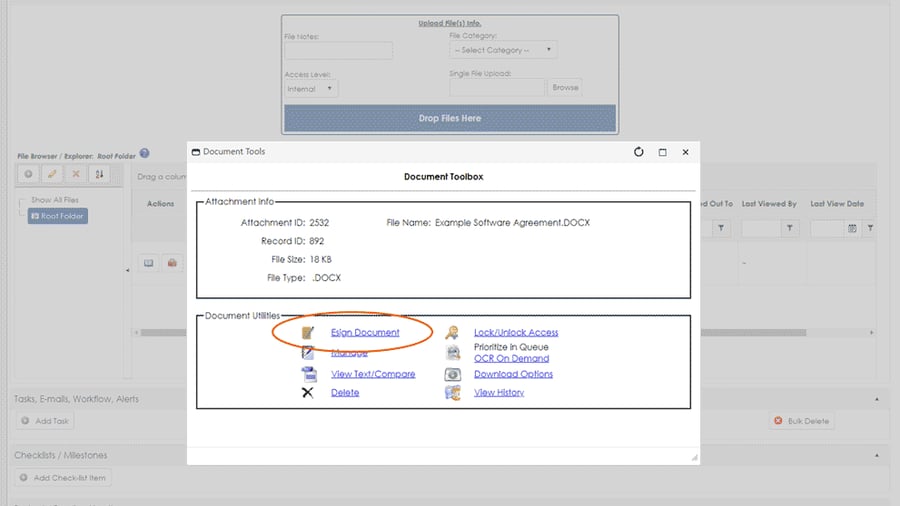 Step 4
In the image shown below, the Contract Insight system is integrated with two e-signature options: CobbleStone eSign and Adobe Sign. For this example, we will continue by choosing Adobe Sign. Your system may display other electronic signature options (if enabled).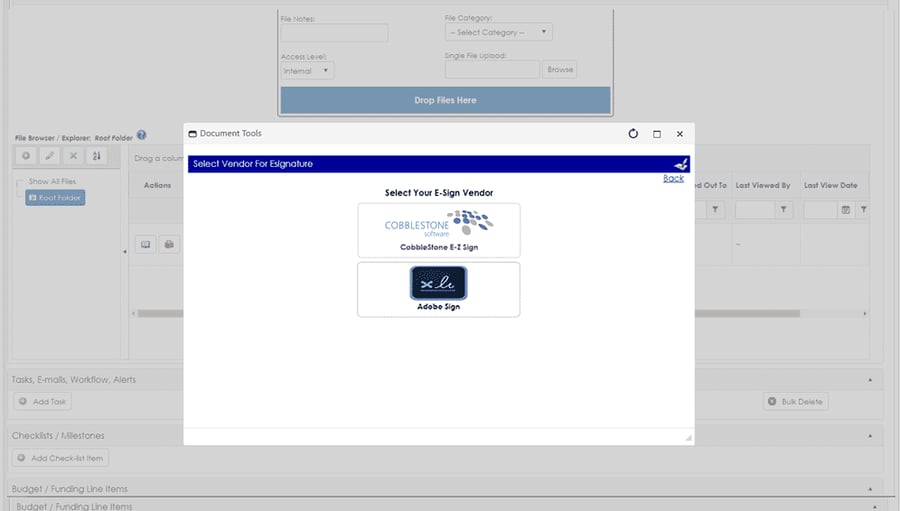 Step 5
Document versions will be shown in this view. Choose the correct version and click, "Next ".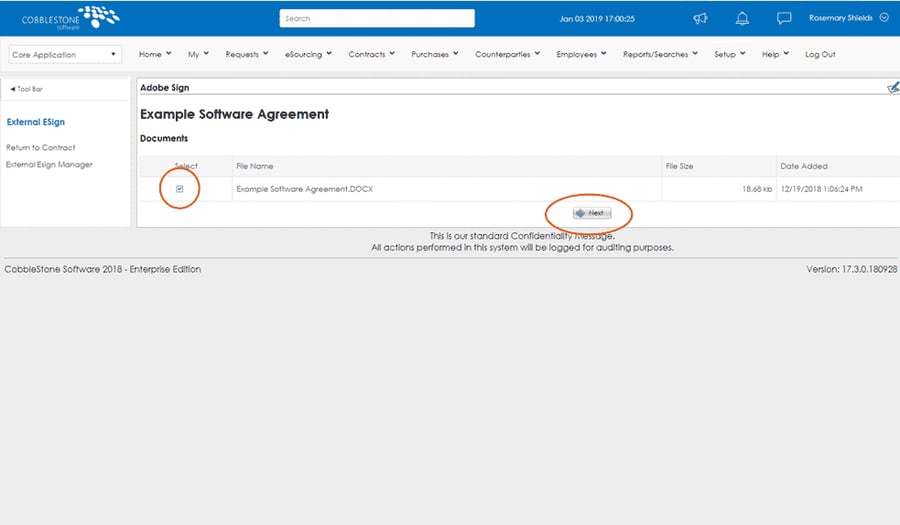 Step 6
If you are sending a document to be signed by multiple individuals, you may choose a specific order for the document to be signed in, or you can choose to have the document signed simultaneously. For this example, we are only sending the document to John Doe, so signing order is not applicable. Next, add the recipient's email, name, the agreement title, and the message you would like to send to the recipient. Finally, click submit.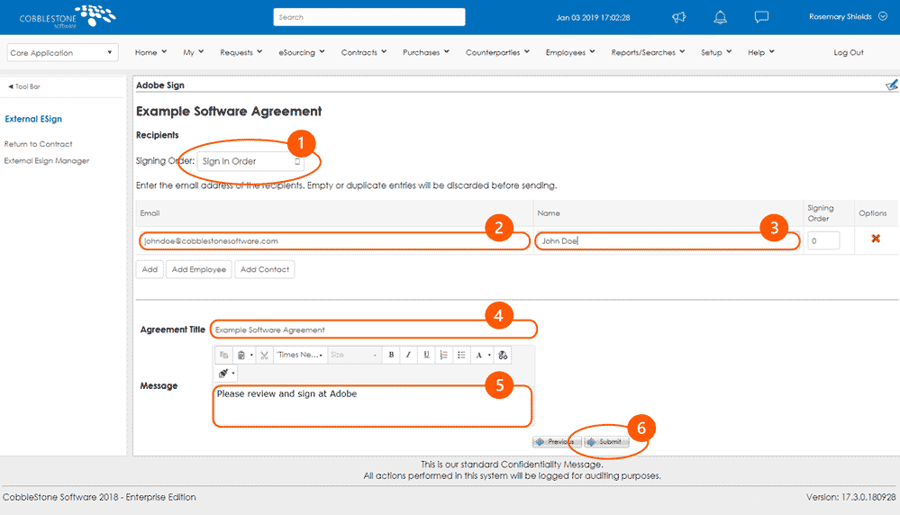 Step 7
At this point you will be redirected to Adobe Sign for the final step in the send-for-signature process.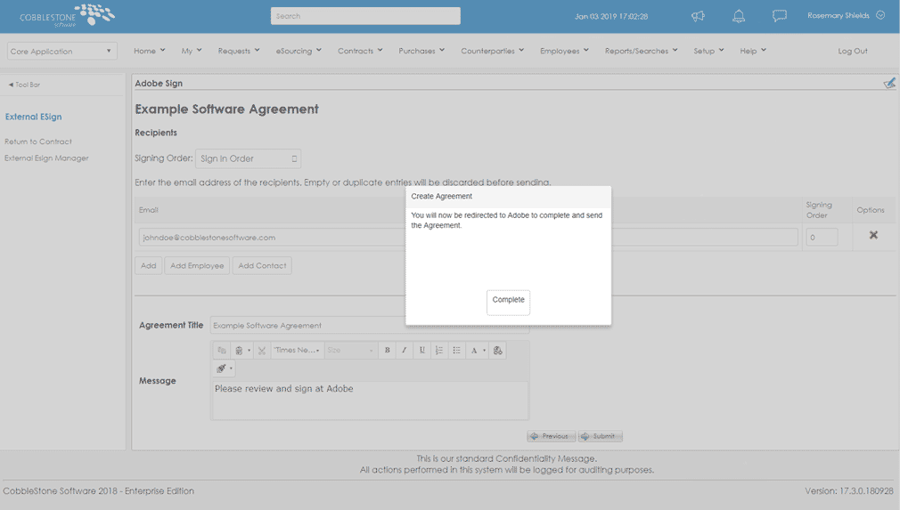 Step 8
On the right side of the Adobe Sign window, there are signature field placeholder options. For this example, the "Signature" placeholder has been chosen. This allows the signer to know what is expected of the participant in regards to signing the document. Finally, click "Send".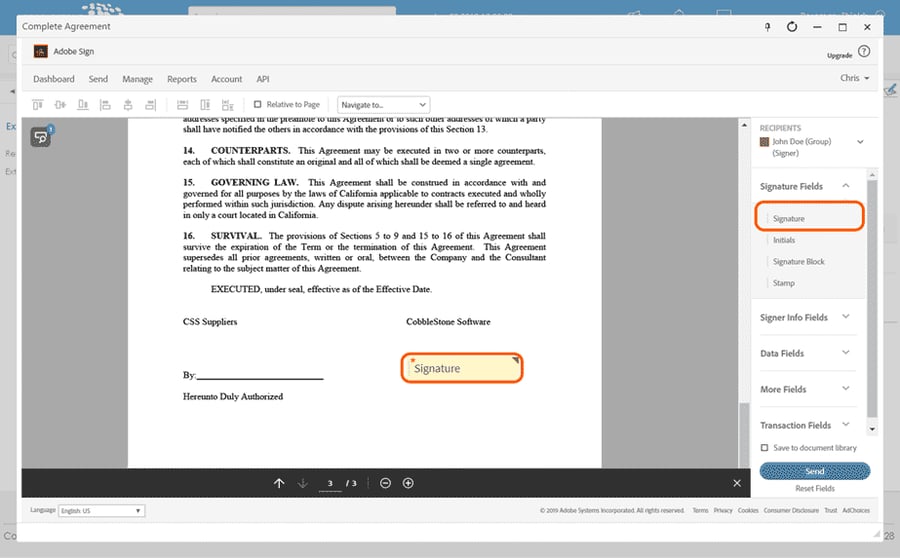 Step 9
Congratulations, your document has been sent for signature! At this point, the recipient will receive an email informing them to sign the document. They can click a link to open the document, "Sign " in the signature placeholder, and click "Send". The document will be automatically re-uploaded into your Contract Insight system in the contract record next to the original document (shown in step 2). The signature process is now complete.
In some cases, e-signatures may not be permitted for those working with vendors and counterparties. CobbleStone Software is designed to support both e-signatures and scanned copies for full signing support. This way, you can still streamline the process for internal agreements and for counterparties who prefer a speedy signature process while honoring those who wish to use traditional, wet signatures.
Check out CobbleStone eSignatures in our video!
For Contract Insight users who do not yet have e-signatures set up in their system, contact a CobbleStone rep to explore integration options and to get started today with an easy, streamlined signature process.