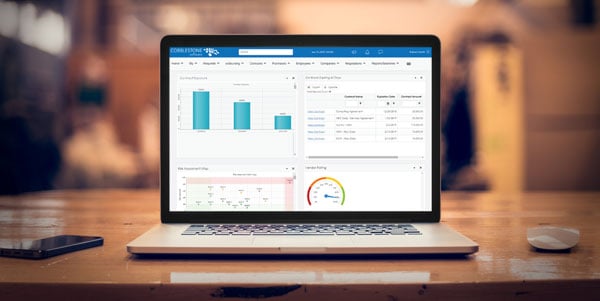 Now, more than ever, organizations expect their employees to do more with less. That's why contract managers and procurement professionals are choosing to invest in contract management software to keep up with industry standards and capabilities. Surveys report that companies using contract management software can reduce annual contract management expenses by 20% to 50%. In addition to reduced costs, the benefits of contract management software can provide business professionals with better (and faster) results, meaning fewer mistakes, improved accuracy, smoother processes, and better monitoring.
Understanding the Basics
Learn the basics of contract management software and how it can help you and your team do business the easy way.
Contract management software is a solution made to help business professionals in any industry manage contracts efficiently and with better transparency. Your organization may be managing thousands of contracts at one time, but how do you know which ones are in-process or if they're operating smoothly? How do you know if you're editing the latest version of a document or if it's been edited by someone else? These situations lead to mistakes, bottlenecks, and often result in missed deadlines and an inefficient process. Contract management software works as a single contract repository, making it easy for cross-departmental teams to conveniently search, edit, track, and collaborate on contracts and related documents.
Advanced contract management software provides organizations with many valuable features including:
a secure contract repository

controlled access specific to each system user

draft creation and management of contracts and related documents

automated alerts and reminders

intelligent workflows and approvals

e-signature and negotiation capabilities

contract compliance and monitoring

and more
These basic software features do more than just move your contracts from one location to another; they take your contract management process to a whole new level. Manual maintenance of contracts and related documents will often result in miscommunication and missed opportunities. Take time to understand the benefits and capabilities a contract management software system can offer you and your team – you may find it's just what you need.
Contract Lifecycle Management
You may currently be utilizing a basic contract management process such as Excel spreadsheets and PDFs saved across shared drives. Contract management software will take you to the next level, eliminating the hassle of manual tracking and management. To ensure you and your team receive the best ROI and results, consider incorporating full contract lifecycle management into your process which can be incredibly easy to do with the right contract management software. Check out this blog post on contract lifecycle management, its benefits, and how it differs from basic contract management.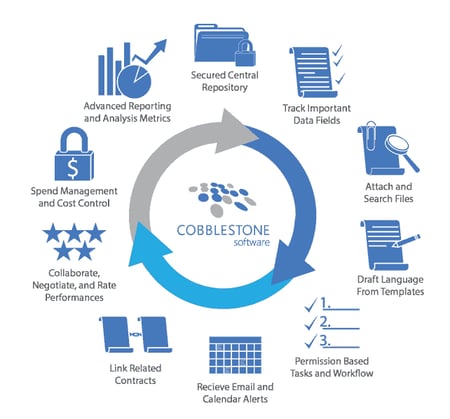 Workflows Create A Transparent Process
Contract management software ensures each step in the process is tracked, providing those involved with all the information they need about status updates and deadlines. Leading software solutions provide automated workflow capabilities, so teams can configure a step-by-step process for each type of contract they manage. Automated workflows are an essential part of contract management and are the key to never missing a step in the process. Workflows help ensure your contracts are cared for from "cradle-to-grave" by providing a clear outline of what actions need to be taken to close the deal. Workflows will vary based on the organization's needs but should include steps from initiation through award, compliance, and renewal.
Integrating With Other Software
Leading contract management software can integrate with other business-focused software solutions such as data integration with CRM, vendor management, supply chain, ERP, and other standards-based software. CobbleStone's software offerings have API connections and data mappers to software solutions like Salesforce, Oracle, SAP, SAGE, Microsoft Dynamics, QuickBooks, and others. The integration process should be easy, providing you and your team with a curated toolbox designed for you. Check out our blog post on how to use Adobe Sign as an integrated e-signature tool in Contract Insight.
Choosing the Right Solution for You
It's time to take the step towards a better contract management process for you and your team. You'll find leading solutions can provide endless possibilities and streamlined processes, giving you valuable time back in your day and a noteworthy ROI. CobbleStone provides configurable solutions to meet your organization's needs. A demonstration of our software may help you and your team identify what you really want in a contract management solution. Sign up today for a free demo and discover how thousands of contract professionals are achieving their contract management goals.