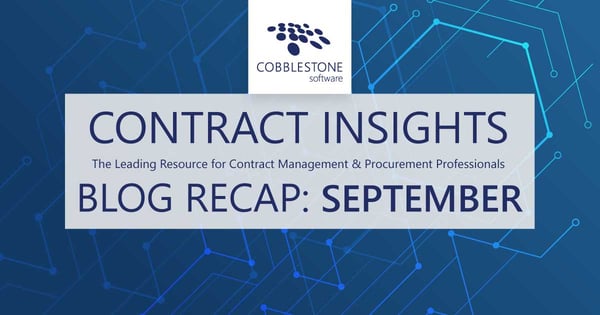 Did you miss any of our blog posts from September? Don't worry; we have outlined each of them for you. Stay up-to-date with industry topics, real-world case studies, and contract management and procurement best practices by reading the latest CobbleStone® content.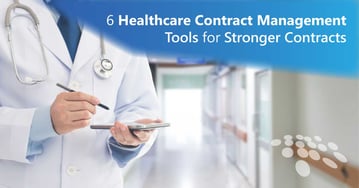 Healthcare contract management relying on manual processes can reduce efficiency for healthcare contract stakeholders, decrease revenue, and increase liability – among other things. Contract lifecycle management bottlenecks can decrease the efficiency of resources, compromise contract security, and disorganize crucial data. Read on to learn how to leverage six healthcare contract management software tools for stronger contracts.

Managing third-party compliance standards - including HITRUST - can be challenging without a robust and centralized compliance management system in place. Luckily, integrated vendor management and contract management software can help you easily track HITRUST and other compliance standards in an efficient, organized, and secure manner. Here's how.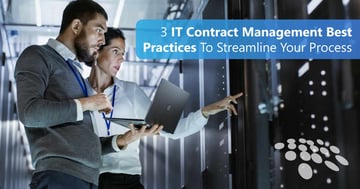 If your organization is taking on IT contract management with manual contract management methods they run the risk of facing wasted time, squandered revenue, costly mistakes, and missed opportunities (among other harmful consequences). Leave obsolete and damaging IT contract management methods in the past; tackle the following three IT contract management best practices with centralized and user-friendly contract management software.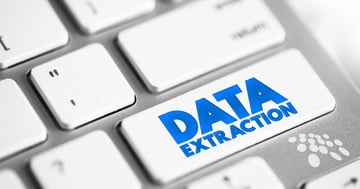 Does your organization have a high volume of contracts of ranging complexity? Do you need these contracts searched, have important contract data extracted, and be stored within an easily accessible contract data repository? Don't leave your team overwhelmed with manual contract data extraction and legal discovery processes. Instead, leverage intelligent contract data extraction with the help of powerful contract intelligence within a leading-edge contract management software system.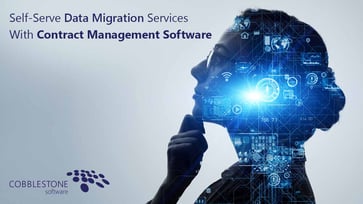 Traditional contract data migration services can afford your organization tremendous headaches – to put it lightly. Leave the tedium, risk, high costs, and wasted resources in the past in favor of web-enabled, self-serve data migration and export with contract management software.

Contract administration has evolved drastically in recent years. Given the ongoing COVID-19 pandemic and the embrace of digital transformation over obsolete legal operations methods, organizations must be ready to brace themselves in 2022 with automated contract management software tools that support remote contract collaboration and intelligent workflow automation. To that end, here are the top three contract management technology tools that organizations should equip themselves with for 2022.
A contract manager in construction is tasked with managing various construction contracts from requests through renewals – which can include sourcing and coordinating with construction vendors for project-based or long-term services. Without a streamlined and organized process, construction contract managers can find themselves overwhelmed. Read on to learn how construction contract management software can centralize people, processes, and technology.
Contract review is one of the most critical stages in the life of a contract. Manual and paper-based contract review methods can lead to missed key dates and deadlines, missed opportunities, costly and damaging contract language oversights, and other harmful consequences and contract lifecycle bottlenecks for your organization. Luckily, this blog post will examine the contract review process – as well as how one can improve contract review with AI-based contract management software.
Tracking and retaining contract compliance can be challenging when leveraging primarily manual methods. Fortunately, contract lifecycle management (CLM) software tools can empower you to achieve contract compliance success. Read on to discover how you can optimize contract compliance oversight with leading contract management software.
Contract management teams hold a lot of responsibilities throughout the life of a contract. Streamlined and organized contract collaboration is key to CLM success. We have outlined the responsibilities of a contract management team and how these responsibilities can be centralized and organized with leading contract management software.
Clause libraries have proven incredibly useful for advanced legal operations and contract lifecycle management – if appropriately implemented. Unfortunately, your organization can mismanage your clause library with antiquated technology, manual clause tracking and clause storage, and the lack of an expeditious way to leverage clauses during contract authoring and contract negotiation. Luckily, you can supercharge your clause library with user-friendly and robust contract management software. Here's how.
Managing contract functions can prove challenging when primarily relying on spreadsheets, shared drives, and other siloed platforms. Without efficient contract functions, organizations can find themselves in a quagmire of inefficiency. Contract management functions require careful planning, the right technology, and a well-thought-out contract strategy. Discover how you can automate eight key contract management functions with contract management software.
Now that you are caught up with our September articles, be sure to keep an eye out for our October content. Never miss a blog post again, and let us notify you when new articles are published, by subscribing to our blog! No time to read? Then check out CobbleStone's YouTube channel for exciting video content. Be sure to like and subscribe!
Are you looking to evaluate leading contract management software solutions for the future of contract management? Read our blog – 6 Critical Contract Management Tools for 2021 – to discover the best contemporary tools for future-minded, automated, low-friction, and user-friendly contract management.
Discover why thousands of contract management professionals trust CobbleStone Software with their contract management, sourcing, and procurement needs. Book a free demo with a CobbleStone Contract Insight expert to learn more about CobbleStone's acclaimed contract management, eProcurement, and eSourcing software!