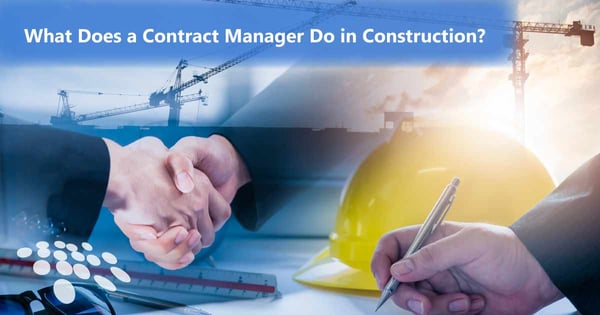 A contract manager in construction is tasked with managing various construction contracts from requests through renewals – which can include sourcing and coordinating with construction vendors for project-based or long-term services. Without a streamlined and organized process, construction contract managers can find themselves overwhelmed. Read on to learn how construction contract management software can centralize people, processes, and technology.
What Does a Contract Manager Do in Construction?
What a contract manager does in construction, as abovementioned, is manage ranging construction contracts between various internal and external stakeholders – including tracking contract values against budget spend, sourcing vendors for construction projects, and managing subcontracts for varying construction needs. Without a centralized and organized CLM system in place, such contract management processes can prove cumbersome.
Construction Contract Management Software
Construction contract management software electronically centralizes construction contract management processes from sourcing contract vendors to contract renewals. Integrated e-sourcing software can help construction managers source and rate prospective construction vendors - including sub-contracted stakeholders - in a centralized source-to-contract lifecycle management suite. Managing construction contracts without leading CLM software with integrated eSourcing tools can prove arduous.
Integrated Construction Vendor Collaboration & Registration
Construction vendor requests can be delayed by slow email response times, lengthy phone hold times, and other manual process inefficiencies. Construction contract managers - especially when seeking sub-contract candidates for unanticipated and short-term construction services – can waste valuable time corresponding with prospective construction vendor candidates with asynchronous processes. Construction contract managers cannot afford to waste time and resources with such delays, especially when gathering pertinent information to ensure construction vendor collaboration security and optimizing turnaround for construction services.
Fortunately, construction contract managers can leverage robust construction contract management software to streamline vendor requests and registration. Construction contract management software, with integrated eSourcing and vendor management software features, can enable interactions with third-party vendors through a vendor collaboration portal that centralizes:
RFIs.

RFPs.

RFQs.

Tenders.

Bid Advertisements.

Bid Awards.

Configurable Vendor Response Ratings & Scorecards.

Bid Tabulation Reports.

Bid Communications.

Ancillary Documents.

& More!
Construction contract managers can award and correspond with construction vendors by integrated email via an integrated MS Outlook Plugin – expediting communications. Construction contract management software can streamline vendor registration processes by allowing construction contract managers to share a link with vendors so they may fill out all necessary information within their centralized vendor record - including construction vendor service codes - taking the onus off of contract managers. Should a contract need to be drafted, negotiated, signed, and tracked, this can be seamlessly integrated within a construction vendor record.
Complete Contract Lifecycle Management
When coordinating construction contract management elements, such as mailing paper-based documents with wet signatures and sending scanned documents via email, construction contract managers can be frustrated by stakeholder miscommunications and counterparty delays.
Thankfully, construction contract management software can help solve these issues by centralizing contract lifecycle management processes. End-to-end contract lifecycle management processes from requests to renewals can be seamlessly streamlined - including rapid approvals and speedy eSignatures - within a centralized, web-enabled location. Watch the video below to learn how electronic signature software can streamline construction contract management signing processes.
Secure Contract Document Repository
Construction contract managers relying on shared drives, filing cabinets, and other risky contract repositories can leave their contracts in a vulnerable state. Fortunately, a leading construction contract management software provider that is SOC 1, SOC 2, and Privacy Shield compliant can help digitally secure construction contract storage – helping to reduce risk and maintain trust with stakeholders.
Robust Risk Management
Assessing contract management risk within a myriad of contracts can be challenging without visualization and prioritization. Whether construction contract managers are dealing with ten or ten thousand contacts, prioritizing contract risk management can prove challenging when sifting through words and other data variables within pages of documents. Without a centralized and graphical risk and opportunity assessment tool, identifying risk can prove to be a daunting task.
Luckily, leading construction CLM software offers risk assessment and OFAC search mapping tools to graphically visualize risk within documents for comprehensive risk contract management. Rather than sifting through contract records for risk variables manually, contract managers can leverage an AI-powered visual graph that can plot contracts based on their identified risk score – yielding a holistically visualized risk analysis of active contracts that can help construction contract managers effectively prioritize contract risk factor decision-making. Moreover, construction contract managers can analyze how a contract would perform with hypothetical risk variables and exposure within a risk assessment matrix - further helping contract managers and internal construction stakeholders prepare for prospective happenings.
Learn more about how VISDOM® AI can help manage and reduce contract management risk in the video below.
Risk Assessment Matrix & OFAC Search Tools
Contract managers can leverage this visual contract risk assessment matrix and statistical data analysis to identify negative, neutral, or positive facts about contracts within a robust CLM system to help improve contract strategy. Construction contract managers can also enable message alerts, as mentioned prior, to be notified if a contract incurs a value of X% greater than the average contract within their comprehensive CLM software database.

Contract managers can also leverage an OFAC search graphical risk tool to identify if construction vendors and employees, comply with the Office of Foreign Asset Control's national sanctions list.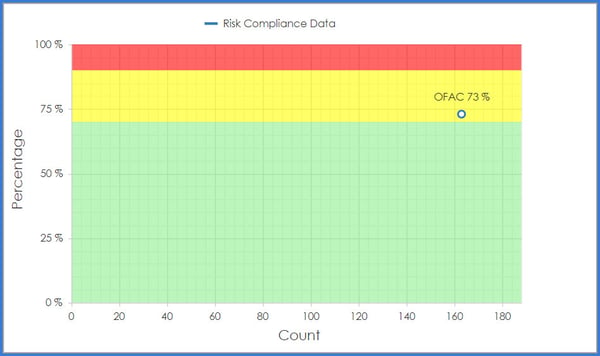 This graphical risk visualization allows construction contract managers to identify OFAC compliance both in the pre-award and post-award stage – increasing comprehensive risk mitigation. Similarly, as abovementioned, contract managers can preconfigure rules to receive notifications in record time if a vendor or employee meets or exceeds a specific OFAC Search percentage – allowing for swift risk mitigation before it becomes untenable.
Construction Contract Management With CobbleStone Contract Insight®
Maximize your construction contract management processes with a leading-edge contract management software platform. End-to-end construction contract management begins and ends with CobbleStone® Contract Insight.
CobbleStone's trusted, award-winning, fully integrated construction contract management software streamlines the contract management process with optimal governance, reduced friction, and high flexibility from contract requests to renewals. CobbleStone Software has been a visionary leader in construction CLM software for over twenty years. CobbleStone's user-friendly, robust, and scalable solution seamlessly integrates with mission-critical applications for unified and seamless construction contract management. It's no wonder why Forrester names CobbleStone a Leader in CLM software!
Discover why thousands of contract managers trust CobbleStone Software with their contract management needs. To learn more about CobbleStone's unparalleled construction contract management software, book a free demo with a Contract Insight expert today!
Are you interested in future-minded contract management software tools? Watch the 6 Critical Contract Management Tools for 2021 video below to learn how to leverage industry-leading CLM software tools for streamlined, user-friendly, and low-friction contract lifecycle management success!
To stay up to date on best practices, industry news, and CobbleStone Software updates, be sure to subscribe to our blog and YouTube Channel.